AKPANYA COMMUNITY  BOREHOLE PROJECT
MPAC and two other Islamic organisations (Nigerian Muslim Network and MURIC) are collaborating to bring life-saving water to one community in Kogi State.
About Akpayan Community
According to Alhaji Sayyidi (the Mufassir of the community), Akpanya is a very large community within which you can drive up to 40 kilometers before leaving the community.
The inhabitants are mostly settlers who are Fulanis and the Ibos (Ethnic Ibos being the larger segment of the population). Married men number around 500.
FACT:
Every 15 seconds a child dies in the world from a lack of clean water and another child becomes an orphan.
SADAQATUL JARIYAH: LEAVE YOUR TRACE BEHIND
The perpetual sadaqah: Your gift of clean water will also help save children the suffering caused by parasites, worms, dysentery, and diarrhea. Plus, they'll be able to attend school, because they won't have to spend their days sick in bed or walking long distances to collect water.
Ahmad and Muslim relate that the Messenger of Allah, upon whom be peace, said: "When a person dies [the benefit] of his deeds ends, except three: a continuous sadaqah, knowledge from which benefit is derived, or a pious child invoking Allah for him."
We embarked on this mission during the blessed days of last Ramadan. A mission to change the living standard of the inhabitants of Akpanya community for the better. Since Ramadan we fundraised to fulfil our promise to them, and give them a special gift of Sadaqatul Jariya.
Alhamdulilah this project was completed at the total cost of N3,116,500.00 through the fund raised by the coalition of the 3 Muslim organisations. We thank God for this achievement and pray that God will reward all those who donated and all those from the 3 organisations who did the heavy lifting by visiting, assessing and monitoring the project from start to finish.
Donate For Other Projects:
Bank: Stanbic IBTC Bank
MPAC Imaan Current Account No: 0006479106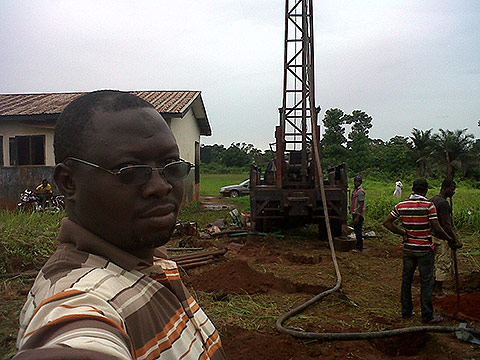 MPAC Representative on a Monitoring Visit
MPAC Representative and comminity leaders.