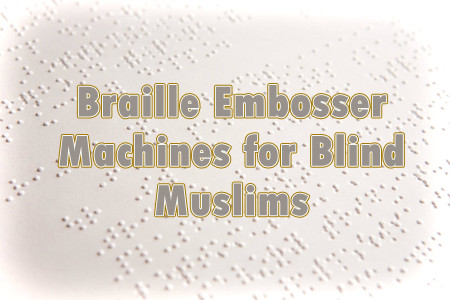 "None of you truly believes until he loves for his brother what he loves for himself."
[Prophet Muhammad (SAW) Reported by al-Bukhari (13), Muslim (45), Ahmad (3/176), at-Tirmidhi (5215), Ibn Majah (66), an-Nasa'i (8/115), and Ibn Hibban (234)]
There are hundreds of blind or partially sighted Muslims around the country.Perhaps thousands even.
Most of them have no access to the Qur'an and little or no access to Islamic books for their spiritual growth and knowledge. Help us reach our goal of procuring braille embosser machines to be placed around the country to enable hundreds access the Qur'an.
Empowering the blind Muslims this way will open a great opportunity for them and in shaa Allah stop in its track those amongst them leaving Islam because they have no relationship with the Qur'an.
Help us open a new world of opportunities for them, one where they can not only listen to the Qur'an but READ it.
Make a Cash Deposit
You can directly deposit a one-off or regular cash donation into the MPAC accounts using the account details above. KINDLY DESIGNATE YOUR DONATION AS "BRAILLE EMBOSSER". Should you wish to receive MPAC Official Receipt for your donation please send us your contact and donation details at donation@mpac-ng.org
Bank: Stanbic IBTC Bank
Account Name: Muslim Public Affairs Centre (Current Account)
Account Number:  0006479106
Donation from Abroad
For all your donation queries from abroad please email: donation@mpac-ng.org
If you wish to make donation to MPAC through your Nigerian contact, select one of the donation options above to remit your donation.
DONATE ONLINE
TO MAKE ONLINE DONATION, PLEASE CLICK ON THE DROP DOWN BUTTON OF THE ONLINE DONATION BOX ON THE LEFT HAND SIDE OF THIS PAGE, SELECT MPAC PROJECTS AND THEN CLICK ON DONATE.
Request a Call Back
If you are unsure which method is best for you, or wish to talk to someone about any of the payment methods, you may contact our finance team to request a call back at donation@mpac-ng.org , info@mpac-ng.org or by calling us on 08035350720.