10 Days and Still Counting
Thursday, 22 April 2021 | 10 Ramadan, 1442 AH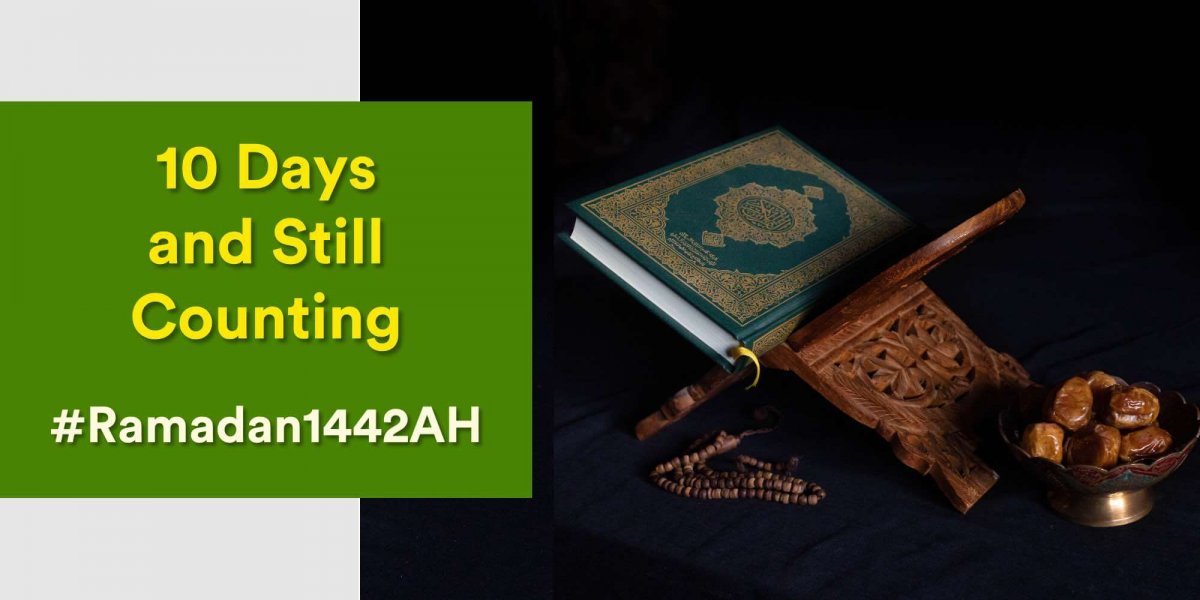 The Holy Month of Ramadan is a month Muslims increase in piety and righteousness as Allah has commanded in the Qur'an:
"O you who have believed, decreed upon you is fasting as it was decreed upon those before you that you may become righteous" 
-Al-Baqarah:183-
Allah commanded us to fast so we can become pious and righteous people. Allah already set a bar for us in this verse. The "Ramadan Goal" of every Muslim is then to strive to increase his level of righteousness and piety. 
Tonight marks the end of the 10th day of Ramadan. Tonight, we would have completed one-third of Ramadan. Tonight is a time to reflect on our Ramadan Goals – how we planned to achieve righteousness; it might be to increase in giving charity, going early to prayers, completing the recitation of the Qur'an, caring for our aged parents, sponsoring Islamic programs and organizations. So, has your level of piety increased since the commencement of this Holy month?
If you haven't drafted a Ramadan Goal, do not worry. Here are few you can adopt starting from tonight:
Increase in the recitation of the Qur'an
The Prophet, peace and blessings be upon him, would review the Quran once every year in Ramadan and he reviewed it twice in the year he passed away. The Prophet would seek spiritual retreat in the mosque for ten days every year and he secluded himself for twenty days in the year he passed away.
-Bukhārī-
Increase in acts of charity
"The Prophet (peace be upon him) was the most generous of people, and he was most generous during Ramadan," 
-Bukhārī-
Avoid vile speech and fighting
The Messenger of Allah, peace and blessings be upon him, said, "Whoever does not leave evil words and deeds while fasting, Allah does not need him to leave food and drink." 
-Bukhārī-
Establish Taraweeh prayers
"Whosoever performs (optional Tarawih) prayers at night during the month of Ramadan, with Faith and in the hope of receiving Allah's reward, will have his past sins forgiven."
-Muslim-
You might have had a poor start since the beginning of Ramadan. It is not late; as there is still more time to catch up. Start tonight! Do not procrastinate as procrastination is a time killer.
There are many prophetic narrations telling us the virtue of this month. We are advised we take full advantage of this month as the prophet said:
The Messenger of Allah, peace and blessings be upon him, said, "Whoever fasts Ramadaan out of faith and in the hope of reward, his previous sins will be forgiven." 
-Bukhārī and Muslim-
Let's make this Ramadan a fruitful and memorable one. 
Once again Ramadan Mubarak!
_________________________________________
Oh! Allah, the Most-Merciful, make this Ramadan, a door to your mercy.
Support MPAC this Ramadan and get rewarded multifold from the Most Merciful.
Bank Details:

Account Name: Muslim Public Affairs Centre

Bank: JAIZ Bank Plc.

Account Number: 0003610695 (MPAC ZAKAT Payment)

                                0003670628 (Sadaqat/General Donation)

…

Bank: Stanbic IBTC

Account Number: 0006479106
Donate Online
Payment is secured by Paystack.
Should you wish to receive MPAC Official Receipt for your payment please send us your contact and donation details at info@mpac-ng.org.
—————–
As you're here…
MPAC has one humble request from you…
Thousands of Nigerian Muslims rely on the services we provide at MPAC and thousands more from around the world visit our website for news every day. Due to the significant challenges we face in dealing with Muslim-related issues in a heightened Islamophobic environment, MPAC is constantly under financial strain to meet our financial needs.
To maintain editorial and financial independence, with no sectarian or political allegiance to any particular group or movement, MPAC relies only on donations from individuals like you.
It is easy to understand the importance of organisations that do the sort of work we do at MPAC in today's climate. Please support us financially and please support us for as little as N1000 a month. It only takes a minute to make a one-off donation or to set up a standing order with your bank. Jazakallah khayran.
Our beloved Prophet Muhammad (peace be upon him) said: "The best deeds are those done regularly, even if they are small." [Ibn Mājah]