4th National Discourse of The Companion:
Muslims Tasked to Participate in Public Affairs
Monday, 24 June 2019.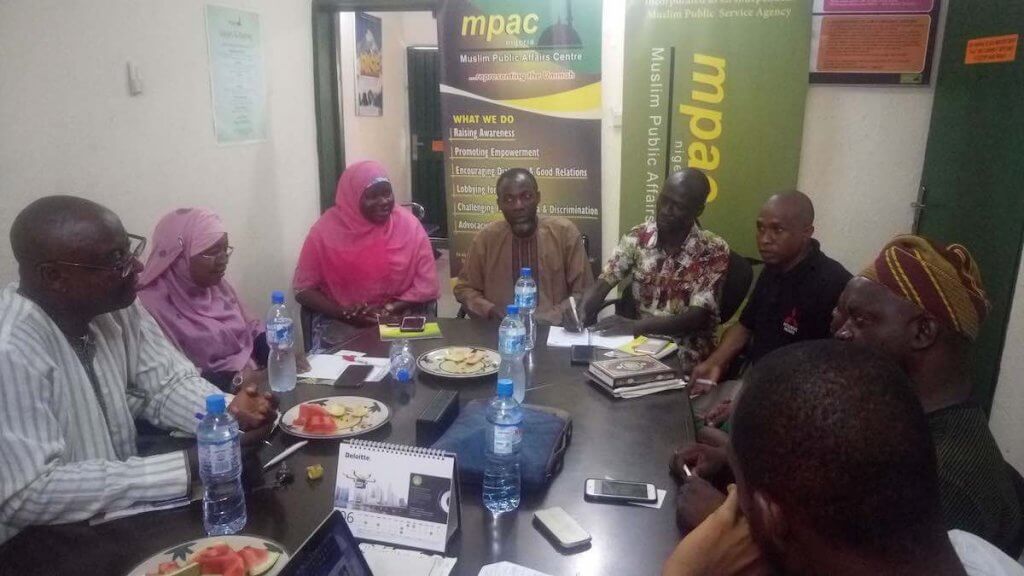 With less than three weeks to the national discourse on national food self-sufficiency, Muslims have been urged to take a more active interest in national development by engaging more in public service activities and charities.
This view was canvassed at a stakeholders meeting hosted yesterday, 22 June 2019 in Lagos by the Muslim Public Affairs Centre Nigeria to discuss strategies for ensuring public participation at the forthcoming discourse on national food self-sufficiency where Vice President Yemi Osinbajo has consented to be the keynote speaker.
The discourse, which centres on strategies for attaining food self-sufficiency in the country and the immediate past governor of the state of Osun, Engr. Rauf Aregbesola is expected to chair is organised by The Companion National, an association of Muslim Professionals and businessmen.
In his message to the stakeholders meeting, the Executive Chairman, Muslim Public Affairs Centre MPAC Nigeria commended The Companion for its patriotism to Nigeria as demonstrated by consistently organising the National Discourse, now in its fourth edition to address germane national issues.
In the message delivered on his behalf by MPAC Director of Media and Strategic Communications, Abdulwarees Solanke, Disu Kamor said it is an Islamic obligation that Muslims must seek the good of their country or wherever they find accommodation.
According to him, Islam is very strong in its mandate to Muslims to advocate for and support righteous causes that promote public safety and security and national stability.
In his message, the Lagos chapter chairman of Muslim Media Practitioners of Nigeria (MMPN), Kabir Garba, said the National Discourse tallies with the aim and objective of the Project Muslim VIP; Voice, Identity and Participation which his group is partnering with MPAC to implement.
He said the project seeks to promote qualitative participation of Muslims in public and global affairs to change the perception that Muslims are not forthcoming in contributing to national debates qualitative.
The representative of The Companion National, the chief hosting organisation, Ismail Bello Ozugha explained that the Companion as an open Muslim organisation believes in partnership and synergy of Muslims.
He said Islam and Muslims have a lot to offer in the resolution of most crises confronting humanity today and it is by harnessing resources in explaining and demonstrating best practices that the world can find peace.
He said this informed the reason why The Companion extended its hands of fellowship to Muslim public service organisations like MPAC and MMPN in hosting the event.
Other stakeholders who spoke at the meeting and applauded The Companion initiative include representatives media houses and independent producers like Aims Media Company Limited.
—————–
As you're here…
MPAC has one humble request from you…
Thousands of Nigerian Muslims rely on the services we provide at MPAC and thousands more from around the world visit our website for news every day. Due to the significant challenges we face in dealing with Muslim-related issues in a heightened Islamophobic environment, MPAC is constantly under financial strain to meet our financial needs.
To maintain editorial and financial independence, with no sectarian or political allegiance to any particular group or movement MPAC relies only on donations from individuals like you.
It is easy to understand the importance of organisations that do the sort of work we do at MPAC in today's climate. Please support us financially and please support us for as little as N1000 a month. It only takes a minute to make a one-off donation or to set up a standing order with your bank. Jazakallah khayran.
Our beloved Prophet Muhammad (peace be upon him) said: "The best deeds are those done regularly, even if they are small." [Ibn Mājah]