MPAC Engage Campaign
5 Reasons to Keep Supporting MPAC's Campaign for Palestinian Rights
Wednesday, 18 August 2021 | 9 Muharram 1443 AH
The Palestinian people have been under Israeli occupation since 1948. For several decades, they've been subjected to all forms of oppression: their rights are violated and they live as refugees in their own land. 
This subjugation and marginalization have gone on for too long but unfortunately, the world is looking on with indifference.
Therefore, as a way of showing solidarity with the Palestinian struggle for freedom, MPAC launched a series of media and awareness campaigns.
According to the Executive Director, Disu Kamor, this publicity campaign underscores the unwavering commitment of the Centre to Muslim rights issues in Nigeria and elsewhere around the world.
We, therefore, call on Muslims across the globe to keep supporting our campaign for Palestinian rights.
Here are 5 good reasons why you should:
This campaign is about getting justice for the oppressed. 
Islam encourages justice among fellow humans irrespective of religion, colour, race, and tribe. Allah says: 
"O you who have believed, be persistently standing firm in justice, witnesses for Allah, even if it be against yourselves or parents and relatives. Whether one is rich or poor, Allah is more worthy of both." [Nisai: 135]
As the popular saying goes, injustice anywhere is a threat to justice everywhere. Also, injustice to one is an injustice to all.
Muslims are encouraged to support one another in their causes as long as they are noble ones.
Allah says: And cooperate with each other in righteousness and piety, and do not cooperate with each other in sin and aggression. [Ma'idah: 2]
We can't do it alone
The path we have chosen is one that requires support from all and sundry. We have volunteered on behalf of the Ummah to be at the frontline of the struggle towards liberating the Palestinian people. Therefore, your unfettered support will go a long way to sustain our drive.
Palestine is important to Islam and Muslims
Muslims across the world hold Palestine in high esteem because of its significance in Islam. There are many reasons for this and they are not far-fetched. 
First, Allah calls Jerusalem (an ancient city in Palestine) a holy land. [Maidah: 21]
Second, Palestine is the birthplace of many Prophets.
Third, Palestine is one of the holy sites in Islam. Muslims used to make Ziyaarah (visitation) to Masjid Aqsa in Jerusalem during Hajj. Today, Muslims are being deprived of this Hajj rite due to the unjust occupation of the land.
Fourth, Prophet Muhammad (SAW) ascended to the heavens during the event of Al Israi Wal Mi'raj from Masjid Aqsa.
Therefore, supporting an important campaign such as this is praiseworthy and meritorious.
Palestinians will have a feeling that they are not alone
The Muslims in Palestine are our brothers in Islam. Therefore, standing in solidarity with them is an act of brotherhood. Not only this, knowing that they aren't alone in this struggle gives them hope and courage.
Allah says "The believers are but brethren, therefore make peace between your brethren and be careful of (your duty to) Allah that mercy may be had on you" [Hujurat: 10]
How Can You Support Our Cause?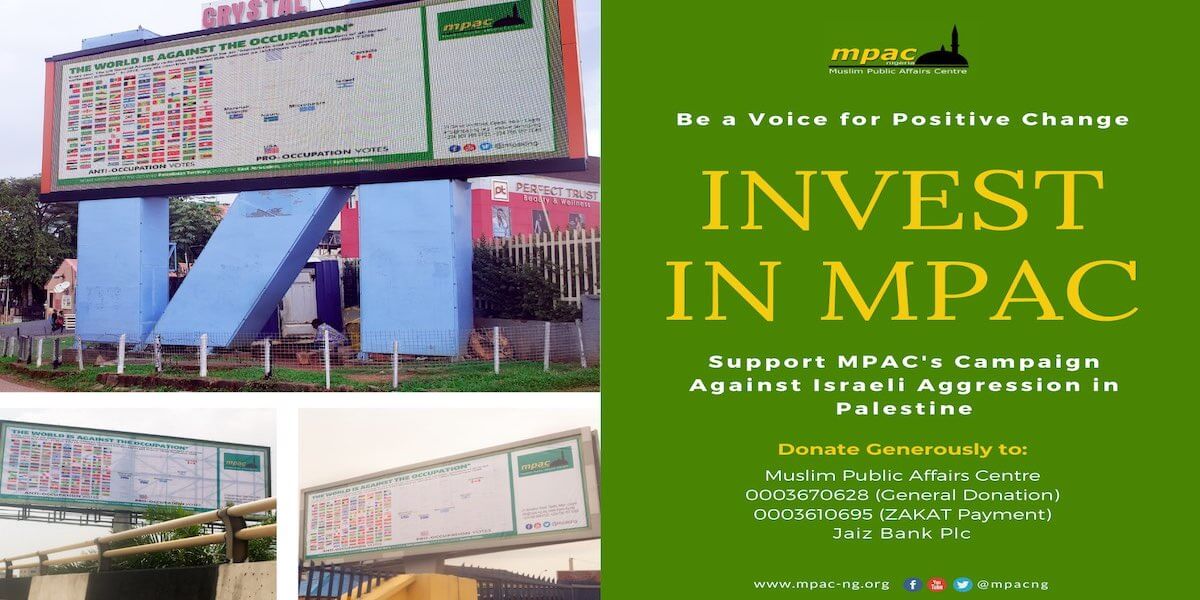 Our campaign at the moment focuses on public enlightenment via our media advocacy. So far, we have published editorials on page 10 of Daily Trust Newspaper on 26th and 27th May 2021.
We have also successfully placed billboards at 4 strategic locations in Lagos and Abuja to increase public awareness of the plight of the Palestinians and the need for our communities to speak out against this oppression in a common voice.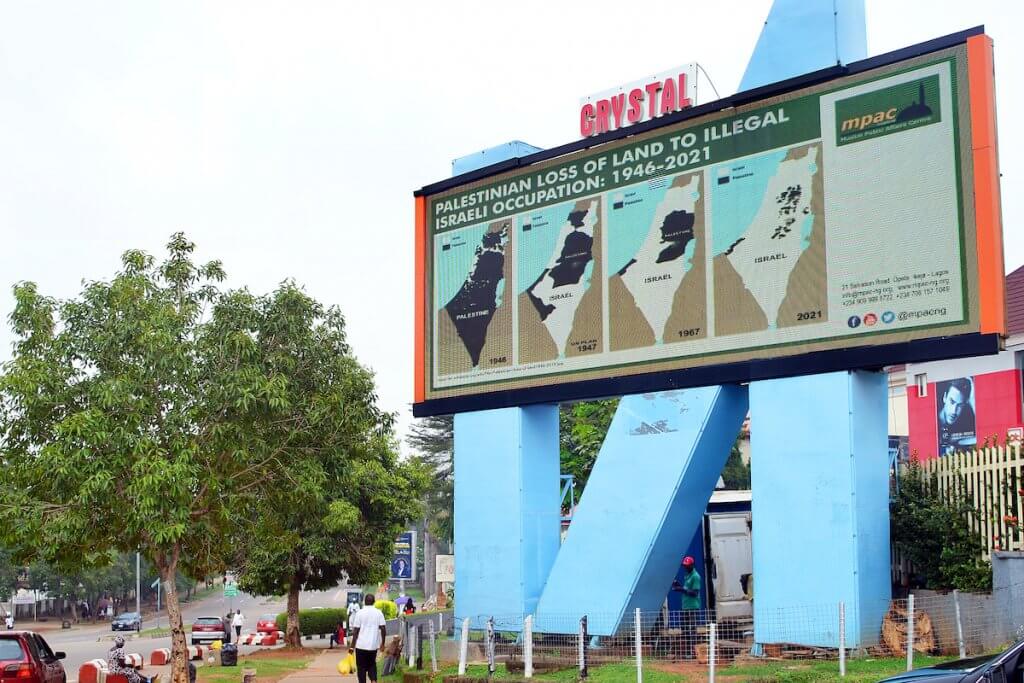 In light of this, we would like you to support our humble effort by lending your voice, sharing our messages on social media, and educating other people about the need to stand up for the Palestinians.
Furthermore, to maintain editorial and financial independence, with no sectarian or political allegiance to any particular group or movement, MPAC relies only on donations from individuals like you.
Donate generously to keep this cause alive:
Account Name: Muslim Public Affairs Centre

Account Number: 0003610695 (MPAC ZAKAT Payment)

0003670628 (Sadaqat/General Donation)

Account Number: 0006479106

You can make online donations here

https://mpac-ng.org/donate-to-mpac/
Payment is secured by Paystack.
#FreePalestine
#Palestine
#PalestineWillBeFree
—————–
As you're here…
MPAC has one humble request from you…
Thousands of Nigerian Muslims rely on the services we provide at MPAC and thousands more from around the world visit our website for news every day. Due to the significant challenges we face in dealing with Muslim-related issues in a heightened Islamophobic environment, MPAC is constantly under financial strain to meet our financial needs.
To maintain editorial and financial independence, with no sectarian or political allegiance to any particular group or movement, MPAC relies only on donations from individuals like you.
It is easy to understand the importance of organisations that do the sort of work we do at MPAC in today's climate. Please support us financially and please support us for as little as N1000 a month. It only takes a minute to make a one-off donation or to set up a standing order with your bank. Jazakallah khayran.
Our beloved Prophet Muhammad (peace be upon him) said: "The best deeds are those done regularly, even if they are small." [Ibn Mājah]