From Daily Trust to Daily Times, Aliu Akoshile Becomes the MD/Editor-In-Chief of Nigeria's Biggest and Oldest Newspapers
Saturday, 4 May 2019.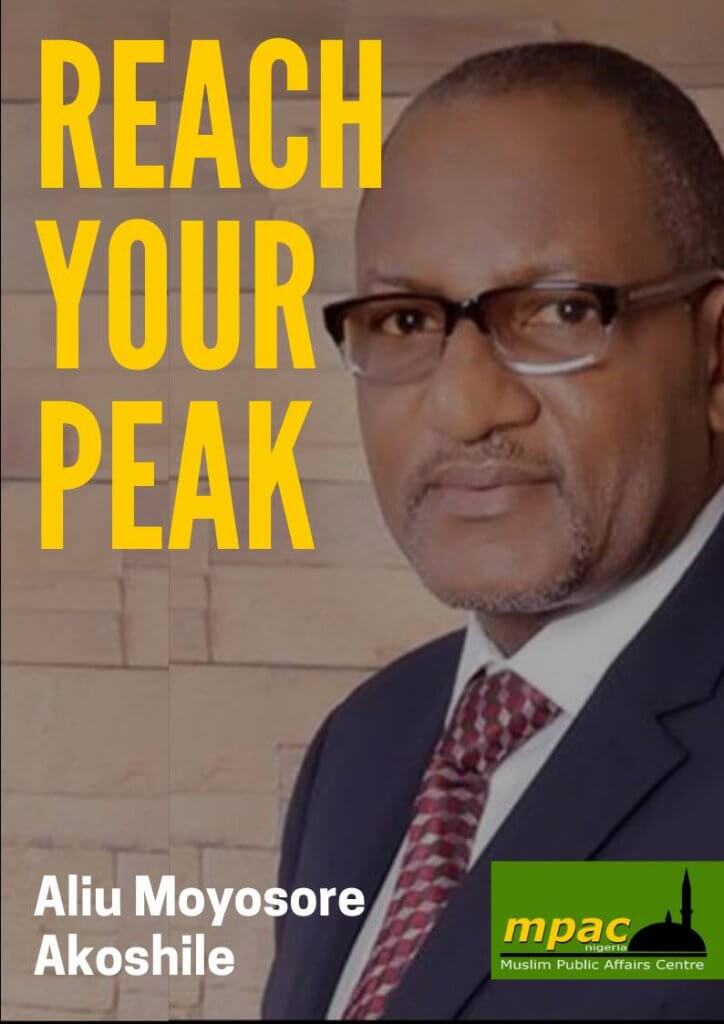 Congratulations to a Worthy Role Model for Muslim Youth
"Folio Communications Limited, publishers of The Daily Times titles, has appointed Mr Aliu Moyosore Akoshile as Managing Director/Editor-in-Chief.

"In a statement released on Tuesday, the Board of Folio Media Group, the holding company for the conglomerate, said the appointment is with effect from 1 May, 2019.

"The Folio Board said Mr. Akoshile is an accomplished media executive with hands-on experience in turn-around management and competitive strategy.

"He will lead a team of dedicated journalists and creative thinkers to reposition The Daily Times titles by deploying disruptive innovations and digital solutions to deliver great value to readers, advertisers and other clients.

"He will also provide the overall thought leadership to Folio Communications Limited, publisher of the Daily Times and its associated business units to derive optimal value from the positive image of the flagship brand.

"A versatile journalist and media business strategist, Mr. Akoshile is bringing to his new role a wealth of experience spanning over three decades and cutting across key segments of integrated marketing communication.

"He started his journalism career with the Daily Times group in 1986 and, since then, he has traversed the media landscape as a reporter, senior correspondent, bureau chief, associate editor and editor-in-chief. He has worked at different times for Jos-based Nigerian Newsweek, Citizen magazine, Weekly Trust and Kilimanjaro.

"He was until recently Associate Director of Daily Trust where, for nearly eleven years, he supervised the entire revenue departments and crack-teams that were responsible for the company's sustained performance and growth.

"A consummate brand manager, Mr. Akoshile has gained over a decade experience in PR and advertising practice.

"He was acting General Manager of Vascaust Communication Limited, a Lagos-based PR and advertising firm, and later served as pioneer Head of Corporate Affairs of NUB International Bank, a legacy bank of FCMB Plc.

"He obtained a Bachelor's degree with honours in Mass Communication from the University of Lagos in 1987 and a Master's degree in International Relations & Strategic Studies from the University of Jos in 1993.

"He has attended executive leadership training on strategic management at the University of Oxford, UK; Howard University School of Business, Washington DC; and the Lagos Business School/Pan African University.

"Mr. Akoshile is a member of the International Press Institute, IPI; Nigerian Institute of Public Relations, NIPR; Advertising Practitioners' Council of Nigeria, APCON, and Nigerian Institute of Management (chartered) NIM.

"He has attended the global summit of the World Association of Newspapers, WAN, and the annual event of the African Media Forum, AMF.

"A keen golfer and polo enthusiast, he is passionate about the environment and climate change as well as issues of human rights with special focus on girl child education."
(Daily Times, Saturday, 4 May 2019)
The entire MPAC team is proud of this well-deserved elevation and call to service. We pray for more wonderful moments in your life.
From your activism through the Muslim Students Society of Nigeria, UNILAG chapter and the National Council of Muslim Youth Organisation (NACOMYO) in the 80s to the impactful contributions you have made in the Muslim media and the remarkable progress you continue to make in your professional career, you remain a bright beacon to many who aspire to be great achievers and influencers.
We wish you long life and more meritorious service to Islam and humanity. We once again look forward to a busy schedule of events at Daily Times that will transform the organization and elevate it to be the pride of the profession of journalism. We pray for God's guidance in your words, decisions, and actions and a true service to the nation.
Once again Congrats!
—————–

As you're here…

MPAC has one humble request from you…

Thousands of Nigerian Muslims rely on the services we provide at MPAC and thousands more from around the world visit our website for news every day. Due to the significant challenges we face in dealing with Muslim-related issues in a heightened Islamophobic environment, MPAC is constantly under financial strain to meet our financial needs.

To maintain editorial and financial independence, with no sectarian or political allegiance to any particular group or movement MPAC relies only on donations from individuals like you.
It is easy to understand the importance of organisations that do the sort of work we do at MPAC in today's climate. Please support us financially and please support us for as little as N1000 a month. It only takes a minute to make a one-off donation or to set up a standing order with your bank. Jazakallah khayran.

Our beloved Prophet Muhammad (peace be upon him) said:"The best deeds are those done regularly, even if they are small." [Ibn Mājah]