Creating Safe Spaces for Interfaith Dialogue
Monday, 16 November 2020 | Rabi Thanni 1, 1442 AH
The Muslim Public Affairs Centre, Nigeria invites you to her first-ever Interfaith Dialogue Event where topics essential to fostering cordial interfaith relations will be explored. The theme is "Safe Spaces for Interfaith Dialogue".
Topic: Creating safe spaces for Muslims and Christians in interfaith communication

Date: Saturday, 21st November 2020.

Time: 12 – 2 PM

Venue: Online via Zoom. Click Here to Register!

Zoom Link: To Be Updated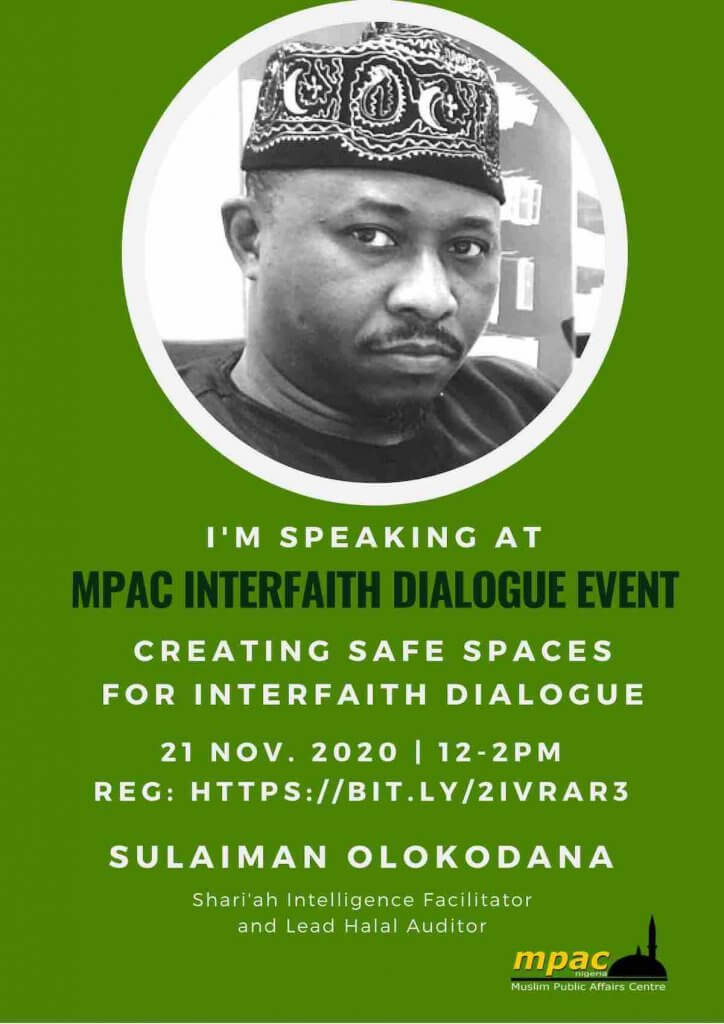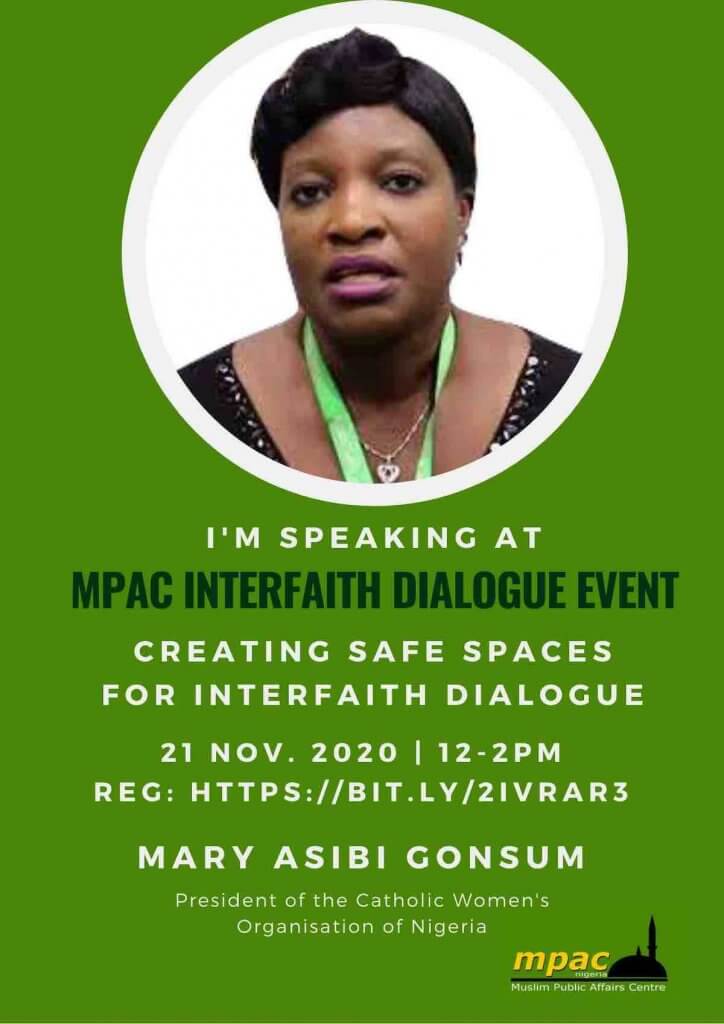 Panelists:
1. Suleiman Olokodana
Mr Sulaiman Olokodana is a Real Estate Consultant who has certifications in Shari'ah Intelligence and a Lead Halal Auditor among others. He served as the Executive Secretary of Movement for Islamic Culture and Awareness (MICA) from 2005 to 2016 and he has led many faith-based trainings.
2. Mary Gonsum
Mary Asibi Gonsum is the president of the Catholic Women's Organisation of Nigeria and Principal Executive Officer at the Jos North Local Government Council.
She is also a fellow of the Cardinal Oyenikan Foundation for Peace and has a wealth of experience in interfaith dialogue and communication. She believes that interfaith dialogue can help address the problem of fundamentalism and politicization of religion.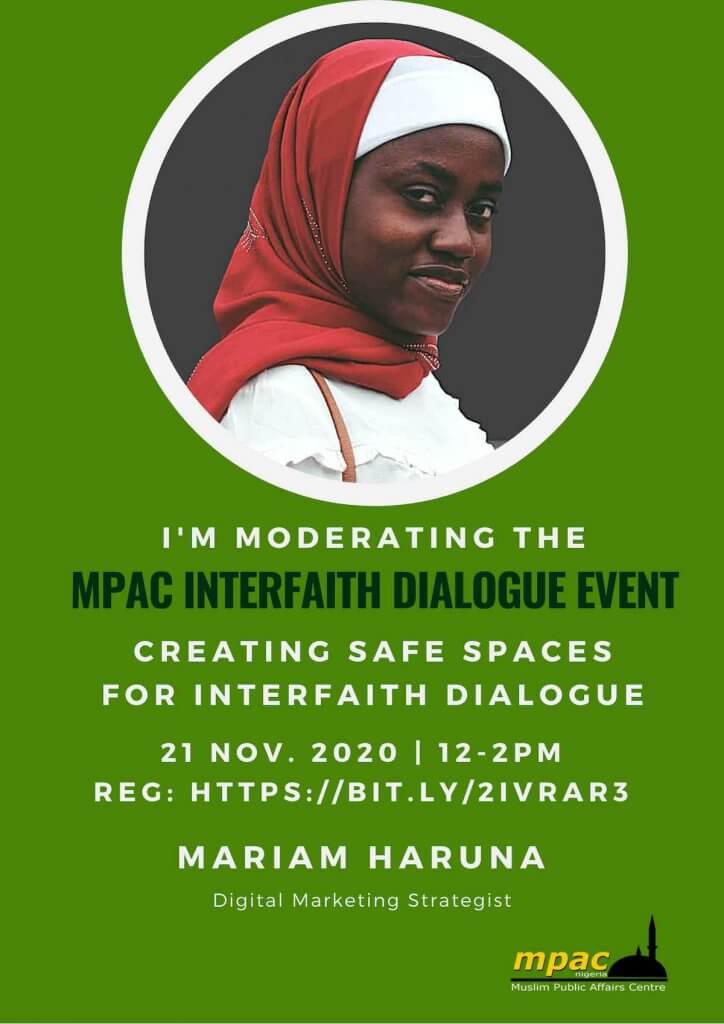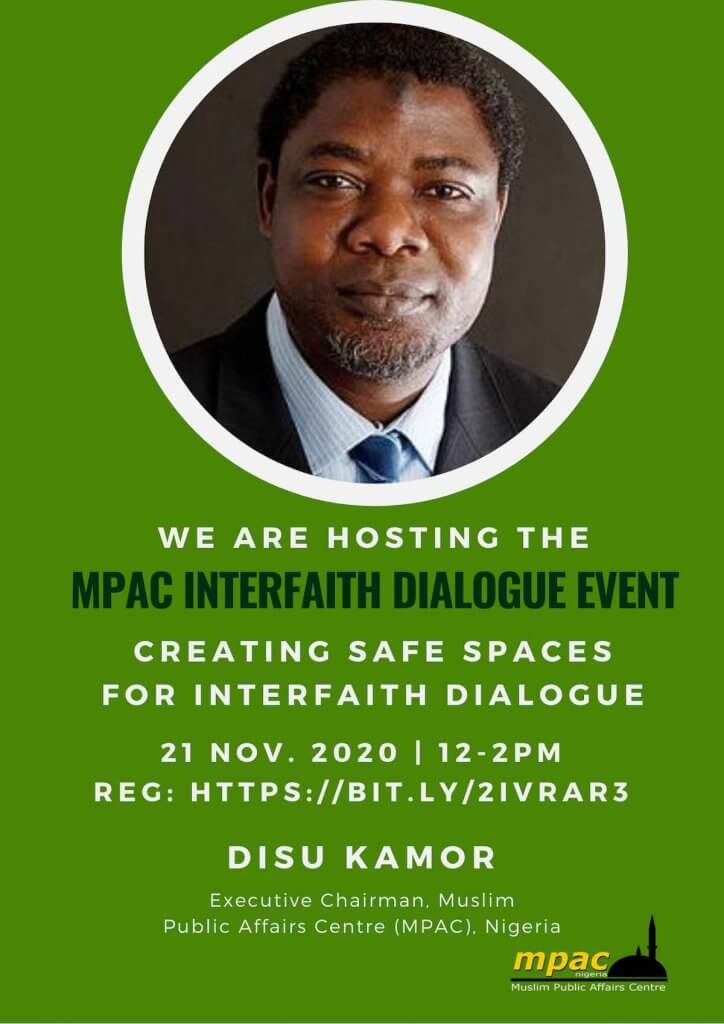 To discuss the practicalities of creating safe spaces for Muslims and Christians to discuss interfaith dialogue.
Objective:
To educate young Nigerians on how to create their safe spaces so conversations on interfaith dialogue can happen with respect and love.
Host:
MPAC, Nigeria
Registration Link: https://bit.ly/2IvRAR3
—————–
As you're here…
MPAC has one humble request from you…
Thousands of Nigerian Muslims rely on the services we provide at MPAC and thousands more from around the world visit our website for news every day. Due to the significant challenges we face in dealing with Muslim-related issues in a heightened Islamophobic environment, MPAC is constantly under financial strain to meet our financial needs.
To maintain editorial and financial independence, with no sectarian or political allegiance to any particular group or movement, MPAC relies only on donations from individuals like you.
It is easy to understand the importance of organisations that do the sort of work we do at MPAC in today's climate. Please support us financially and please support us for as little as N1000 a month. It only takes a minute to make a one-off donation or to set up a standing order with your bank. Jazakallah khayran.
Our beloved Prophet Muhammad (peace be upon him) said: "The best deeds are those done regularly, even if they are small." [Ibn Mājah]