Eid-el-Adha Message of Peace and Solidarity from MPAC Nigeria
Friday, 9 August 2019.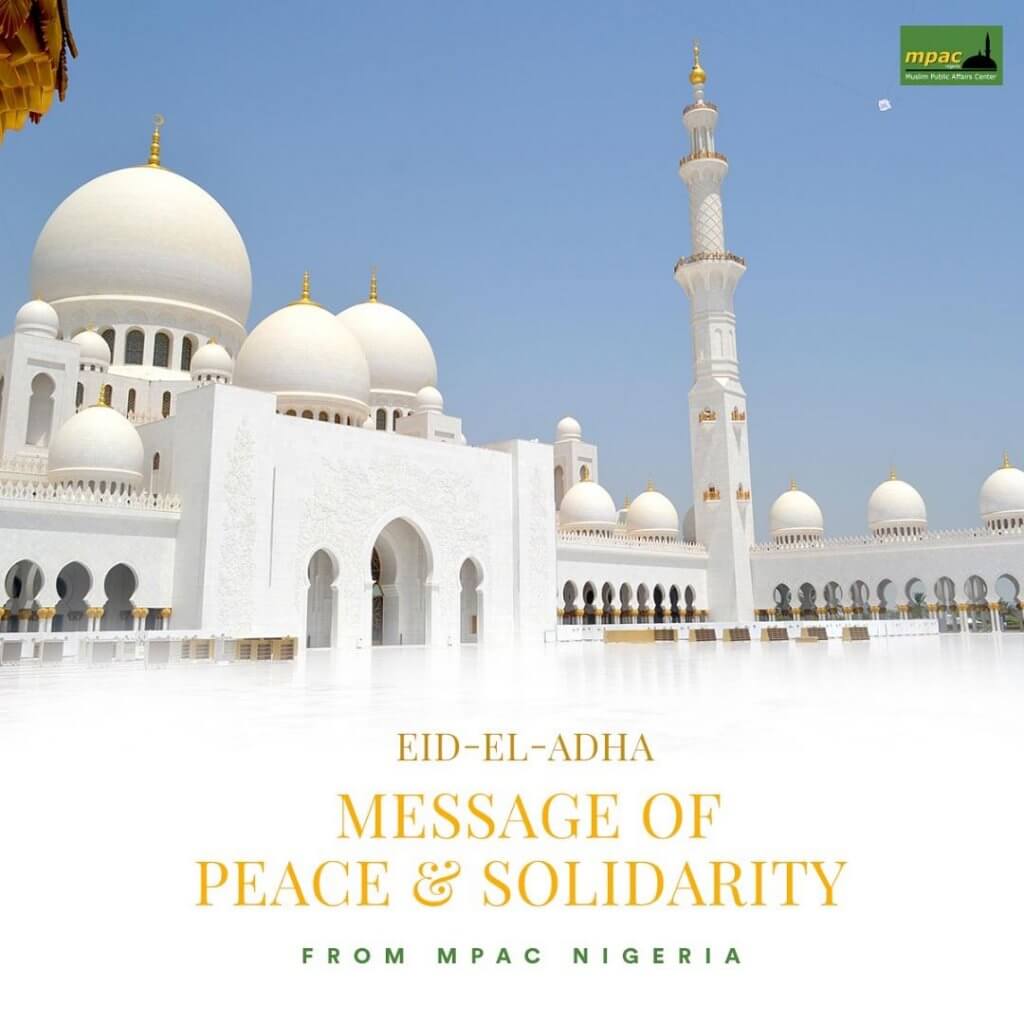 Eid-ul-Adha coincides with the annual pilgrimage to Makkah. It commemorates both the greatest example of submission, Prophet Ibraheem's readiness to sacrifice his son, a biblical tradition too, and a mark of the end of the revelation of the Qur'an. It is quite symbolic that these unique historical events are interlinked. Living by the Qur'an requires commitment and sincerity as exemplified in the trial and triumph of Prophet Ibraheem (AS) and his family. The important message of hajj is brought to life by over two million pilgrims, men and women, representing every race, colour, class and age who gather at this time near Makkah, all chanting the same slogan: Here I am O my Lord, here I am. Here I am, there is no partner unto You… All Praise, Glory and Power belong to You.
This sublime and powerful act of devotion is in direct contrast to the sad events of violence and strife in parts of the world, including Nigeria, which threaten national and global peace and human solidarity. During the hajj rites, Muslims from both Shia and Sunni traditions, from the East and the West, black and white, poor and rich, will stand on the plains of Arafa, standing together wearing the same white attire, reflecting deeply on the importance of sacrificing for God, the communal good and one another. In this state of total submission, they pray for forgiveness, personal salvation and also peace for the humanity.
The Muslim Public Affairs Centre (MPAC) Nigeria wishes all Muslims a happy and blessed Eid-ul-Adha celebration. It has been a revolutionary year for the global Muslim community as thousands of people have sacrificed their lives in the pursuit of peace, security, freedom and liberty.
MPAC takes this time to remember all those who strive for the betterment of their society in the face of seemingly insurmountable hardship and challenges.
On this second major Muslim holiday of the year, we remember the true definition of sacrifice and pray for all those that are still struggling for peace, love, security and justice everywhere.
The MPAC Executive Chairman, Kamor Disu, in his Eid message iterated that an aspect of the Muslim faith is true commitment to the spirit of coexistence and goodwill for others, love for the homeland and readiness to take seriously each citizen's responsibility of protecting the nation's interests.
He therefore urged Muslims in position of authority to always distinguish themselves as exemplary in public conduct and morality.
He stated that it is important that all citizens observe equity, justice in all dealings and eschew immorality, unrighteous and rebellious actions.
According to Kamor, without doubt there are real issues and grievances, social and economic injustices, Eid-ul-Adha reminds us that the way forward is in coming together, building consensus and unity with fellow citizens, accepting differences and seeking common good.
The MPAC Chieftain extended Eid greetings on behalf of the Muslim Public Affairs Center to Muslims and convey a warm message of solidarity and peace to everyone on this auspicious occasion. May you and your families have a joyous and blessed day and may Allah bless our nation with peace, prosperity and increased spirituality.
Eid Mubarak from all of us at MPAC.
www.mpac-ng.org
—————–
As you're here…
MPAC has one humble request from you…
Thousands of Nigerian Muslims rely on the services we provide at MPAC and thousands more from around the world visit our website for news every day. Due to the significant challenges we face in dealing with Muslim-related issues in a heightened Islamophobic environment, MPAC is constantly under financial strain to meet our financial needs.
To maintain editorial and financial independence, with no sectarian or political allegiance to any particular group or movement, MPAC relies only on donations from individuals like you.
It is easy to understand the importance of organisations that do the sort of work we do at MPAC in today's climate. Please support us financially and please support us for as little as N1000 a month. It only takes a minute to make a one-off donation or to set up a standing order with your bank. Jazakallah khayran.
Our beloved Prophet Muhammad (peace be upon him) said: "The best deeds are those done regularly, even if they are small." [Ibn Mājah]