Eid Mubarak
Eid Mubarak: A Message of Gratitude
Friday, 8 July 2022 | 9 Dhul Hijjah 1443AH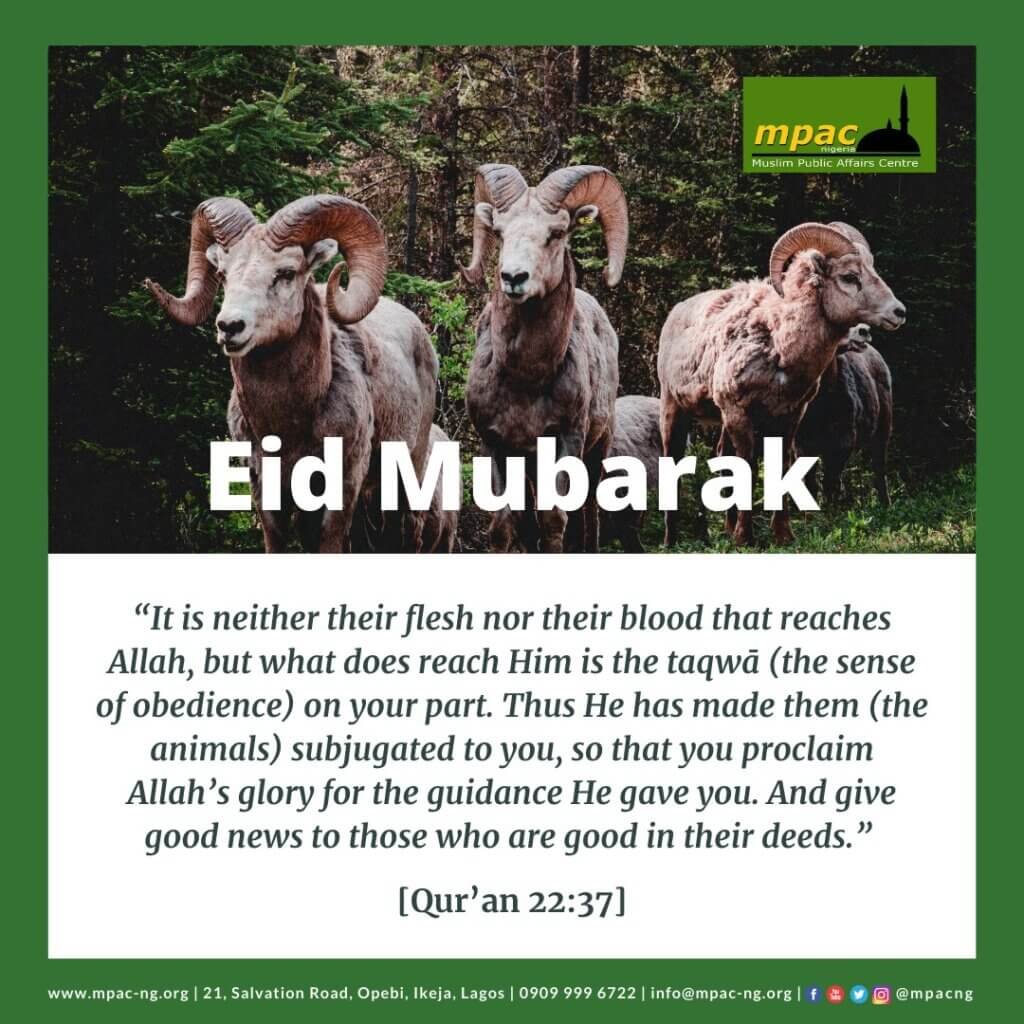 Eid-ul-Adha is a time for both reflection and celebration. The trials of Prophet Ibrahim (AS) and his family, and their triumph are noble examples for us to stay true to faith in the face of hardship and trials. This year's Eid-ul-Adha is quite special as it is the first time Muslim pilgrims across the globe are allowed into Makkah to perform Hajj since the periods of the COVID-19 pandemic. Thus, it is one in which our heart is filled with gratitude to Allah (SWT).
The Muslim Public Affairs Centre (MPAC) wishes all Muslims a happy and blessed Eid-ul-Adha celebration. Times are hard. On one hand, Nigeria is caught in the whirlwind of the global recession where basic living conditions have been taken to the extremes. On the other hand, unchecked acts of terrorism, heightened insecurity and extreme poverty have all combined to make life unbearable for most Nigerians. The past year has also been a period of trial for the global Muslim community as many people have sacrificed their lives in the pursuit of peace, security, freedom and liberty. In all of these, we remain grateful to Allah for His numerous blessings and favours.
As we follow in the footsteps of Prophet Ibrahim (AS), it is even more befitting to take personal lessons from the lives of the Prophets, particularly about God-consciousness, honesty, trustworthiness, patience and sacrifice. The total submission of Prophet Ibrahim (AS) has shown us that pleasure lies only in taqwā (God consciousness), seeking and fulfilling the will of Allah.
Regarding God consciousness, Allah (SWT) says in the Quran:
"It is neither their flesh nor their blood that reaches Allah, but what does reach Him is the taqwā on your part. Thus He has made them (the animals) subjugated to you, so that you proclaim Allah's glory for the guidance He gave you. And give good news to those who are good in their deeds." (Al-Hajj, Qur'an 22:37)
We pray Allah will bless our nation with pious leaders and God conscious followers.
This Eid period serves as an opportunity to extend our hands and share our wealth with those less fortunate- a way for us to share the joy and goodwill of the festival amongst everyone. Indeed, the festivities only begin when we share our blessings with others.
We pray for a quick end to the global crisis. We pray for an end to endemic corruption, extreme poverty and intense insecurity in our nation. We pray for good and selfless leaders who know and will keep faith with God consciousness in national affairs. We pray for God fearing leaders that love all Nigerians. We pray that Allah returns our nation to the path of its old glory, safety, security and prosperity. Finally, we pray for the end of poverty, bloodshed, misery, fear in the land and the beginning of enduring joy and peace.
Once again, MPAC congratulates those in Makkah and wish the global Muslim community a time of deep spiritual enrichment and abundance, and shared joy with loved ones, friends and neighbours. Eid Mubarak. May Allah accept from us and you.
Disu Kamor
Executive Chairman
Muslim Public Affairs Centre
—————–
As you're here…
MPAC has one humble request from you…
Thousands of Nigerian Muslims rely on the services we provide at MPAC and thousands more from around the world visit our website for news every day. Due to the significant challenges we face in dealing with Muslim-related issues in a heightened Islamophobic environment, MPAC is constantly under financial strain to meet our financial needs.
To maintain editorial and financial independence, with no sectarian or political allegiance to any particular group or movement, MPAC relies only on donations from individuals like you.
It is easy to understand the importance of organisations that do the sort of work we do at MPAC in today's climate. Please support us financially and please support us for as little as N1000 a month. It only takes a minute to make a one-off donation or to set up a standing order with your bank. Jazakallah khayran.
Our beloved Prophet Muhammad (peace be upon him) said: "The best deeds are those done regularly, even if they are small." [Ibn Mājah]