Eid Mubarak
Special Eid Al Adha Message
Thursday, 30 July 2020 | 9 Dhul Hijjah 1441AH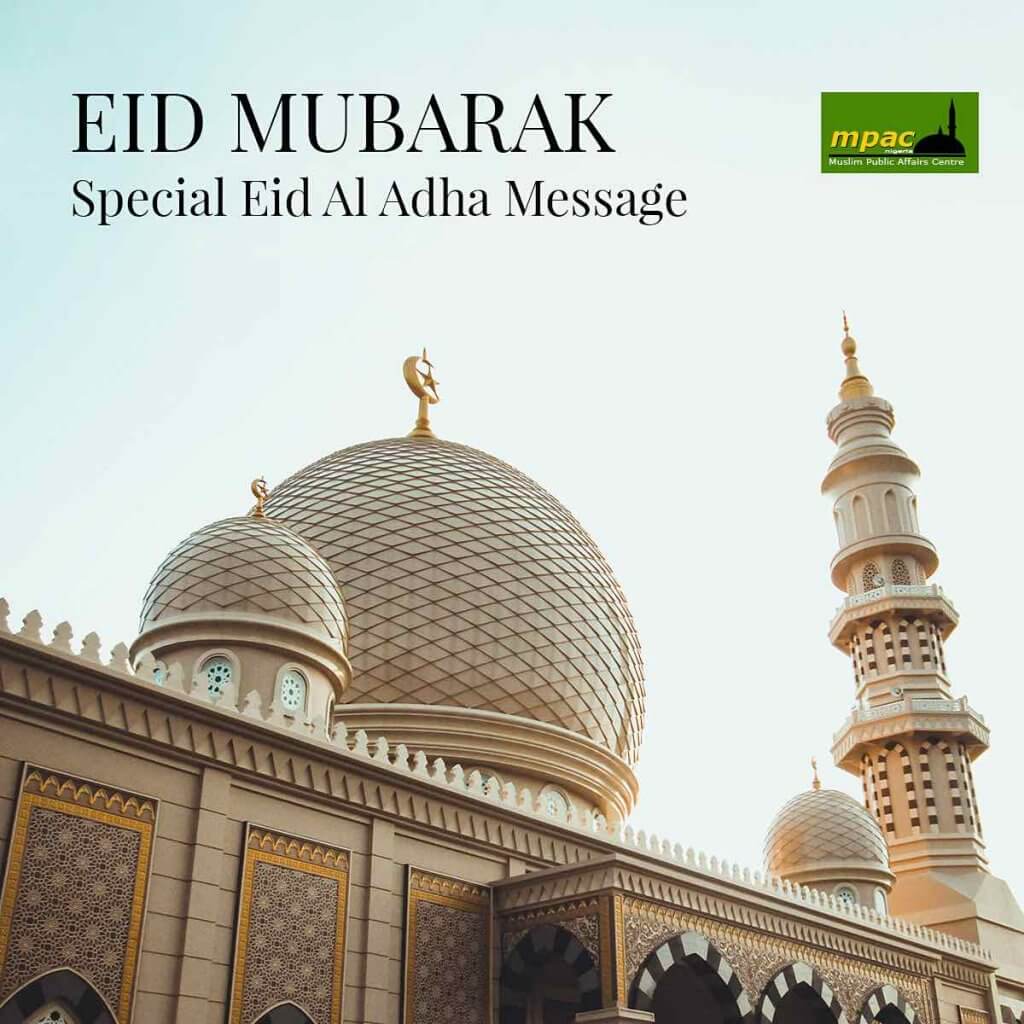 Eid-ul-Adha is a time for both reflection and celebration. The trials of Prophet Ibrahim (AS) and his family, and their triumph are noble examples for us to stay true to faith in the face of hardship and trials.
Due to the COVID-19 pandemic, this year's Hajj has been restricted to just a fraction of the normal size of pilgrims. During the hajj rites, Muslims from all countries, from the East and the West, black and white, poor and rich, will stand on the plains of Arafa, standing together wearing the same white attire, reflecting deeply on the importance of sacrificing for God, the communal good and one another. In this state of total submission, they pray for forgiveness, personal salvation and also peace for humanity. This sublime and powerful act of devotion is in direct contrast to the tragic incidents of corruption and insecurity in Nigeria, which threaten national peace and human solidarity.
The immediate situation in Nigeria demands some deep reflection and more importantly, decisive actions. Corruption and insecurity are both threatening the very existence of the nation, gnawing away at its foundation. The new surge in these ugly incidents call for the immediate and unrelenting attention of the government at the Federal and State levels. It is in the light of this that we call the attention of all our elected officials, those appointed to offices and others working in positions of public trust to be God-conscious and accountable. In the important words of the first Caliph (Successor) after Prophet Muhammad (SAW) in his inaugural speech, these responsibilities are sacrosanct.
The evergreen Speech of the Caliph, which is both brief and uncomplicated, spells out the specific nature of the relationship between the rulers and the citizens, governance, justice and the rules pertaining to external and domestic affairs. The rulers in particular and those in the position of trust will be held accountable by God for all aspects of their stewardship.
Caliph Abu Bakr said in his inaugural speech:
"O people, I have been appointed over you, though I am not the best among you. If I do well, then help me; and if I act wrongly, then correct me. Truthfulness is synonymous with fulfilling the trust, and lying is equivalent to treachery. The weak among you is deemed strong by me, until I return to them that which is rightfully theirs, insha Allah. And the strong among you is deemed weak by me, until I take from them what is rightfully (someone else's), insha Allah. No group of people abandons military/armed struggle in the path of Allah, except that Allah makes them suffer humiliation. And evil/mischief does not become widespread among a people, except that Allah inflicts them with widespread calamity. Obey me so long as I obey Allah and His Messenger. And if I disobey Allah and His Messenger, then I have no right to your obedience. Stand up now to pray, may Allah have mercy on you" [Al-Bidaayah wan-Nihaayah (6/305,306)]
MPAC takes this time to remember all those who have suffered violence, death, oppression, fear and deprivation in the face of seemingly insurmountable hardship and challenges.
On this second major Muslim holiday of the year, we remember the true definition of sacrifice and pray for all those, communities and individuals, that are still struggling for peace, safety, security and justice.
The Muslim Public Affairs Centre (MPAC) Nigeria wishes all Muslims a happy and blessed Eid-ul-Adha celebration. It has been a trying year for the global Muslim community as many people have sacrificed their lives in the pursuit of peace, security, freedom and liberty.
As we follow in the footsteps of Prophet Ibrahim (AS) it is even more befitting to take personal lessons from the lives of the Prophets, particularly about God-consciousness, honesty and trustworthiness. This time serves as an opportunity to extend our hands and share from our wealth with those less fortunate and a way for us to celebrate together and spread happiness during this uncertain time. We pray for the quick end to the epidemics of COVID-19, corruption and insecurity in our nation.
Eid Mubarak.
May Allah accept from us and you.
Disu Kamor
Executive Chairman
Muslim Public Affairs Centre
—————–
As you're here…
MPAC has one humble request from you…
Thousands of Nigerian Muslims rely on the services we provide at MPAC and thousands more from around the world visit our website for news every day. Due to the significant challenges we face in dealing with Muslim-related issues in a heightened Islamophobic environment, MPAC is constantly under financial strain to meet our financial needs.
To maintain editorial and financial independence, with no sectarian or political allegiance to any particular group or movement, MPAC relies only on donations from individuals like you.
It is easy to understand the importance of organisations that do the sort of work we do at MPAC in today's climate. Please support us financially and please support us for as little as N1000 a month. It only takes a minute to make a one-off donation or to set up a standing order with your bank. Jazakallah khayran.
Our beloved Prophet Muhammad (peace be upon him) said: "The best deeds are those done regularly, even if they are small." [Ibn Mājah]