Fresh Attack on Muslim Faithful Leaves Tens Dead and Several Others
Injured
Sunday, 15 August 2021 | 8 Muharram, 1443 AH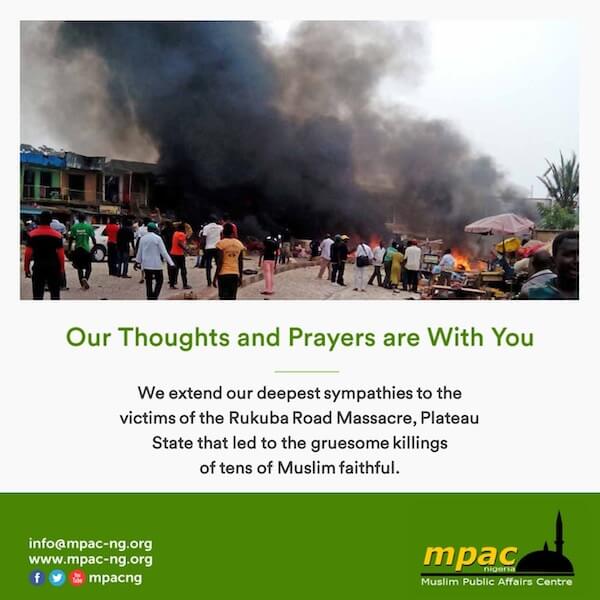 According to reports from Daily Post, "the Plateau Police Command has confirmed that as a result of the skirmishes that took place on Saturday morning at Rukuba road area of Jos North LGA of the State, 22 persons lost their lives and 14 others were injured.
The Command also said 21 persons were rescued from the scene of the incident.
This was disclosed by the Spokesman of the Command, ASP Gabriel Ogaba, in Jos, the State Capital.
Ogaba said, "On 14th August 2021 at about 09:28 hours, the Plateau State Police Command received a distress call that a group of attackers suspected to be Irigwe youths and their sympathisers along Rukuba Road of Jos North LGA attacked a convoy of five buses with Muslim faithful who were coming back from the Annual Zikr prayer in Bauchi State and heading to Ikare in Ondo State."
"Unfortunately, 22 persons were killed and fourteen injured in the attack."
According to him, "Upon receipt of the report, a team of Police personnel, the military and other sister agencies were immediately mobilised to the scene where 21 victims were rescued and six suspects arrested.
"The Commissioner of Police, Plateau State Command, CP Edward Egbuka, along with the GOC 3-Division, Major General Ibrahim Ali, also visited the scene and ordered for a discreet investigation to fish out other perpetrators of this barbaric act at large", he explained.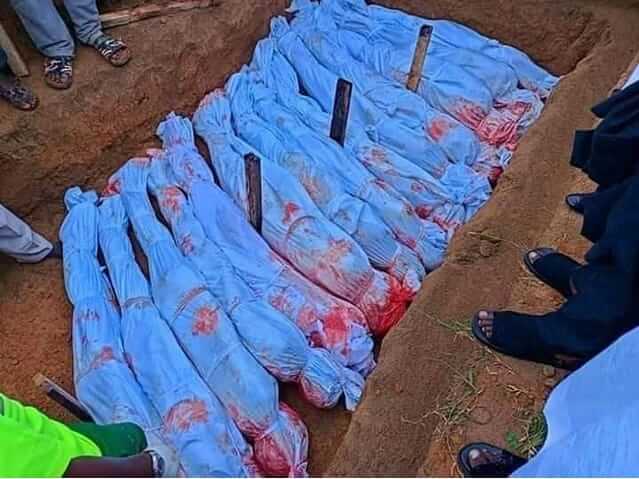 MPAC strongly condemns this act of barbarism and specific targeting of innocent Muslims who were simply travelling through the area after a righteous act of religious devotion. Those who have committed this heinous crime have gone beyond the basic principles of humanity. There is no cause that can justify these senseless killings of the innocent based on religious profiling. The perverted mindset of the perpetrators, who shed blood without regard to any human feelings is a common threat to all Nigerians, and together, we must confront and challenge it.
The type of senseless violence that continues to plague the nation requires those prosecuting the war against terrorism to not only intensify the fight against Boko Haram and all groups involved in terrorism/insurgency/kidnapping, but as a matter of necessity, they must change their tactics in order to be more effective and proactive.
What has just happened in Rukuba falls within the definition of terrorism. While the Plateau remains a hotbed of religious and tribal intolerance and clashes, these crises represent a major security challenge that directly affects all parts of the country. It will be remembered that it was also in the same area that criminals from the Du community gruesomely murdered retired General Idris M. Alkali in 2018, dumped his vehicle in a pond and threw his dead body into a ditch. It must be the failure of the governments to swiftly bring the perpetrators to justice that must have emboldened this new set of violent criminals and infused in them a sense of impunity.
As thousands of Nigerians are at the risk of losing their lives to the unrelenting terrorist and Islamophobic attacks, this is no time for those in government and the management of internal security to be complacent. What has just happened in Plateau State is a grotesque act of senseless violence specifically targeting the Muslim victims. We call on the government to hold those responsible for these violent and hateful crimes to the full extent of the law and it is crucial that the government, most especially at the state level, become more proactive. It is time to put the necessary measures and policies in place to protect the lives of citizens.
Condolences to the families of the victims and the entire communities affected. May Allah heal the wounded and grant the dead the status of martyrs.
—————–
As you're here…
MPAC has one humble request from you…
Thousands of Nigerian Muslims rely on the services we provide at MPAC and thousands more from around the world visit our website for news every day. Due to the significant challenges we face in dealing with Muslim-related issues in a heightened Islamophobic environment, MPAC is constantly under financial strain to meet our financial needs.
To maintain editorial and financial independence, with no sectarian or political allegiance to any particular group or movement, MPAC relies only on donations from individuals like you.
It is easy to understand the importance of organisations that do the sort of work we do at MPAC in today's climate. Please support us financially and please support us for as little as N1000 a month. It only takes a minute to make a one-off donation or to set up a standing order with your bank. Jazakallah khayran.
Our beloved Prophet Muhammad (peace be upon him) said: "The best deeds are those done regularly, even if they are small." [Ibn Mājah]