Happy Independence Day Nigerians
Thursday, 1 October 2020 | 14 Safar 1442AH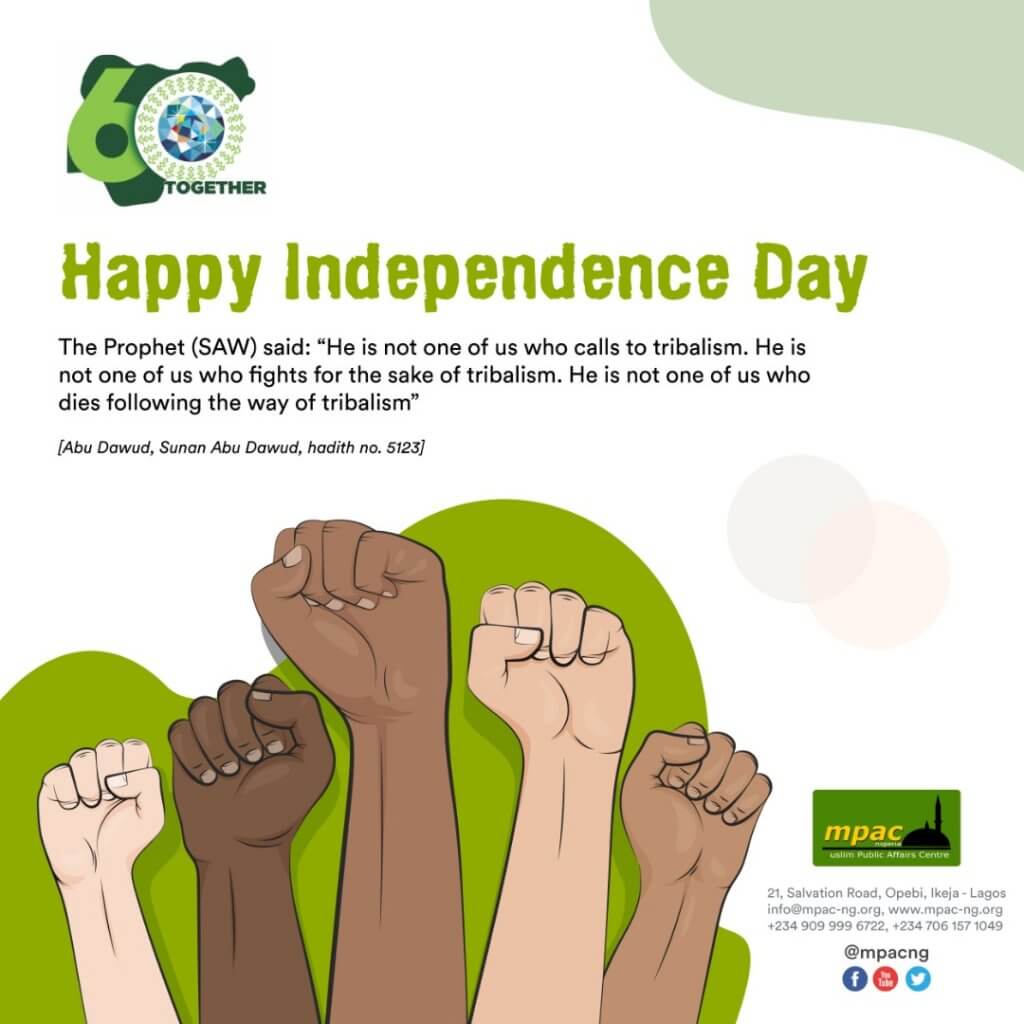 As Nigeria celebrates the 60th year of independence, we always give thanks and glory to God Almighty for the special grace and destiny He has for us as a nation and as a people. Despite many challenges and pains, we count our blessings and favours.
We spend this day to honour the sacrifices of our past heroes, those Nigerians who over the decades have served selflessly and championed causes to put Nigeria on the course for peace, progress and prosperity. Nigerians who strive for a Nigeria that cherishes all its people equally and upholds values that don't carry a price tag.
Our collective aspiration for a greater and successful nation can only be achieved through unity and togetherness. We call on those whom God has favoured with positions of leadership today to reflect on the special duty they have to be faithful to the call of their offices, and the special accounts before God for each and every decision they take that affects the life of the people and the nation.
As citizens, let us value our citizenship and make a stronger decision to value our unity and never forget the sacrifices and faithfulness of those who gave us our today, despite yesterday's challenges. Knowing our history and remembering our past are extremely important and it is critically important to commit to work together across all lines of division, to confront and defeat the aim of those amongst us with insatiable appetite for corruption and violence. Our common goal should be to play our individual roles well to build a better tomorrow for all.
We urge all Muslim Nigerians to commit to champion causes that add value to nation-building, spiritual wellbeing, national prosperity and lawfully express their civic and political conscience in the way they see fit. We are to do these while respecting the various approaches to bringing about needed change in many of the challenges facing our nation.
Happy Independence Day from MPAC, Nigeria.
#Nigeria@60 #HappyIndependence #BetterNigeria #GoodPeopleGreatNation
—————–
As you're here…
MPAC has one humble request from you…
Thousands of Nigerian Muslims rely on the services we provide at MPAC and thousands more from around the world visit our website for news every day. Due to the significant challenges we face in dealing with Muslim-related issues in a heightened Islamophobic environment, MPAC is constantly under financial strain to meet our financial needs.
To maintain editorial and financial independence, with no sectarian or political allegiance to any particular group or movement, MPAC relies only on donations from individuals like you.
It is easy to understand the importance of organisations that do the sort of work we do at MPAC in today's climate. Please support us financially and please support us for as little as N1000 a month. It only takes a minute to make a one-off donation or to set up a standing order with your bank. Jazakallah khayran.
Our beloved Prophet Muhammad (peace be upon him) said: "The best deeds are those done regularly, even if they are small." [Ibn Mājah]