Imagine a World Without Organizations Like MPAC
Saturday, 15 April 2023 | 24 Ramadan, 1444AH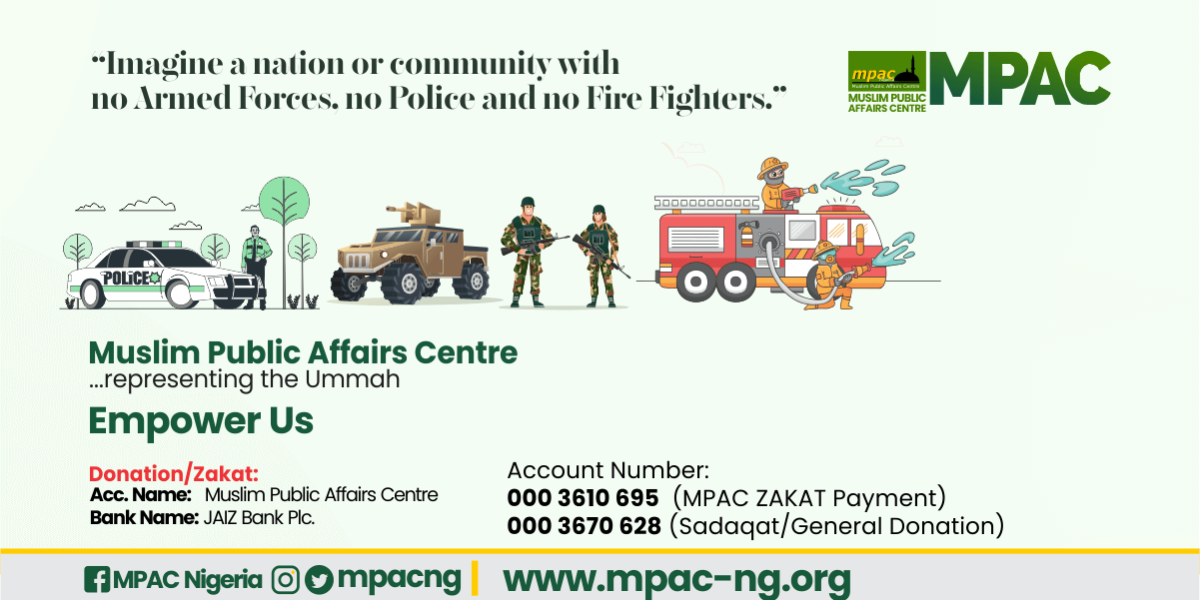 Imagine if there were no interventions from Muslim Public Affairs Centre and other notable Muslim organizations during Firdaus Amasa's hijab case. The hijab may have never been incorporated into the female lawyers' uniform.
Imagine if there were no interventions from MPAC during the Islamophobic attacks against Muslims in the South-South (SS) and South-East(SE) of Nigeria. You may have never been aware of the horrors they lived through. Imagine MPAC did not take on the UK All-Party Parliamentary Group (APPG), which demanded sanctions against Nigeria based on the false and sponsored narrative that Muslims were carrying out genocidal war against Nigerian Christians, persecuting Christians in Nigeria and restricting their freedom of religion, Nigeria would probably be under UK sanctions today. MPAC's strong refutations to APPG on its sponsored report on Herders/Farmers Conflicts in Nigeria, where Muslim victims were rendered voiceless and invisible, was shown to be highly flawed and agenda-driven. Due to MPAC advocacy works on this matter, the Foreign, Commonwealth and Development Office of the British Government, based on the contents of our letter to the British Prime Minister highlighting the many flaws of the report, engaged with MPAC to address some of the concerns we raised against the report. The Office agreed with us that the narratives of an orchestrated genocidal war and targeted persecution were untrue.
In the last one year, we have referred a number of cases to the Nigerian Human Rights Commission on behalf of the Muslim community and got actions on them. We have been interviewed by the Nigeria Police Force and the DSS, based on petitions we wrote to each of them to report hate crimes against the Muslim community. These are only part of the works we do at MPAC to ensure we live in an inclusive society and rid our country of inequality and hate-motivated crimes.
Imagine if there were no research work to support our works at MPAC as a result of the unending cases of Hijab Bullying, Intimidation, Harassment and Discrimination in Nigeria, we won't have been able to effectively evaluate the experiences of Muslim women wearing the hijab in Nigeria. Now, imagine if we can actually afford to operate a desk dedicated to in-depth research at the MPAC office, with the sole purpose of supporting and enabling our advocacy and policy works.
There is a global Islamophobia industry and locally, discriminatory policies, anti-Muslim sentiments and victimisations still exist but they are being confronted through your continued supports. With more resources we will not only be able to do more, the future of our advocacy works will be assured.
For more than 2 decades, we have been at the frontline, rising in Muslim defence and promoting their individual liberties as well as their religious, civil and political rights. MPAC has made a name for itself as a clearing house for Muslim public affairs issues, and as we seek to perform better and be more proactive, we need reliable partners like you.
Imagine a nation without the Police, the firefighters, and the military! These are the works that MPAC and similar organizations do on behalf of the Ummah. And there is no way we can be called on to work if we are not funded and enabled. The same way that the Police, the firefighters and the military cannot work efficiently without adequate training, supply and resources.
So, imagine a Nigeria without MPAC. We will continue to work on the frontlines with you as our reliable partners. Empower us with your donations and Zakat (MPAC is Zakat eligible). We need you to help put fuel in the engine of these works. Donate generously this Ramadan and get rewarded in manifolds by Almighty Allah.
Bank Account Detail
Account name: Muslim Public Affairs Centre
Bank: JAIZ Bank Plc
Account Number: 0003610695 (ZAKAT PAYMENT)
0003670628 (SADAQAT/ GENERAL DONATION)
Read our Charter of Donor's Rights:
_________________________________________
Oh! Allah, the Most-Merciful, make this Ramadan, a door to your mercy.
Support MPAC this Ramadan and get rewarded in manifolds from the Most Merciful.
Bank Details:

Account Name: Muslim Public Affairs Centre

Bank: JAIZ Bank Plc.

Account Number: 0003610695 (MPAC ZAKAT Payment)

                                0003670628 (Sadaqat/General Donation)

…

Bank: Stanbic IBTC

Account Number: 0006479106
Donate Online
Payment is secured by Paystack.
Should you wish to receive MPAC Official Receipt for your payment please send us your contact and donation details at info@mpac-ng.org.
—————–
As you're here…
MPAC has one humble request from you…
Thousands of Nigerian Muslims rely on the services we provide at MPAC and thousands more from around the world visit our website for news every day. Due to the significant challenges we face in dealing with Muslim-related issues in a heightened Islamophobic environment, MPAC is constantly under financial strain to meet our financial needs.
To maintain editorial and financial independence, with no sectarian or political allegiance to any particular group or movement, MPAC relies only on donations from individuals like you.
It is easy to understand the importance of organisations that do the sort of work we do at MPAC in today's climate. Please support us financially and please support us for as little as N1000 a month. It only takes a minute to make a one-off donation or to set up a standing order with your bank. Jazakallah khayran.
Our beloved Prophet Muhammad (peace be upon him) said: "The best deeds are those done regularly, even if they are small." [Ibn Mājah]