#JUSTICEforDEBORAH
Friday, 13 May 2022 | 12 Shawwal, 1443 AH
"A very sad day for the nation. The only people who have blasphemed against the Prophet and dishonoured his character in this case are those uncultured thugs and criminals who should be picked up one by one and made to face the full wrath of the law.
No matter who they are, anyone who justifies this heinous crime, or supports the perpetrators, must be challenged on the basis of the Quran and the teachings of the Prophet.
We all must demand for justice for Deborah."
Disu Kamor
Executive Chairman
MPAC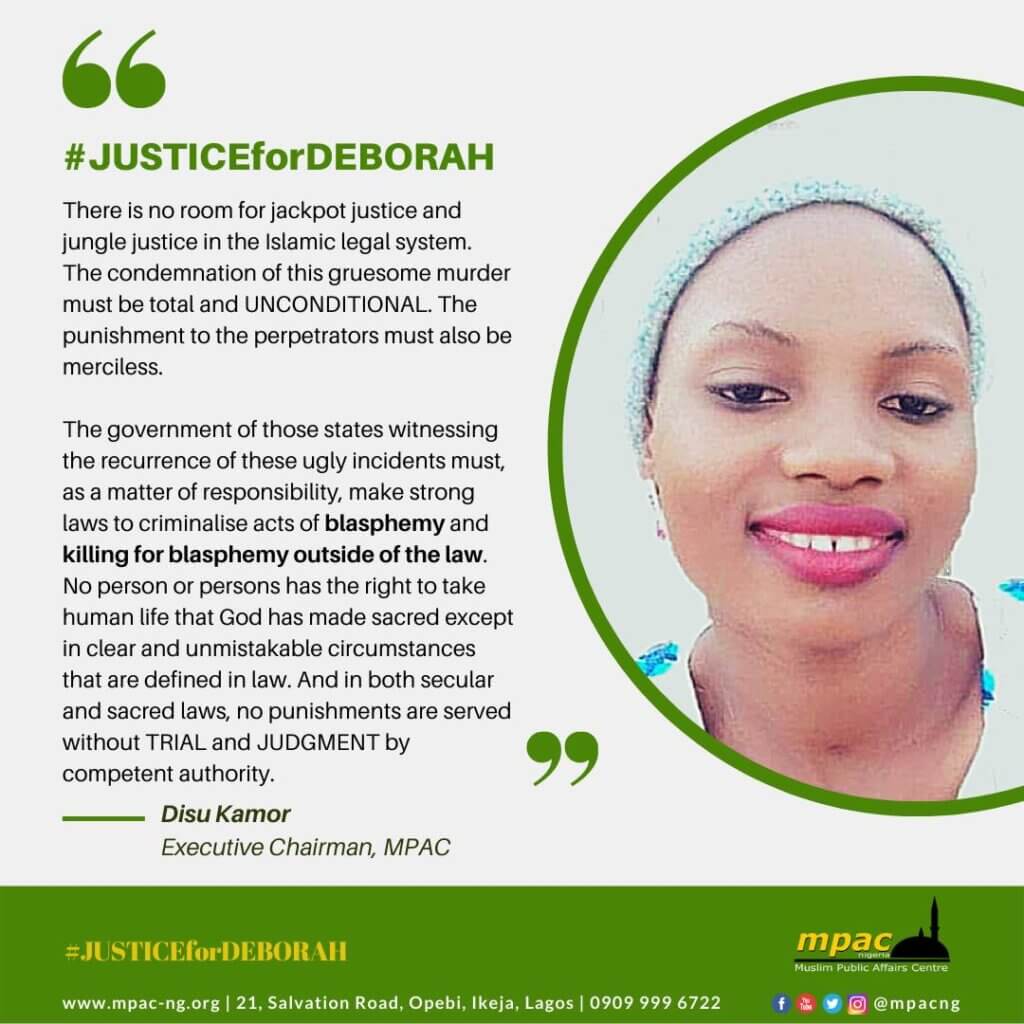 "There is no room for jackpot justice and jungle justice in the Islamic legal system. The condemnation of this gruesome murder must be total and UNCONDITIONAL. The punishment to the perpetrators must also be merciless.
The government of those states witnessing the recurrence of these ugly incidents must, as a matter of responsibility, make strong laws to criminalize acts of blasphemy and killing for blasphemy outside of the law. No person or persons has the right to take human life that God has made sacred except in clear and unmistakable circumstances that are defined in law. And in both secular and sacred laws, no punishments are served without TRIAL and JUDGMENT by competent authority."
Disu Kamor
Executive Chairman
MPAC
—————–
As you're here…
MPAC has one humble request from you…
Thousands of Nigerian Muslims rely on the services we provide at MPAC and thousands more from around the world visit our website for news every day. Due to the significant challenges we face in dealing with Muslim-related issues in a heightened Islamophobic environment, MPAC is constantly under financial strain to meet our financial needs.
To maintain editorial and financial independence, with no sectarian or political allegiance to any particular group or movement, MPAC relies only on donations from individuals like you.
It is easy to understand the importance of organisations that do the sort of work we do at MPAC in today's climate. Please support us financially and please support us for as little as N1000 a month. It only takes a minute to make a one-off donation or to set up a standing order with your bank. Jazakallah khayran.
Our beloved Prophet Muhammad (peace be upon him) said: "The best deeds are those done regularly, even if they are small." [Ibn Mājah]