MPAC Announces the Launch of a Ground-Breaking Grant Writing Course.
Friday, 12 April 2019.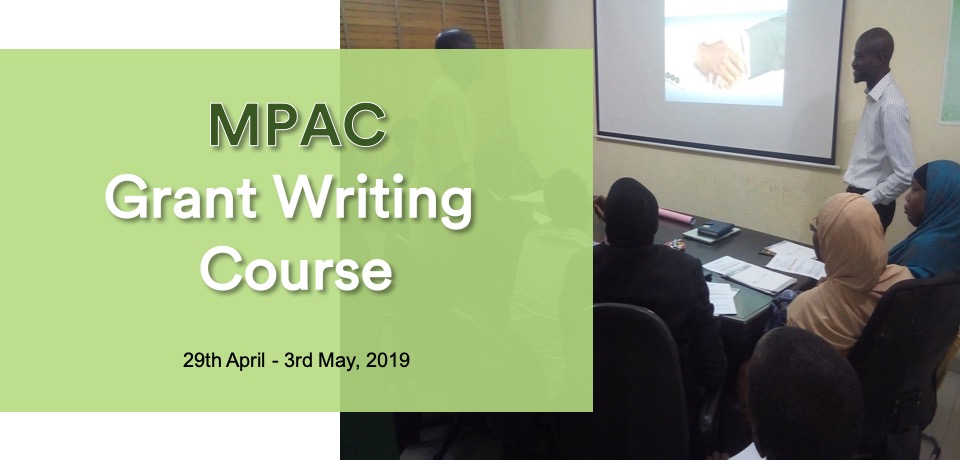 At MPAC, we recognize the best assets of any organisation are its people.
Following the success and satisfactory feedbacks from participants of the MPAC 3-Day Project Proposal (Grant) Writing Workshop for Muslim owned NGOs held in July 2018, we are glad to announce the launching of a ground-breaking GRANT WRITING COURSE.
This is in view of our continuous commitment to empowering the Ummah, encouraging collaboration and promoting competitiveness by enhancing the ability and skills of Muslim organisations to assess grants- local and foreign.
MPAC is collaborating with Development Initiative of West Africa (DIWA) to hold an intensive 5-Day Project Proposal (Grant) Writing Workshop for Muslim NGOs scheduled between 29th April to 3rd May 2019.
The course will equip Programme/Project Managers, Team Members and Senior Management in Muslim organisations with the tools and knowledge to enable them to lead the writing of a winning project proposal in their workplace.
Last year, we had an attendance of fourteen (14) participants from twelve (12) different Muslim organisations. Feedback from all participants have nudged us to seek a renewed opportunity for more Islamic organisations to benefit. This year, we are increasing the target to forty (40) participants to accommodate more organisations and individuals to benefit from the training.
Course Content 
Project Design and Proposal Development (definition of a project proposal, essentials and structure of a good project proposal)
Constructing an attractive and effective project title
Constructing Problem and Solution Tree
Defining and Developing Goals and Objectives of a project
How to write an appealing project executive summary
Monitoring, Evaluation, Accountability and Learning- MEAL of a project (overview and purpose)
Developing a project proposal MEAL plan
Setting MEAL indicators
Presenting and formatting a project proposal
Editing and proofreading a project proposal
Understanding Fund Raising Strategies
Expected Learning Outcomes
At the end of the course participants will be able to:
Identify key components of a project proposal
Describe the conventional structure of a project proposal and how they are constructed
Develop problem and solution trees
Describe project indicators and how they are coined
Explain the importance of project budget and how it is structured
Explain the awareness of common inconsistencies that undermine the quality of a good project proposal
Analyze the role of editing in improving the quality of a good project proposal
Explain the consequences of inadequate attention to proofreading a proposal
Write a befitting Project Proposal
Understand the other Fund Raising Strategies
Course Duration & Methodology
30 hours of training for five consecutive days at 6-hour per day with two hours of lunch/prayer breaks. This has been scheduled between 29th April – 3rd May 2019.
The course methodology is a combination of adult learning methods and techniques such as brainstorming, plenary discussion/presentation, exercises, group work, role-play, and case studies.
Course Facilitators
The course trainers are highly qualified and experienced professionals. They had not only worked as trainers but they had also managed and evaluated development projects of various kinds. This gives them a rich pool of knowledge and experience to draw from.

Mr Daoda Kanneh is of Liberian origin and a prominent member of the Liberian expatriate community in Nigeria. Currently, he serves as Chief Executive Officer (CEO) of Development Initiative of West Africa (DIWA) – a regional NGO that addresses critical long-term issues affecting vulnerable communities in the areas of access to education, health and nutrition, water, capacity-building, and other social services. As CEO, he plans, administers over and supervises all DIWA activities, mobilizes resources required to ensure DIWA's success as an NGO, Assesses DIWA's progress towards annual targets, Supervises and appraises the running of DIWA branches and partners throughout West Africa, Presents reports on financial and technical details to the Board of Directors and donor relief agencies, and Represents DIWA Directors for PR purposes.
Mr Kanneh has served in many other roles at DIWA before now. He served as Administrative Secretary of DIWA, where he handled administrative tasks, produced Grant Proposals and Reports for donor agencies and individuals, and assisted with the development and control of budgets. He served as Project Management Coordinator of DIWA, where he coordinated and supervised all DIWA projects. He served as Liaison Officer of the Islamic Education Trust (IET) on Nigeria's largest Refugee Camp – Oru Refugee Camp, Ogun State, where he was responsible to handle various kinds of aid that were obtained on behalf of the refugees by the IET including emergency relief supplies, primary school scholarships for refugee orphans, microeconomic projects and children's nutritional feeding programme. Mr Kanneh has pioneered the establishment of many grassroots and community-based organizations including the "Organization of Liberian Communities in Nigeria"- an umbrella organization of Liberians residing within the borders of Nigeria, where he serves as its first current National president.
He has attended several professional trainings both in and outside Africa: Participated in training on "Improving Written Communication for Resource Mobilization", organized by the Management Strategies for Africa (MSA)-Nigeria; attended summer school on "Peace and Development"- organized by the Institute of Development Research and Development Policy at Ruhr University- Bochum, Germany; attended the "Higher Education Forum on Capacity Building and Development Research in Sub-Saharan Africa" Jointly conducted by the Centre for Development Research (ZEF), University of Bonn, the Institute of Development Research and Development Policy Ruhr-University Bochum and the German Academic Exchange Service (DAAD) held in Germany.
He is a career-minded personality, holds a Bachelor of Science Degree (Hons.) in Economics and a Masters of Science (MSc.) Degree in Humanitarian and Refugee Studies from the University of Ibadan Nigeria. He has a great aptitude for providing services in an organization, agency or community workplace which has a humanitarian mandate. His personal qualities include experience in humanitarian work, community development, communication and leadership skills, attention to detail, good record-keeping and report-writing ability, eagerness to learn, quick grasp of new information and skills, trustworthiness with handling funds, reliability, initiative, intrinsic drive to perform, passion for the field of community development, public respectfulness and respectability, and a spirit of accountability.

Bello Lateef Adekunle graduated summa cum laude from the Department of Linguistics and Nigerian Languages, University of Ilorin before he proceeded for a Master's Degree in Phonology. He is a certified Trauma Counsellor by Nassarawa State University and the Lux Terra Leadership Foundation. He is an Alumnus of LEAP Africa, as well as Tolerance Academy jointly organized by the United Nations Alliance of Civilization and Society Champions. Bello participated in the Advocacy efforts and conference geared towards 'Keeping Girls in School Africa', and led the Digital Media team for the event.
He also led the team which pioneered the formation of the University of Ilorin Muslim Graduates Association for which he's currently the National Secretary. He is also the Chairman, Council for Muslim Corps Members Affairs, Kwara State, Nigeria. Bello has worked with several establishments including Community-Based Organizations (CBOs) such as Academic Excellence Initiative (AEI) Kwara State as the Programme Officer, Head of Operations/Programme Coordinator for Crafties Consulting Limited and Programme Coordinator for Muslim Youth for Change International (MYCi).
Bello is a former School Administrator; Head Teacher; and Co-Founder of Founders Hub. He is Head of Communications and Grants for the Development Initiative of West Africa (DIWA). He has served as a project team member for projects supported by European Union Delegation/Civipol Conseil, Tony Blair Institute for Global Change, IHSAN foundation USA, The Carter Centre, Centre for Democracy and Development, Ausrelief and other Foreign Embassies such as Embassy of the United States of America, Abuja, Embassy of the Federal Republic of Germany, Abuja e.t.c. Bello has participated in Workshop on Project Design and Management organized by the Tony Blair Institute for Global Change, UK; and an M&E 'Community Scorecard' organized by Care International, UK.

Haleemah Oladamade Ahmad is the Chief Editor and Senior Research Associate with the Da'wah Institute of Nigeria (DIN), Islamic Education Trust (IET), Minna, Niger State, Nigeria. She is a versatile professional experienced in advanced writing and editing, training and facilitation, as well as the design, implementation and management of projects, and is currently on the project management team of some high profile projects targeted towards building individual and community resilience against violent extremism in Northern Nigeria.
She has given numerous public talks on issues bothering around women and Islam, and was the presenter of the programme 'The Treasure Chest' on UNILORIN FM. She has also conducted and facilitated training programmes for various youth organizations including Muslim Corpers Association of Nigeria (MCAN), Kwara State Branch; and others for Teens including the 'Young Innovators Boot Camp', a summer programme for teenagers. She initiated the 'World Hijab Day' Awareness Programme in Ilorin, Kwara State in 2016; and was the Spokesperson for a coalition of 5 Muslim Women organizations at the Ministry for Women Affairs.
She holds a B.Sc. in Computer Science and a Postgraduate Diploma in Journalism. She also has a Certificate in Basic Psycho-Trauma Healing from the Nassarawa State University, and a Certificate in Interreligious Dialogue and Mediation from the Veritas University, Abuja. She has attended a Workshop on Project Design and Management organized by the Tony Blair Institute for Global Change, UK; and another on Community Scorecard by the Care International, Kenya. In December 2018, she attended a Communication Workshop at the Deutsche Welle Akademie, Germany. She is a Fellow of the Cardinal Onaiyekan Foundation for Peace (COFP).
Cost and conditions
Service Charge: N45,000.00 per participant. Payment should be received latest COB on the 17th of April, 2019 to confirm a seat. Seats would be reserved on a first come basis.
This may be sent to the MPAC Account below;
Bank: Stanbic IBTC Bank Account

Name: Muslim Public Affairs Centre

Account Number: 0006479106
The course is non-residential but includes feeding and Tea breaks.
Post Course Support
We are pleased to provide one-month post-course support to participants.
Training Venue & Training Aids
The training venue is at Lagos Chamber of Commerce and Industry (LCCI) Conference and Exhibition Centre, Ikeja, Lagos, Nigeria (Starting at 9.00Am each day). The training facility includes presentation aids such as a projector, screen, sticky notes, cardboards and whiteboard. Seating is arranged in a way that allows free movement, interaction, and required enabling environment.
For Inquiries
Contact 07061571049, 08030813058 or send a mail to info@mpac-ng.org.
Comments from past participants:
"Grounded, understand teaching-learning techniques, helpful.

"Excellent teaching and evaluating method.

"I appreciate the fact that we practicalised what we were taught. As well as the fact that both facilitators had separate aspects to explain.

"The facilitators are well equipped and possess a good method of impacting Knowledge.

"Kudos; patient enough in lecturing. Thanks.

"Good hearts, thoughtful leadership, concern for uplifting the Ummah.

"MPAC- Jazakumullahu Khairan for bringing us together on such amazing and educative way to enhance more progress in Islamic NGOs.

"I appreciate this programme that MPAC organised. May Almighty Allah reward you abundantly. I would also like for them to arrange more of this kind of programmes.

"The MPAC have done well by organizing the training for Islamic Organisations at the very low cost being charged. Jazakumullahu Khairan"
We urge Islamic organisations and individual Muslims to take advantage of this great opportunity. Seats are reserved on payment of course fees and strictly in a first come, first served basis. Thank you.