MPAC "ENGAGE!" CAMPAIGN IS HAPPENING ON TWITTER
THEME: GOOD GOVERNANCE IN ISLAM
Friday, 16 September 2022 | 20 Safar, 1444 AH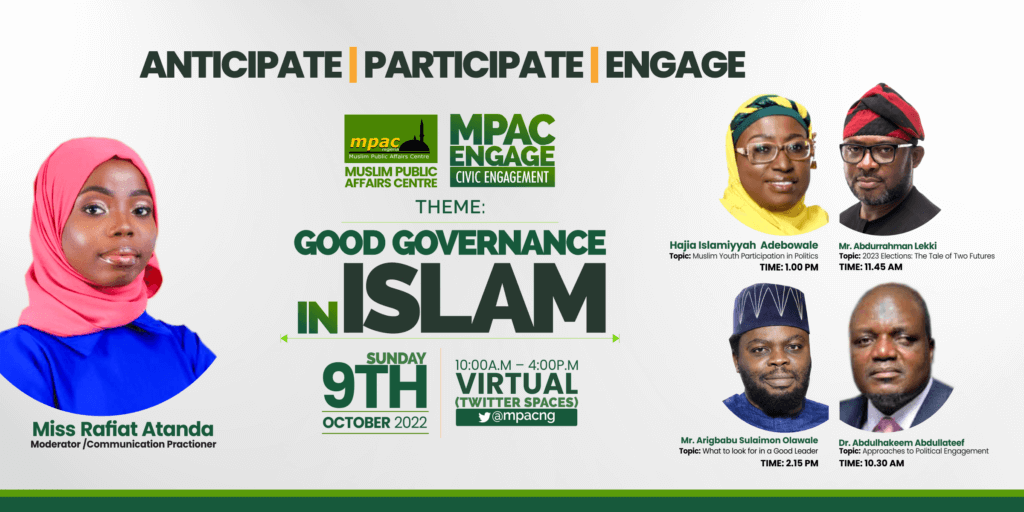 ANTICIPATE!!!
MPAC ENGAGE IS HAPPENING ON TWITTER
THEME: GOOD GOVERNANCE IN ISLAM
" …Good governance can eliminate injustice, destitution, and poverty.
It is to ensure that a strategic policy framework for sustainable governance exists. It entails participation, accountability, consultation, transparency and openness; responsive, effective and efficient leadership; equitableness and inclusiveness; adherence to the rule of law and empathy…
It puts the people at the centre of the development process.
Where there is good governance, strategy thrives.
What is the role of Muslims in governance?
What does Islam say about this? Should we remain on the sidelines or take concrete steps to lead discussions, champion national interests, and realize important goals for the security and prosperity of our nation?
It's happening on Twitter Spaces on Sunday, October 9th, 2022!

Join our amazing speakers from 10:00 a.m. to 4:00 p.m. as they share some gems.

Engage them and Participate!
Please share with others in your network as well!!
———————
MPAC Nigeria
MPAC is a non-partisan Muslim organisation with the political empowerment of Nigerian Muslims as one of its core focus areas.
#voters #nigeria #election #2023ELECTION #VoteWisely
—————–
As you're here…
MPAC has one humble request from you…
Thousands of Nigerian Muslims rely on the services we provide at MPAC and thousands more from around the world visit our website for news every day. Due to the significant challenges we face in dealing with Muslim-related issues in a heightened Islamophobic environment, MPAC is constantly under financial strain to meet our financial needs.
To maintain editorial and financial independence, with no sectarian or political allegiance to any particular group or movement, MPAC relies only on donations from individuals like you.
It is easy to understand the importance of organisations that do the sort of work we do at MPAC in today's climate. Please support us financially and please support us for as little as N1000 a month. It only takes a minute to make a one-off donation or to set up a standing order with your bank. Jazakallah khayran.
Our beloved Prophet Muhammad (peace be upon him) said: "The best deeds are those done regularly, even if they are small." [Ibn Mājah]