In the name of Allah, the Beneficent, the Merciful
Press Release: FOR IMMEDIATE RELEASE
MPAC Expresses Deep Concern About Alleged Loss of Lives at Lekki Toll Gate Protest Site
Wednesday, 21 October 2020 | Rabi Al-Awwal 4, 1442 AH
Lagos, Nigeria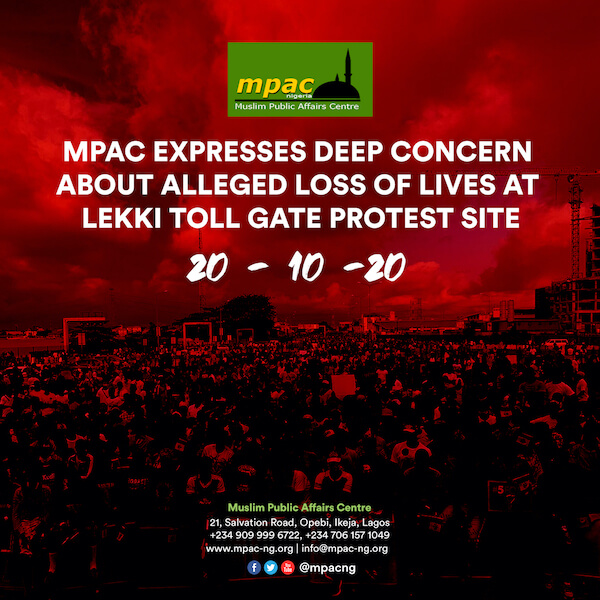 MPAC is deeply concerned about the report of loss of lives during the military operation to dislodge protesters at the Lekki Toll Gate in Lagos State last night. Similar engagements between protesters, hoodlums and law enforcement agents are said to be ongoing around Lagos State. While engaging extreme measures to crack down on protesters is problematic, even more problematic are the consequences of the protests turning violent and providing a springboard for hoodlums and violent criminals to continue to run rampage, on the excuse of ending police brutality, endangering/destroying lives and properties. This is a recipe for disaster and a descent to anarchy that should not be tolerated, glorified or justified.
The list of horrors that Nigerians have faced is a long one and to add this episode to it is heartbreaking. Sadly, the current situation exposes our collective failure as Nigerians to respond appropriately and proactively to known and emerging threats and challenges, and to recognize criminality, violence and extremism. Peaceful protests are a legitimate component of a democracy and the right of citizens in a democracy to peacefully protest is sacrosanct. But criminality and anarchy are not. It is this important distinction that is causing confusion in the minds of a lot of people and it is the fine line between the two that makes it easy for governments, including democratic governments, to become authoritarian. The continued disregard for the safety and lives of protesters and those encouraging them to disregard the order to evacuate are clearly a disservice to the righteous cause of justice, equality and national development we are all striving for. It is the responsibility of governments to protect citizens' lives at all times, to preserve law and order, even in a volatile situation of unrest.
Both sides now have a responsibility to show extreme caution and restraint in order to de-escalate the tensed situation and safe lives. Violent people on all sides must not be allowed to set the agenda – once again highlighting our ineptness. In all of the chaos, anger, pains, misery and deaths, we hope and pray that the voice of reason and moderation will prevail.
MPAC urge governments at all levels to ensure that law enforcement tactics are completely in compliance with the regulation of the law and at the same time we enjoin everyone to please comply with the curfew orders in Lagos State and other places.
As the unrest continues to rage on, we urge religious leaders to take leadership in facilitating healthy discussions based on facts within our communities about how Governments should proceed with its decisions and actions. We must also push back against the insanity propagated by rabble-rousers and ideologues luring individuals into the unrest, expanding the consequences of the ongoing chaos, and undermining the legitimate struggle of the Nigerian people to seek peace, justice and realize the ideals and aspirations on which our nation was founded.
Disu Kamor
Executive Chairman
Muslim Public Affairs Centre
Kamor.disu@mpac-ng.org
08076049545
—————–
As you're here…
MPAC has one humble request from you…
Thousands of Nigerian Muslims rely on the services we provide at MPAC and thousands more from around the world visit our website for news every day. Due to the significant challenges we face in dealing with Muslim-related issues in a heightened Islamophobic environment, MPAC is constantly under financial strain to meet our financial needs.
To maintain editorial and financial independence, with no sectarian or political allegiance to any particular group or movement, MPAC relies only on donations from individuals like you.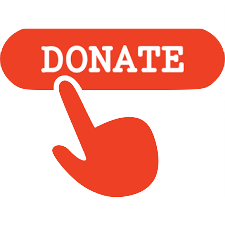 It is easy to understand the importance of organisations that do the sort of work we do at MPAC in today's climate. Please support us financially and please support us for as little as N1000 a month. It only takes a minute to make a one-off donation or to set up a standing order with your bank. Jazakallah khayran.
Our beloved Prophet Muhammad (peace be upon him) said: "The best deeds are those done regularly, even if they are small." [Ibn Mājah]