MPAC Launches Masterclass 3.0
Tuesday 23 November 2021 | 17 Rabiul Thanni, 1443 AH
Registration is now open!!!
Register here: https://mpac-ng.org/mpac-masterclass/
MPAC Launches Masterclass 3.0
In pursuit of promoting social development and Muslim empowerment in Nigeria and beyond, MPAC, hereby announces the launch of its third MPAC Masterclass event, themed "Building a Viable Business Brand: Leveraging Technology."
The Masterclass 3.0 is targeted at Nigerian Muslim youth between the ages of 18 to 40 – fresh graduates, aspiring entrepreneurs and young school leavers at crossroads. The programme will be a hybrid event (online and physical training) focusing on 4 major aspects namely; Fintech, Manufacturing, Services and Trading/Retail.
Register here: https://mpac-ng.org/mpac-masterclass/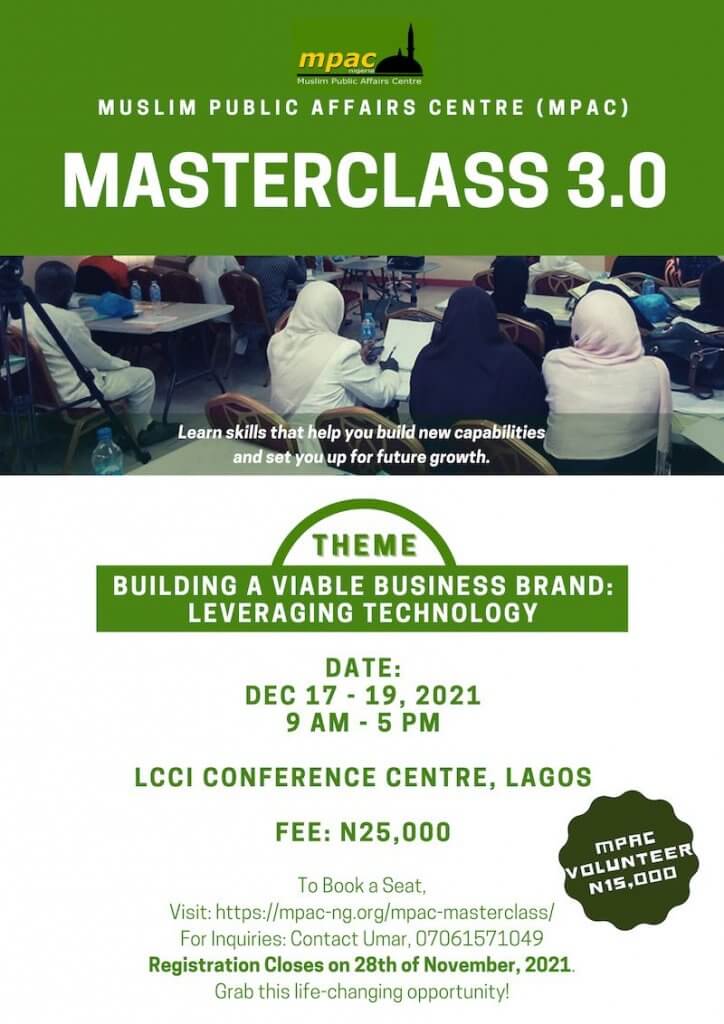 With the MPAC Masterclass, we hope to achieve the following objectives:
• To create a forum for Muslim professionals and achievers to impart knowledge and motivate our youth in a structured learning environment;
• To guide Muslims on establishing authentic relationships, by creating value and knowledge through open interaction fostered by mutual respect for the wisdom and diversity found in our collective traditions;
• To project a better understanding and tolerance of faiths and cultures;
• To project a positive image of the Muslim youth and their participation as having strong faith-related ethics, developing community youth leaders and role models;
• To create and improve opportunities for Muslim youth to engage in social, educational, career and entrepreneurial activities;
• To empower the youth and guide them towards alternative paths that take national development and peace-building up a notch higher.
We are open to sponsorships to support the programme and help us achieve its objectives. We believe the participants will benefit from our diverse faculty with vast experience and professionalism.
Register here: https://mpac-ng.org/mpac-masterclass/
Registration for the event will close on the 28th of November 2021 in sha Allah.
You can read more about the Masterclass and previous events here http://www.mpac-events.org/mpac-masterclass/index.php.
For Inquiries/Sponsorship: Contact Umar, 07061571049 | umar.aderibigbe@mpac-ng.org
Grab this life-changing opportunity!
REGISTRATION PROCESS
1. Register here: https://mpac-ng.org/mpac-masterclass/
2. Make payment (including the payment reference) to the account details provided below.
Account Name: Muslim Public Affairs Centre
Bank: JAIZ Bank Plc.
Account Number: 0003610695
Fee: Standard N25,000 | MPAC Volunteers N15,000
Payment Reference: Masterclass 3.0
2. Send the payment receipt to info@mpac-ng.org with the subject "Payment for Masterclass 3.0". We will send you a payment confirmation once your payment is confirmed.
Please note that we have limited seats available and it will be issued on a first pay first served.
We are looking forward to meeting you at the event.
#MPACMasterclass3.0 #fintech #mentorshipmatters #mentorship
—————–
As you're here…
MPAC has one humble request from you…
Thousands of Nigerian Muslims rely on the services we provide at MPAC and thousands more from around the world visit our website for news every day. Due to the significant challenges we face in dealing with Muslim-related issues in a heightened Islamophobic environment, MPAC is constantly under financial strain to meet our financial needs.
To maintain editorial and financial independence, with no sectarian or political allegiance to any particular group or movement, MPAC relies only on donations from individuals like you.
It is easy to understand the importance of organisations that do the sort of work we do at MPAC in today's climate. Please support us financially and please support us for as little as N1000 a month. It only takes a minute to make a one-off donation or to set up a standing order with your bank. Jazakallah khayran.
Our beloved Prophet Muhammad (peace be upon him) said: "The best deeds are those done regularly, even if they are small." [Ibn Mājah]