In the name of Allah, the Beneficent, the Merciful
Press Release: FOR IMMEDIATE RELEASE
MPAC Mourns Abule Ado Pipeline Explosion Victims
Monday, 16 March 2020 | Rajab 21, 1441 AH
Lagos, Nigeria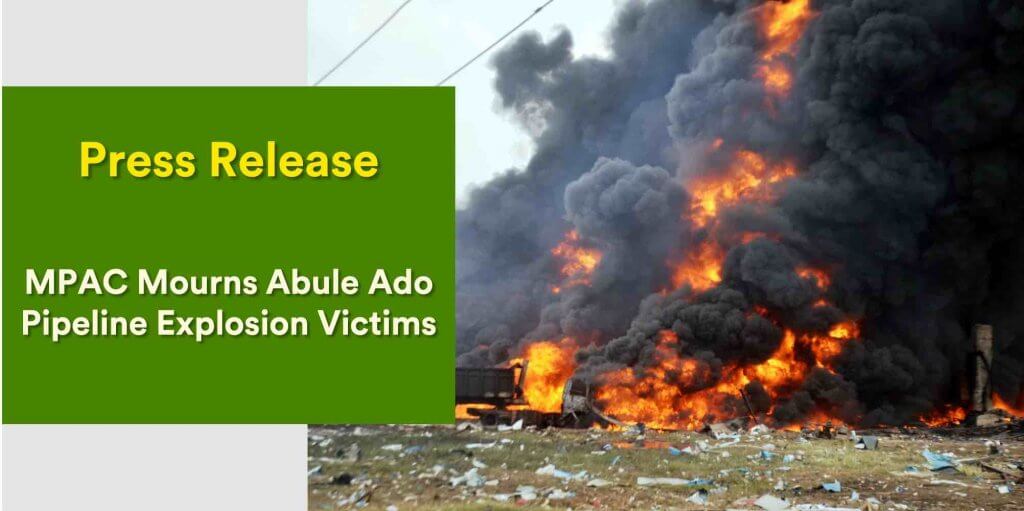 "The Muslim Public Affairs Centre, MPAC Nigeria, expresses deep sympathy for the families of the victims and indeed the entire people of Lagos State over the tragedy of a pipeline explosion in Abule Odo on Sunday 15th March, 2020.
At the last count, nearly 20 bodies have been recovered from the unfortunate explosion that snowballed into a raging fire at Abule Ado in FESTAC Area of Lagos yesterday, with score of other casualties under intensive care following high degree burns and trauma.
Again, the explosion is said to be traceable to human factors as the Nigerian National Petroleum Corporation in a statement has blamed the explosion on a truck that hit some gas cylinders stacked in a gas processing plant located near the corporation System 2B Pipeline Right of Way, while other sources attribute it to the activities of pipeline vandals.
At the Muslim Public Affairs Centre Nigeria, we commiserate with the numerous families whose lives, homes and hopes have been shattered by the tragic incident with devastating effects.
We take it as part of trials and travails of life and pray important lessons are taken to prevent future recurrence.
But as we counsel on patience, fortitude and forbearance in this trying moment and as we pray for the victims, we cannot but speak on factors that predispose or conduce to these misfortunes.
Of course, security is being breached daily along the entire distance of pipelines across the country, requiring eternal vigilance, fact still remains that much of the criminality in the land resulting in tragedies such as this are simply avoidable.
All Nigerians must take precautions on environmental, health and safety issues and exercise discretion on where they choose to take up as residence or site their businesses.
There is acute security and surveillance deficit along the pipeline corridor. Many houses do not pass the necessary regulatory tests and the stability tests of most constructions are very doubtful just as many homes and businesses are in areas that are within pipeline exclusion zones or simply risky to live in.
The Abule Ado case may not be an exception because of the petroleum products pipeline that run through such areas where on many occasions building construction regulators would mark for demolition and just walk away. Times without number, the nation has tragically paid for this derelict of duty with human lives and lost of properties.
We wonder if public buildings and businesses ever provide environmental assessment reports, a prerequisite to site any structure, before approval was granted for their construction and if public officials who fail in compliance issues are ever traced and held accountable.
As we mourn at the Muslim Public Affairs Centre, MPAC Nigeria over this incident, it is crucial that the authorities mitigate against such incidents as there is no compensation that can replace the lost lives and shattered dreams from such a national tragedy.
This is a development that once again exposes the government as failing in surveillance, compliance monitoring and enforcement of health and safety standards.
Nonetheless, we call for in-depth investigation into this sad occurrence, for the full disclosure of the report and for there to be mitigating factors to forestall a repeat. Finally, we urge all Nigerians to provide all humanitarian, financial and medical supports to the victims, their families and everyone impacted by this great disaster. God says, "And We will surely test you with something of fear and hunger, and a loss of wealth and lives and yields, but give good tidings to the patient who, when disaster strikes them, say, 'Indeed we belong to God, and indeed to Him we will return.' Those are the ones upon whom are blessings from their Lord and mercy. And it is those who are the [rightly] guided" (Quran 2:155-157)."
-END-
CONTACT:
Abdulwarees Solanke
Director Media & Strategic Communications,
Muslim Public Affairs Centre (MPAC), Nigeria
www.mpac-ng.org | info@mpac-ng.org | 0909 999 6722
—————–
As you're here…
MPAC has one humble request from you…
Thousands of Nigerian Muslims rely on the services we provide at MPAC and thousands more from around the world visit our website for news every day. Due to the significant challenges we face in dealing with Muslim-related issues in a heightened Islamophobic environment, MPAC is constantly under financial strain to meet our financial needs.
To maintain editorial and financial independence, with no sectarian or political allegiance to any particular group or movement, MPAC relies only on donations from individuals like you.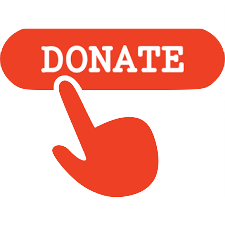 It is easy to understand the importance of organisations that do the sort of work we do at MPAC in today's climate. Please support us financially and please support us for as little as N1000 a month. It only takes a minute to make a one-off donation or to set up a standing order with your bank. Jazakallah khayran.
Our beloved Prophet Muhammad (peace be upon him) said: "The best deeds are those done regularly, even if they are small." [Ibn Mājah]