MPAC Nigeria Launches Online Survey
on Discrimination of Muslims Based on Religion
Sunday, 5 December 2021 | 30 Rabiul Thani 1443 AH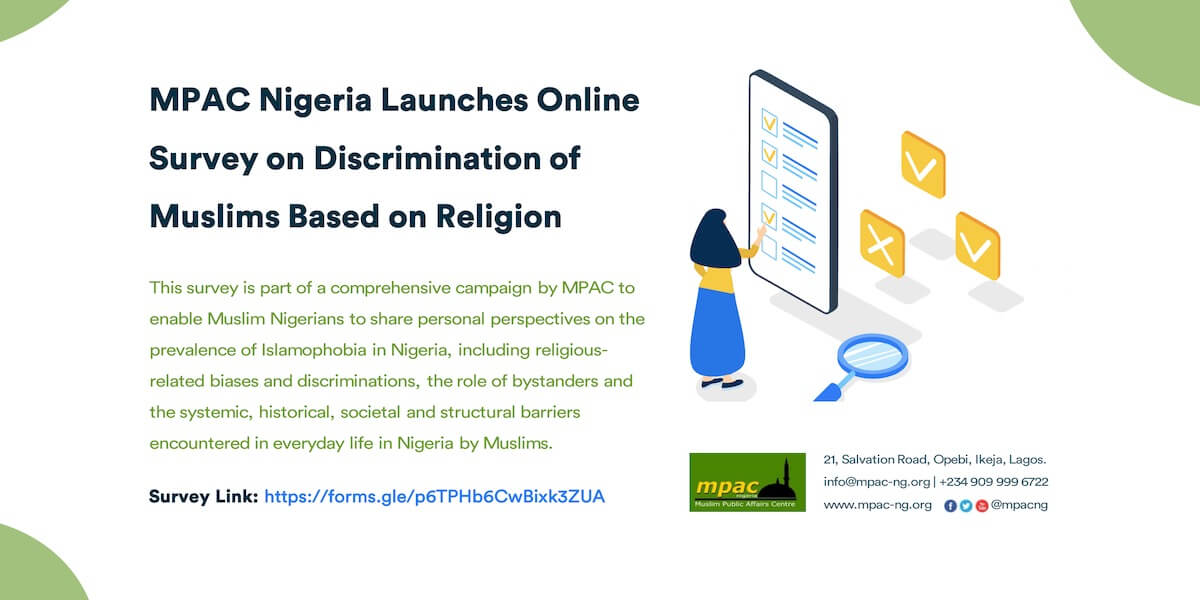 MPAC Nigeria Launches Online Survey on Discrimination of Muslims Based on Religion
Survey Link: https://forms.gle/p6TPHb6CwBixk3ZUA
This national survey scans the discrimination and unfair treatment grounds of religion within the Nigerian society. Also, it is an attempt to learn how anti-Islam and anti-Muslim discriminations manifest. The goal of this exercise is pursuit of an ideal of a society that will be free of bigotry and discrimination for all Nigerians. A nation where there is no price-tag to being a Nigerian.
With the recent increase in lslamophobia related rhetoric and attitudes across the country, MPAC has launched this survey to assess the exposure of Muslims in Nigeria to discrimination based on religion.
This survey is part of a comprehensive campaign by MPAC to enable Muslim Nigerians to share personal perspectives on the prevalence of Islamophobia in Nigeria, including religious-related biases and discriminations, the role of bystanders and the systemic, historical, societal and structural barriers encountered in everyday life in Nigeria by Muslims.
As a Muslim, if you have witnessed or experienced discrimination (direct or indirect discrimination. Individual or institutional) or unfair treatment based on religious ground, then this survey is for you. This is irrespective of where and when such discriminatory behaviour or action took place.
Please fill the survey here https://forms.gle/p6TPHb6CwBixk3ZUA
When we speak up, we create change!
MPAC, Nigeria.
—————–
As you're here…
MPAC has one humble request from you…
Thousands of Nigerian Muslims rely on the services we provide at MPAC and thousands more from around the world visit our website for news every day. Due to the significant challenges we face in dealing with Muslim-related issues in a heightened Islamophobic environment, MPAC is constantly under financial strain to meet our financial needs.
To maintain editorial and financial independence, with no sectarian or political allegiance to any particular group or movement, MPAC relies only on donations from individuals like you.
It is easy to understand the importance of organisations that do the sort of work we do at MPAC in today's climate. Please support us financially and please support us for as little as N1000 a month. It only takes a minute to make a one-off donation or to set up a standing order with your bank. Jazakallah khayran.
Our beloved Prophet Muhammad (peace be upon him) said: "The best deeds are those done regularly, even if they are small." [Ibn Mājah]