Muslims React to Islamic Movement of Nigeria (IMN)/Police Face-Off
Tuesday, 23 July 2019.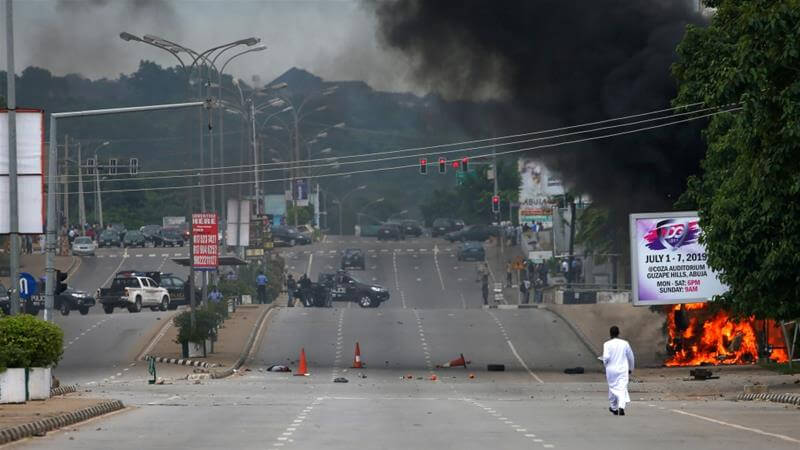 Reactions continue to trail the unfortunate face-off between the police and members of Islamic Movement of Nigeria protesting the continued detention of their leader, Ibrahim Zakzaky and his wife, with prominent Muslim leaders urging the Federal Government not to allow the festering crisis degenerate into another Boko haram.
The Muslim Public Affairs Centre, MPAC Nigeria sampled their opinion in a survey yesterday.
Imam Abdurrahman Ahmad, Worldwide Missioner, Ansarudeen Society of Nigeria;
It should be handled with utmost caution as it could snowball into a more deadly disaster. The only option to justice and the rule of law FCC is anarchy. Let the courts convict or acquit whoever has been accused of breaking the law.
The use of maximum disproportionate force may not be sufficient to guarantee lasting peace and the nation can ill afford another insurrection.
The nation must have learnt enough from the extrajudicial murder of Muhammad Yusuf of "Boko Haram". The increasing frequency of police – Shi'a clash should concern every Nigerian. Let the court convict or acquit Sheikh El Zakyzaky.
Mr Disu Kamor, the Executive Chairman of MPAC;
It is really sad that the protests of the Shia movement whose leader, Shaykh Ibrahim El ZakZaky, has been in detention for a few years is turning, almost in a slow-motion, uglier and deadlier. Today, a high ranking member of the police force and a number of others were reportedly killed during the protests. It seems Nigeria is sleepwalking into another Boko Haram quagmire in the making with the continued largely illegal detention of the Shia leader. We are being dragged into this nightmare by those that have sworn an oath to defend the constitution.
The prolonged detention of Shaykh El ZakZaky outside the protection and safety of the law is not only senseless and ill-advised from the very beginning, it is also potentially dangerous for all of us. This is what every clear-headed person knows, except for those who believe in jackpot justice- a type of anything-goes justice. The refusal of the government to obey court orders and release Shaykh El ZakZaky or promptly process him through the court where his guilt or innocence will be proven shows a reckless disregard for the rule of law, justice and a flagrant disregard for lessons in recent history. These are clear examples of naked irresponsibility on the part of the government.
President Buhari should accept full responsibility for allowing this situation to deteriorate under his watch, if not on his instruction. Whatever anyone thinks of the Shia sect and whatever anyone thinks of this particular Shia movement or its alleged crimes, there is only one place that the law allows that a man be tried and convicted or not. That is in the courtroom and this is the only place this government has refused to allow this man have his say.
Imam Nojeem Jimoh – The Companion
This situation is gradually getting out of hands and the government needs to demonstrate sensitivity to same. What is becoming clear to us is that members of the IMN are not going to be kept mute or quiet. As such, something has to give. And lives are being given. The perception out there is that the government is acting ultra-vires. Members of the IMN are aware of this and are not likely to keep calm while their leader remains in what they regard as illegal detention. Aside, the words out there is that his health and that of his wife has deteriorated and they may be in need of medical intervention. While we are not in a position to confirm any of these, I call on the government to review the situation of his and wife's detention and make a decision in the overall interest of peace in the country. We do not want another Boko Haram coming out of this.
Tajudeen Adeyemi – School Proprietor
My take is that federal Government obeys court order, free him and get the court to make him sign undertaken of good behaviour not to hold any religious worship or public procession outside his religious compound, which must be fenced off completely from other people's properties, and any adjoining highways or roads.
Anonymous Journalist
My opinion is that:
The crackdown of 2015 was poor judgment on the part of the Nigerian state. It showed we didn't learn from Boko Haram.
The larger Ummah didn't react appropriately in 2015, perhaps because of ideological differences with the Shia.
I believe the Shia need to look inward and review their relationship with the larger public, including the Nigerian state. Their tendencies to make an enemy out of every critic won't take them far.
Nigerian state should set up a larger committee comprising statesmen from all shades of the Muslim community, including Shia themselves, to address the Shia question.
A call on the Shia to suspend their rallies while this initiative is being pursued to resolve the crisis (continued detention of their leader/wife).
Mikail Mumuni – Publisher
It is clear that the issue has become a major security threat. The solution lies in the FG adopting a reconciliatory posture by withdrawing the case against Sheikh Ibrahim El Zakzaky releasing him on compassionate ground, due to his failing health.
In doing that, FG should work with NSCIA to extract a promise of good conduct from Sheikh Ibrahim El Zakzaky after his release in the interest of national security.
Reports gathered by the Media and Strategic Communications, Muslim Public Affairs Centre (MPAC) Nigeria.
—————–
As you're here…
MPAC has one humble request from you…
Thousands of Nigerian Muslims rely on the services we provide at MPAC and thousands more from around the world visit our website for news every day. Due to the significant challenges we face in dealing with Muslim-related issues in a heightened Islamophobic environment, MPAC is constantly under financial strain to meet our financial needs.
To maintain editorial and financial independence, with no sectarian or political allegiance to any particular group or movement, MPAC relies only on donations from individuals like you.
It is easy to understand the importance of organisations that do the sort of work we do at MPAC in today's climate. Please support us financially and please support us for as little as N1000 a month. It only takes a minute to make a one-off donation or to set up a standing order with your bank. Jazakallah khayran.
Our beloved Prophet Muhammad (peace be upon him) said: "The best deeds are those done regularly, even if they are small." [Ibn Mājah]