Nigeria at 61: Keeping Hope Alive
Friday, 1 October 2021 | 24 Safar, 1443 AH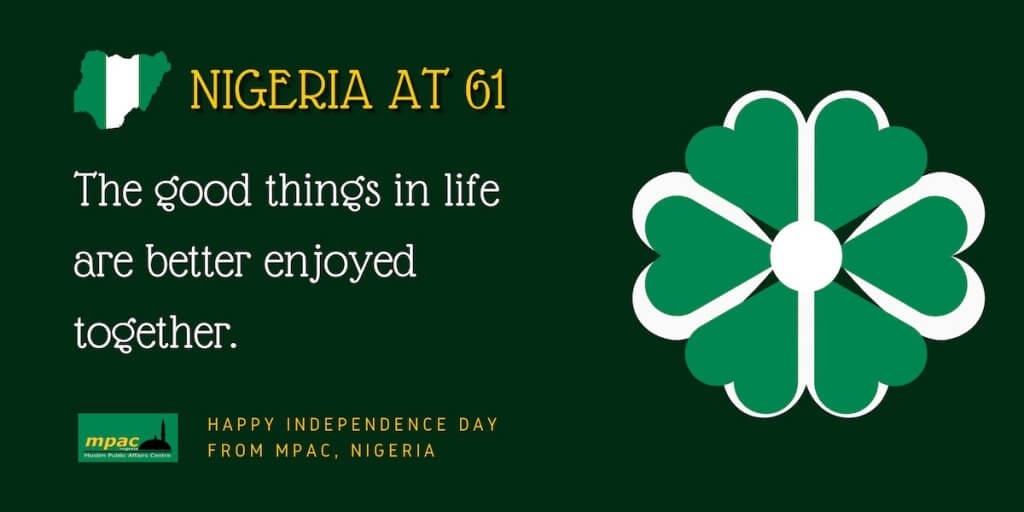 MPAC joins Nigerians at home and in the diaspora to congratulate Nigeria as she celebrates her 61st independence anniversary.
Nigeria has indeed come a long way. Even though her journey since independence has been a roller coaster of events and emotions, the landscape generally suggests that great things are ahead if we stand together as one united country.
In line with the theme of this year's UN General Assembly – Building Resilience Through Hope – MPAC urges the good people of Nigeria to keep hope alive.
This is in line with Allah's injunction in Surah Zumar Verse 53:
Say, "O My servants who have transgressed against themselves [by sinning], do not despair of the mercy of Allah. Indeed, Allah forgives all sins.1 Indeed, it is He who is the Forgiving, the Merciful."
Nigeria's glorious past reminds one of the vast potentials that Allah has blessed our nation with. At some point in Nigeria's history, we could boast of one of the most vibrant economies in the world. Our educational institutions were world-class and our industrial sector set the pace for the entire continent. 
We became the giant of Africa as a result and our dear nation played the big brother role for other African countries.
While it is true that Nigeria looks nothing like its old self, the country still has the potential to regain its lost glory. Our lands are cultivable; natural resources are still locked in commercial quantities, and we still have the human resources to till the land. The only thing we lack is the willpower to make Nigeria work.
At this stage of our collective existence, we must continue to reflect on the way forward and put our past painful memories behind us. This is not the time to fan the embers of war as is being done in certain parts of the country. The call from certain disgruntled elements to burn down Nigeria is a misguided one with far reaching and dangerous consequences. To what good end does another civil war serve? What do we stand to gain from disintegration? Indeed, we have to learn from our past mistakes if we must move forward. We must learn to coexist in peace and extend love to our fellow citizens. There is no good war.
We call on government at all levels to become more alive to their responsibilities. National security is a top priority at this stage. Also, the welfare of the public, food safety, youth empowerment, among others should be on the front burner.
"Then We will surely question those to whom [a message] was sent, and We will surely question the messengers." [A'raf verse 6]
On the other hand, we urge Nigerians to be law-abiding citizens and shun all forms of vices. Even though it is your duty to hold the government accountable to pursue the interest of the citizens, you must remember that accountability starts with self. Let us be the change we want to see. We must train our youths to become responsible and patriotic citizens of Nigeria to confront and defeat the aim and threats of those amongst us with an insatiable appetite for corruption and violence. Our common goal should be to play our individual roles well to build a better tomorrow for all.
We urge all Muslim Nigerians to commit to champion causes that add value to nation-building, spiritual wellbeing, national prosperity and lawfully express their civic and political conscience in the way they see fit. We are to do these while respecting the various approaches to bringing about needed change in many of the challenges facing our nation.
Finally, it is our firm belief that Nigeria will become great again. The road may be rough, the journey may be long, but we will definitely reach our destination if we don't turn back.
Let's pray and work for the best. 
Happy Independence Day from MPAC, Nigeria. 
—————–
As you're here…
MPAC has one humble request from you…
Thousands of Nigerian Muslims rely on the services we provide at MPAC and thousands more from around the world visit our website for news every day. Due to the significant challenges we face in dealing with Muslim-related issues in a heightened Islamophobic environment, MPAC is constantly under financial strain to meet our financial needs.
To maintain editorial and financial independence, with no sectarian or political allegiance to any particular group or movement, MPAC relies only on donations from individuals like you.
It is easy to understand the importance of organisations that do the sort of work we do at MPAC in today's climate. Please support us financially and please support us for as little as N1000 a month. It only takes a minute to make a one-off donation or to set up a standing order with your bank. Jazakallah khayran.
Our beloved Prophet Muhammad (peace be upon him) said: "The best deeds are those done regularly, even if they are small." [Ibn Mājah]