Our View At MPAC: Trans-Amadi Mosque, River's Muslims and Wike's Mischief
Thursday, 29 August 2019.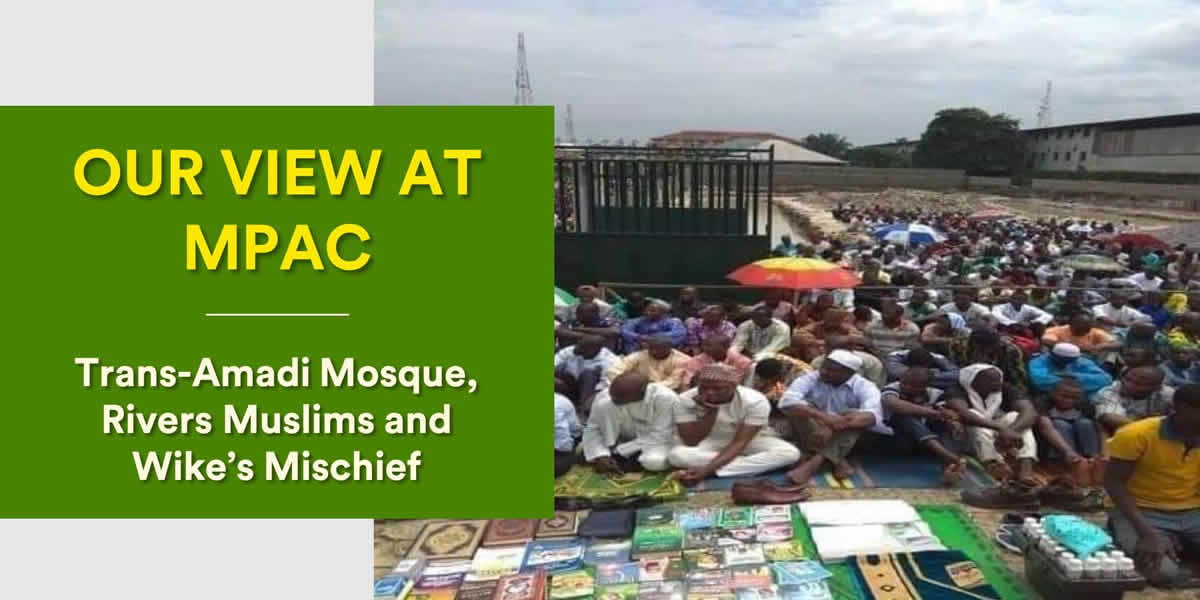 Regulation of public life is not a complex affair. It is public interest based. At the root of regulatory enforcement is the need to maintain public peace and order. There is no doubt about this. So, when a state enforcement agency purportedly carries out a 'lawful exercise' to maintain public order, and an affected stakeholder, expectedly rises in angst against such an exercise, it is of course assumed that the implementing agency will come out to fully explain its action, either by issuing a press release or addressing a press conference to clear the air on the circumstances that warranted such action. But when the State Governor assumes the role of the general manager of an enforcement agency or its public relations officer, the public would never be fooled as to where the order to carry out such exercise emanated from in the first instance. It is that simple.
A state chief executive that is truly committed to maintaining public peace and order must always weigh or score his actions and statements on two fronts: Rationality and political correctness. Rationality comes from reason and technical justification. Politics or political correctness is a product of interest, indeed public interest and government legitimacy. So, when a chief executive acts without due consideration for the two factors, in fact with impunity, one questions the qualification or quality of such a chief executive that would not factor public peace, concern and political correctness in his actions. Such a chief executive can best be described as epitomizing rascality, an embodiment of mischief. He is unworthy of the high office he holds, an office that is supposed to safeguard public peace, inclusion and satisfy diverse interests that aggregate in the state.
These preliminary words which are applicable to every public official is in relation to the events unfolding in Port-Harcourt, the Rivers State capital over the alleged demolition of a central mosque under construction on the Trans-Amadi Highway in the city.  There is need for perspectives from both the sponsors of the mosque project and the regulatory agency which pulled down the mosque, regardless of whatever level of construction it was.
First, we need to submit that the mosque in any environment where Muslims exist or co-exist aside the fact that it is a sacred place of worship, should also be considered a public utility that caters to the needs of citizens. A responsible government, if it cannot assure its provision for its Muslim citizens, because of religious sensitivity, in a diverse polity as Nigeria, must not deny them the right to self-help ownership. Even if such self-help is not properly sought, it is the responsibility of the regulatory agency in charge of urban planning to guide them on the most appropriate things to do. More so in this particular instance, there is ample and incontrovertible evidence that statutory approval was obtained for the construction of the mosque and a standing court judgement approving the mosque sponsor's actions. A judgement that the state government has not appealed.
Although Governor Nyesom Wike outrightly denied the premeditated demolition of the mosque by simply stating that no such structure existed on the land, the truth of what occurred on the site spoke for itself. The governor went ahead to blame external forces for escalating the development or exploiting it for political reasons. Merely playing on semantics and legalese is not the hallmark of sincere leaders. It is pure mischief. Governor Wike has track record of insensitive and inappropriate outbursts that have verged on islamophobia. Without doubt, he is a governor clearly out of his depth and while the demolition of the mosque must be clearly and forcefully condemned by all decent Nigerians who believe in the rule of law and who submit to the value that there should not be a price-tag for being Nigerians irrespective of where we live and what religion we profess or practice, it is important for all the faith community and especially interfaith leaders in Rivers State to reject the call of hate and division from a politician who has reached the end of his shelf life in his political career.
It is important for these leaders to stand shoulder-to-shoulder to show zero tolerance for discrimination and exclusion dressed up as state policy. The affected Muslim community has a duty to challenge the demolition  in court to restore public order, public accountability and, importantly, to secure sanctions against official rascality. In the same spirit, the unguided and the grossly irresponsible outburst and coarse incitement of the governor should be roundly rejected. The actions and Islamophobic statements of the governor are nothing but crude methods that desperate and unscrupulous politicians use to pit one community against another for political gains.
Islamaphobic rhetoric's inevitably translates into acts of bias, discrimination and even violence against muslims. Governor Wike's statements remove all the remaining doubts that he is a flamboyant religious bigot whose wish is to suppress the practice of Islam in Rivers State and subject the Muslim community to acts of institutional discrimination.On more than one occasion, the last of which was in front of packed audience which included senior Christian clerics, Governor Wike had publicly declared his disdain for Islam and Muslims, by stating that Rivers State is a Christian State. If indeed Rivers State is a Christian State as the governor repeatedly states,  the obvious question that has been asked before must be asked again: Where are those who are Christ-like?
With Wike's likes in public office, the vital indices of rule of law, tolerance, inclusion, decorum, fairness, justice, accommodation, equity, representation, accountability, voice, identity and participation that ideally hallmark pluralistic democracies and diverse societies will only be paid lip service. A nation that is in pursuit of development and unity cannot afford his ilk because he will be worse than a Slobodan Milosevic the former Yugoslav and Serbian leader, under whose watch genocidal crimes were perpetrated in Bosnia. Nigeria can ill-afford such demagogues.
ABDULWAREES SOLANKE
Director of Media and Strategic Communication
Muslim Public Affairs Center
—————–
As you're here…
MPAC has one humble request from you…
Thousands of Nigerian Muslims rely on the services we provide at MPAC and thousands more from around the world visit our website for news every day. Due to the significant challenges we face in dealing with Muslim-related issues in a heightened Islamophobic environment, MPAC is constantly under financial strain to meet our financial needs.
To maintain editorial and financial independence, with no sectarian or political allegiance to any particular group or movement, MPAC relies only on donations from individuals like you.
It is easy to understand the importance of organisations that do the sort of work we do at MPAC in today's climate. Please support us financially and please support us for as little as N1000 a month. It only takes a minute to make a one-off donation or to set up a standing order with your bank. Jazakallah khayran.
Our beloved Prophet Muhammad (peace be upon him) said: "The best deeds are those done regularly, even if they are small." [Ibn Mājah]