Ramadan at Workplace – A Guide to the HR
Tuesday, 7 May 2019.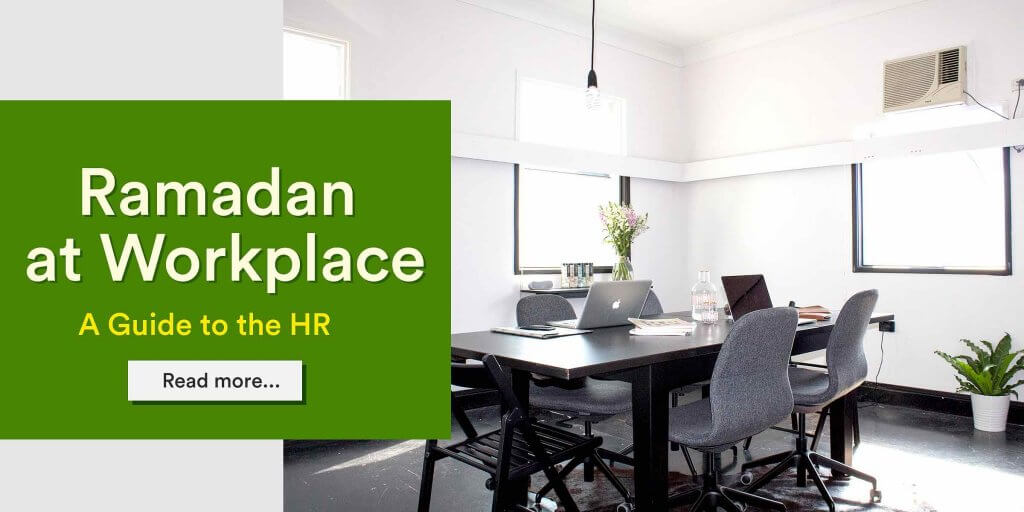 At the beginning of this month, Nigerian Muslims joined over 1.5 billion Muslims worldwide in welcoming a fasting period that will last for up to 30 days. Among the Muslims that are required to fast during this blessed month are significant numbers working in offices and various businesses in Nigeria. Depending on when the moon is sighted, Muslims in these workplaces will once again commence their annual spiritual and physical cleansing exercise while at work.
Employers' recognition of the commencement of Ramadan and commending their Muslim employees for their faith is not a special treatment but simply the best practice and also a show of care. These gestures will demonstrate respect to their cultural diversity, equal opportunity employment, and will only make the employees feel they are being taken care of, understood on a personal level and their religious interest recognized and respected. Also, through an initiative to include Muslim employees' diversity on observing the fast in workplaces, a business will experience greater retention, morale and ultimately productivity amongst its Muslim workforce.
As most fasting Muslim employees will observe most of their fast at work, the questions in the mind of some include "How would I excuse myself from dinner or a meeting where alcohol will be served?" HR should be aware that the spiritual aspects of the fast also include avoiding irreligious sights and sounds and as such should arrange to meet employees concerns fully and determine whether a compromise can be reached on issues of concern to their employees.
Such a compromise may include something as simple as not setting buffets next to someone's desk at work who was fasting; a manager not insisting on a Muslim colleague attend a working lunch and adequate time given at the time to break the fast to drink and eat properly. Colleagues who are fasting would not expect those who are not fasting to abstain from eating or drinking in their presence but those not fasting, out of courtesy, may excuse themselves and try not to eat or smoke around people who are fasting. Making these accommodations for your employees certainly builds up goodwill and reduces the rigours of fasting for the employees when the pace of work has to continue as normal.
Other guidelines that MPAC recommend to HR to adopt include:
Consider allowing special requests for annual leave, particularly in the last 10 days of the fasting period.
Consider flexible working or changing shift rotas to accommodate breaking the fast. Since many Muslims will be fasting and won't need a lunch hour, employers may allow employees to shorten their workday by an hour during this month of fasting.
Consider allowing extra time off to pray, especially at sunset.
Avoid organizing social events during major religious festivals or scheduling important meetings for dusk when Muslims are due to break their fast so as not to exclude Muslims. Doing this may be an example of indirect discrimination.
Consider allowing meal breaks at different times, for example, lunch breaks at dusk to coincide with breaking the fast – and extending these to non-Muslim employees to encourage integration.
Issue Ramadan greetings to your Muslim employees: issue a public notification that Ramadan is here and congratulate all Muslim employees on this occasion. Also, you may consider organizing Iftar (fast-breaking dinner) for your Muslim employees who work late.
Muslims usually pray five times a day, every day, during the entire year. Muslim employees make a special effort at Ramadan to fulfil this obligation. Employers should consider establishing a quiet place for prayer time, which lasts no more than 10 minutes, and all five sessions will not necessarily be observed during an eight-hour work hour/shift.
Employers may also use the opportunity of this period to review their policies on dress codes to accommodate female Muslim employees who may choose to comply with the Islamic dress code, the hijab. See our Hijab Brochure at www.mpac-ng.org for further information on the obligation of hijab in Islam.
Respond swiftly and decisively to discrimination- a commitment to no-discrimination policy should be one of the strengths of a progressive employer.
MPAC urges employers to check that their policies are fair, equitable, inclusive and non-discriminatory. Adhering to some or all of these guidelines will demonstrate to employees that their employers better understand the holy month of Ramadan and what it means to Muslims. Reaching such an impeccable understanding is ultimately good, not only for business, but also for personnel integration and spirit of teamwork.
A Guide to Muslim Employees
During the period of Ramadan, Muslims are required to abstain from food and drink, among other things, from dawn to dusk. As such Muslims may not be invited to business lunches during this period and they should be provided with time or space to break their fasts at sunset.
MPAC encourage Muslim employees to engage their HR in open exchange of important information about Ramadan, their needs and inconveniences they may be experiencing with the aim of reaching amicable conclusions and compromises.
In addition, MPAC recommends the following:
Load Balance Your Workday: Reserve the morning hours for meetings, intellectually demanding work, or tasks that require concentration, and save the busy work and routine tasks for later in the day.
Trade in Your Lunch Hour: Negotiate with your employer to trade in your lunch hour in order to reach home for Iftar. Since you're not eating lunch, you can work straight through it- and take the hour off at the end of the day when your attention starts to fade a bit. Please note that employers do not have to allow time off or changes to the usual routine if it would adversely affect the business.
Organise Iftar at Work: If your work pattern requires you to work at night, make an arrangement with your canteen staff for your Iftar and Sahur.
Write About Ramadan in Company Newsletters: In a healthy workplace where workers know one another very well, issues on religion will be topics of discussion in mutual respect. Use the opportunity of this month to educate your co-workers on the subject of Muslim fasting and the needs of fasting Muslims in workplaces.
Exemplify the Spirit of Ramadan: In both your work ethics and dealing with people, exemplify noble values by being honest, fair, committed and diligent. It is important to know that fasting is about more than just not eating and drinking. Muslims must also refrain from things such as verbal abuse, fighting, gossiping, eavesdropping, backbiting, lying, slander, bribery and corruption as these acts severely reduce the worth of a fast. In essence, Muslims must try to be model human beings during the fast with the aim of retaining these virtuous qualities thereafter. It is hoped that having performed these 'Ramadan Work Ethics' for a whole month they will become habits for life.
Enter Ramadan with Good Cheer: Hungry and thirsty, it is easy to lose sight of the Islamic requirement of having patience and good grace towards all around you. This is the month to remember this requirement, together with your duty as a good and productive employee.
Open Your Hearts to Those Less Fortunate: Spend this month to reach out those in less fortunate conditions than yourselves- Muslims and non-Muslims. This need not only be tied to cash gifts, even ordinary smile is a form of charity.
This is a month to practice increased restraint and generosity which should be taken into the following months; we enjoin our brothers and sisters to reach out to both Muslims and non-Muslims in their workplaces with kindness, restraint and generosity as a reflection of our commitment to Allah and in fulfilment of the commandment of fasting.
MPAC extends its wishes for a peaceful and blessed month of Ramadan to Muslims worldwide and join Nigerian Muslims in this blessed month in praying for peace, unity and understanding among the Muslims and in our country.
Helping a Muslim Colleague
Wishing him/her well will be appreciated.
Although energy levels might be low, the point of fasting is not to slack off from any other duties and responsibilities. Muslims believe that they are rewarded for continuing to work and produce during their fast. Fasting is not a reason to push meetings, clear schedules, or take a lighter load on projects.
Remember Muslims voluntarily fast; they aren't forced to do so.  So you can eat and drink when they are around- it's all part of the test. Don't keep mentioning not eating or apologising for your own eating! A fasting person beside you may find himself thinking that a piece of fried chicken or an ice cream sundae would be really good to eat. My point is that fasting, though not easy, is a great way to practice discipline, and you'd be surprised by the things that end up tempting a fasting person that were never a problem before. So, please just ignore my stomach when it growls at your sandwich!
—————–

As you're here…

MPAC has one humble request from you…

Thousands of Nigerian Muslims rely on the services we provide at MPAC and thousands more from around the world visit our website for news every day. Due to the significant challenges we face in dealing with Muslim-related issues in a heightened Islamophobic environment, MPAC is constantly under financial strain to meet our financial needs.

To maintain editorial and financial independence, with no sectarian or political allegiance to any particular group or movement MPAC relies only on donations from individuals like you.
It is easy to understand the importance of organisations that do the sort of work we do at MPAC in today's climate. Please support us financially and please support us for as little as N1000 a month. It only takes a minute to make a one-off donation or to set up a standing order with your bank. Jazakallah khayran.

Our beloved Prophet Muhammad (peace be upon him) said: "The best deeds are those done regularly, even if they are small." [Ibn Mājah]