Showing Prejudice Red Card
Friday, 28 April 2023 | 7 Shawwal, 1444 AH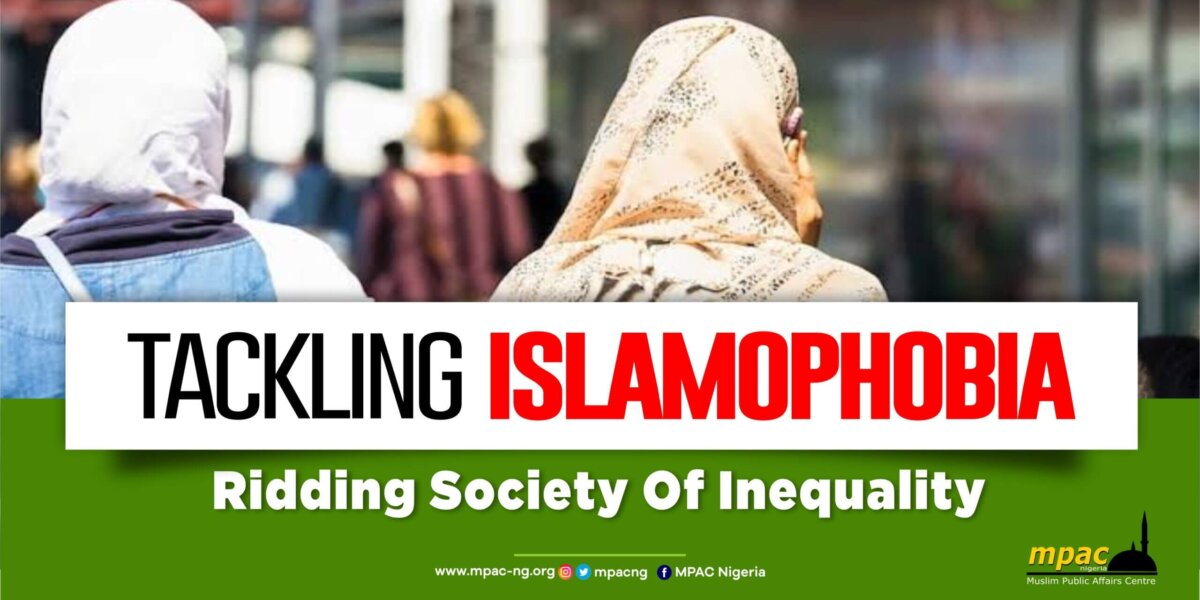 Islamophobia manifests in different ways and continues to be a disturbing problem. It's therefore most important that we talk about the issues and encourage victims to do the same.
Open and honest discussions should happen, with people feeling safe to raise concerns, thoughts and challenges – as well as offering solutions.
According to experts, acts of Islamophobia are not limited to overt hate crimes such as verbal or physical assaults or property destruction. Its functioning extends beyond this to more covert structural forms. Stereotyping, marginalisation, discrimination, and exclusion manifest in ways you may not even be aware of.
We are updating the scorecard of some organizations that have done the right things and others that have clearly shown a bias. The first step towards addressing this problem by the affected organizations is to acknowledge it.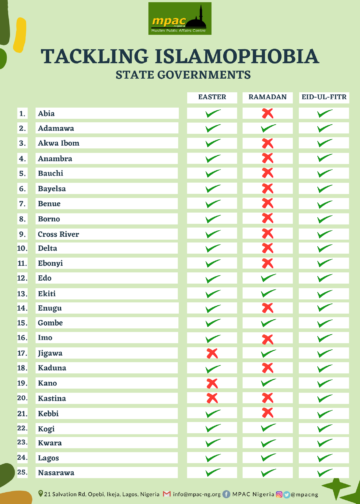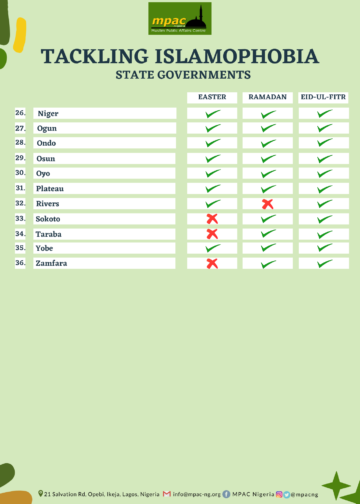 Islamophobia may be found in diverse settings throughout the society. By denying the existence of Islamophobia, we disregard many people's lived experiences and the potential to address one of societal inequalities.
MPAC will continue to tackle the inequality of religious discrimination and bias in our society because by ridding the society of this repulsive problem, all Nigerians gain.
_________________________________________
Oh! Allah, the Most-Merciful, make this Ramadan, a door to your mercy.
Support MPAC this Ramadan and get rewarded multifold from the Most Merciful.
Bank Details:

Account Name: Muslim Public Affairs Centre

Bank: JAIZ Bank Plc.

Account Number: 0003610695 (MPAC ZAKAT Payment)

                                0003670628 (Sadaqat/General Donation)

…

Bank: Stanbic IBTC

Account Number: 0006479106
Donate Online
Payment is secured by Paystack.
Should you wish to receive MPAC Official Receipt for your payment please send us your contact and donation details at info@mpac-ng.org.
—————–
As you're here…
MPAC has one humble request from you…
Thousands of Nigerian Muslims rely on the services we provide at MPAC and thousands more from around the world visit our website for news every day. Due to the significant challenges we face in dealing with Muslim-related issues in a heightened Islamophobic environment, MPAC is constantly under financial strain to meet our financial needs.
To maintain editorial and financial independence, with no sectarian or political allegiance to any particular group or movement, MPAC relies only on donations from individuals like you.
It is easy to understand the importance of organisations that do the sort of work we do at MPAC in today's climate. Please support us financially and please support us for as little as N1000 a month. It only takes a minute to make a one-off donation or to set up a standing order with your bank. Jazakallah khayran.
Our beloved Prophet Muhammad (peace be upon him) said: "The best deeds are those done regularly, even if they are small." [Ibn Mājah]