Muslims: The Best Nation Brought Forth for (the Benefit of) Mankind
The Imam Who Saved Christians Got Humanitarian Award
Tuesday, 22 January 2019.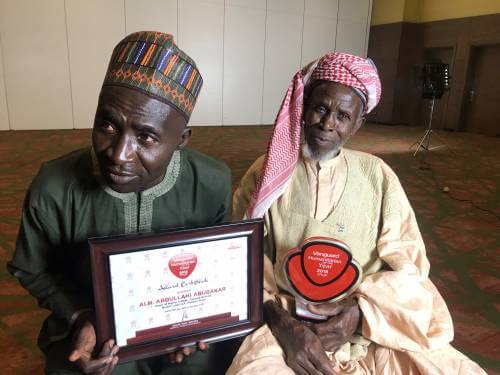 Abdullahi Abubakar, the 83-year-old Imam who saved more than 300 people during an attack in Plateau State, has been honoured for his humanitarian service to the nation. Abubakar, alongside governors and business moguls, were honoured, during the Vanguard Man of the Year awards held at Eko Hotel in Victoria Island, on Friday. He was awarded the humanitarian of the year in recognition of his humanitarian efforts during the sectarian violence and killing in Plateaus. The Imam had helped people fleeing Birkin Ladi Local Government Area, where part of the killings took place and hid them in his mosque and home.
His son-in-law, who accompanied him to the award ceremony, told SaharaReporters that some of the victims spent over two weeks in their home. He described Abubakar as a disciplined and loving man, who love his children and acquaintances equally. In a brief chat with SaharaReporters after the award ceremony, Abubakar said it was an honour to have been in the position to help the people.
'There are such examples in the history of Islam' – Alhaji Disu Kamor
In his reaction to the Imam Abubakar matter, Alhaji Disu Kamor, Executive Chairman of MPAC said that only those who are not familiar with the rich Islamic traditions will be surprised at the incident.
He said, "Only people who are not familiar or conversant with the rich tradition of the Muslim exemplars in this regard will express surprise or shock at such a magnificent and charitable deed by this Imam".
He said that one of the examples of such incident was recorded in the 19th century. "One of such historical exemplars is Amir AbdKadir Al-Jazahiri, a 19th-century Muslim scholar who died in 1883 after successfully leading the struggle against the French colonial invasion of Algeria. "The Amir, in all of the stiff resistance to colonialism, consistently showed regard for what would now be called human rights, especially as regards his Christian opponents. "Most prominent of his many magnanimous acts was the compassion he showed when, crucially, he intervened to save the Christian community of Damascus from a massacre in 1860, which brought honours and accolades from around the world.
"He was a shining example of such great deeds, but he was also just a link in an unbroken chain of such generous acts, which started with Prophet Muhammad (SAW) himself. "The Prophet forgave the entire pagan community of Makkah – which had persecuted him and his followers for two decades – and declared their rights inviolable. This singular act was not only exemplary, but it was also unprecedented".
Kamor expressed regret that the Imam was not celebrated as expected in the media. He said, "Absolutely. It is sad that this sort of exemplary and selfless sacrifice did not find its way to the front pages of most of our newspapers. Aside from the fact that this news does not fall within the narrative the media generally like to push out about Islam and Muslims, it also must have been their calculation that such report will be an inconvenient break from the daily diet of anti-Muslim sentiment that permeates the media.
Commenting further regarding the suggestion that publishing stories about the imam may threaten his personal security, Kamor stated: "How does the name and face of a person that does a random act of kindness, potentially putting his own life at risk in the process, become a threat to his personal security?
"This is total nonsense and a weird attempt to take away from the Muslim community merit of kindness and sacrifice that is due to them and their religion.
"The Imam is an appropriate model of kindness and fellow-feeling whose sacrifice and kind-heartedness do not carry price tags. He put their lives and safety beyond other considerations. He is a national hero".
"You are the best nations brought forth for (the benefit of) mankind. You enjoin what is right and forbid the wrong and believe in Allah; and if the People of the Book had believed, it would surely have been better for them. Some of them are believers while most of them are transgressors." Surah 'Al-Imran, Verse 110
References: