86% of Global Anti-Islam Tweets Come from India, US and UK
Sunday, 25 September 2022 | 29 Safar, 1444 AH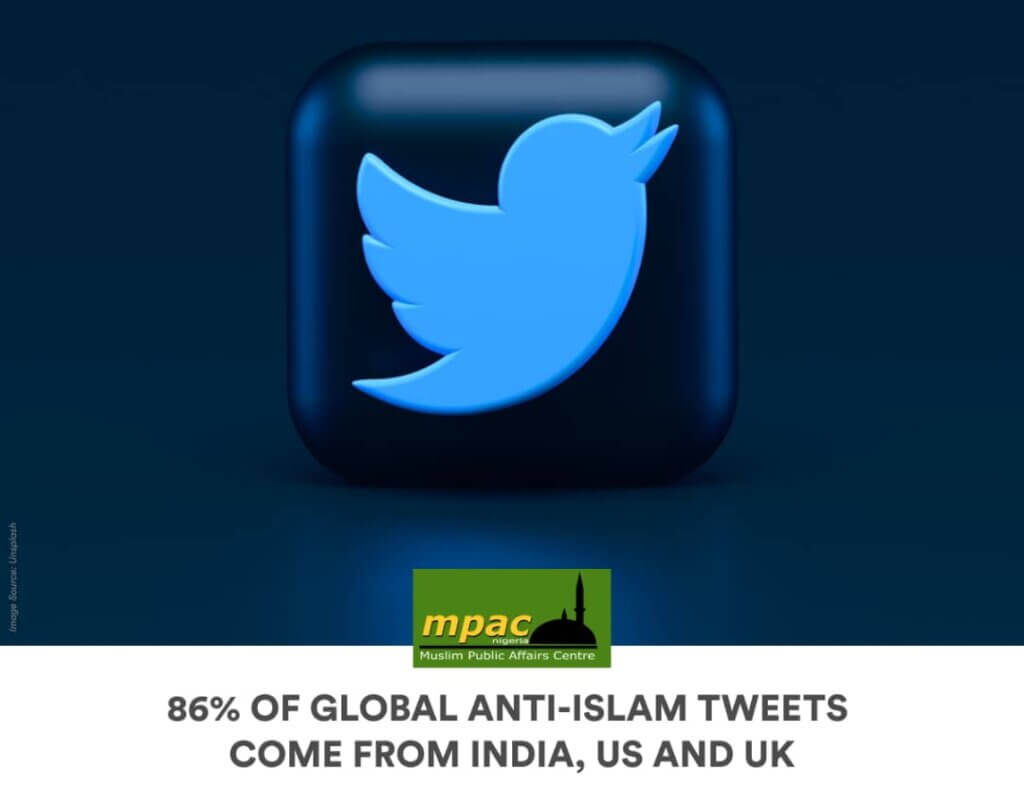 According to a study by the Islamic Council of Victoria, (ICV), 55.12% of the worldwide hate tweets against Islam and Muslims were from India between August 2019 and August 2021. 86% of tweets against Muslims were from India, the US and the UK, as reported by The Quint. The study found there were 3,759,18 Islamophobic posts made on Twitter during the period covered in the study, including tweets that have insulted Muslims by calling them terrorists, sexual harassers or falsely claiming that they, as immigrants, are displacing local communities. Other tweets reportedly question Islamic practices.
INDIA'S TWITTER USERS
Researchers blame India's ruling party–Bharatiya Janata Party (BJP)–for fostering anti-Muslim hate.
"The BJP has actively normalised hatred towards Muslims such that 55.12 percent of anti-Muslim hatred tweets now originate in India," researchers said.
ICV also attributed discriminatory laws denying Muslims citizenship to the rise of anti-Muslim hatred among Indian Twitter accounts.
US TWITTER USERS
The rise of anti-Muslim hate on Twitter went hand-in-hand with former President Donald Trump's rhetoric of hate and policies. The former US president is one of the third most frequently mentioned users in anti-Muslim posts with many tweets that are connected to defending his Muslim immigration ban and anti-Muslim conspiracy theories.
UK'S TWITTER USERS
The prevalence of anti-Muslim tweets in the United Kingdom has been attributed to several factors spanning from Trump's anti-Muslim animus to anti-immigration sentiments sparked by the refugee crisis, the discussion around Brexit, in addition to racism from former Prime Minister Boris Johnson who once compared niqab-wearing Muslim women to "letter boxes", according to a report by TRT World. The research concludes that there is a direct correlation between online hate and offline hate crimes and thus, social media companies such as Twitter must act in good conscious to stop anti-Muslim hate Tweets.
Last year, the United Nations (UN) encouraged the international community to take all necessary measures to combat discrimination against Muslims and ban the advocacy of religious hatred, which is often a factor in incitement to violence or physical attacks against Muslims and mosques. Unfortunately, the top social media platforms have largely ignored the UN's call. Most of the top platforms have done little or nothing to curb the spread of Islamophobia by simply removing anti-Muslim content from their platforms. The tolerance of these platforms to the free expression of anti-Muslim sentiments or hate speech targeting Muslims has no doubt boosted the confidence of the hate groups and individuals dedicated to keeping Islamophobia alive and thriving.
Don't miss it!!!

It's happening on Twitter Spaces on Sunday, October 9th, 2022!

Join our amazing speakers from 10:00 a.m. to 4:00 p.m. as they share some gems.

Engage them and Participate!

See flyer below for more details. Please share with others in your network as well!!

Websites: www.mpac.org, www.mpac-events.org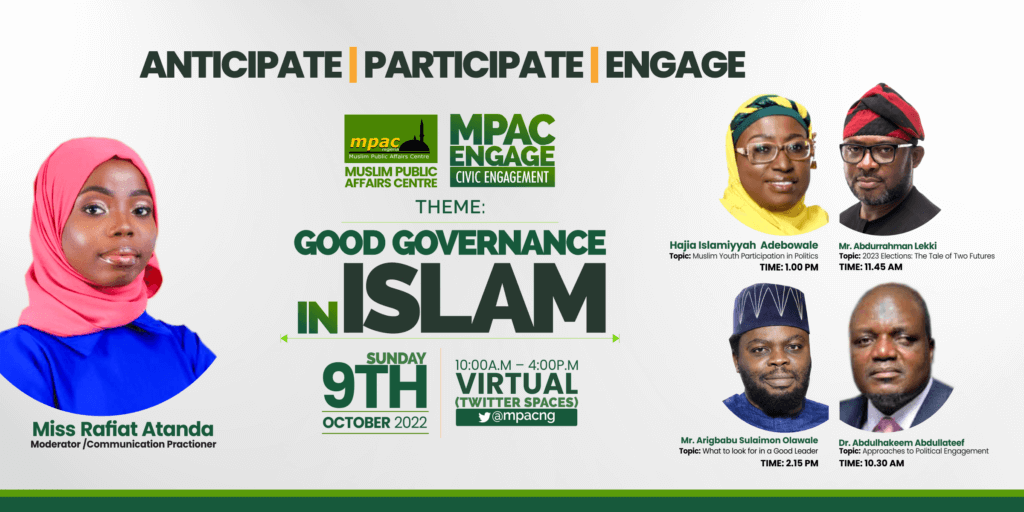 ———————
MPAC Nigeria
MPAC is a non-partisan Muslim organisation with the political empowerment of Nigerian Muslims as one of its core focus areas.
—————–
As you're here…
MPAC has one humble request from you…
Thousands of Nigerian Muslims rely on the services we provide at MPAC and thousands more from around the world visit our website for news every day. Due to the significant challenges we face in dealing with Muslim-related issues in a heightened Islamophobic environment, MPAC is constantly under financial strain to meet our financial needs.
To maintain editorial and financial independence, with no sectarian or political allegiance to any particular group or movement, MPAC relies only on donations from individuals like you.
It is easy to understand the importance of organisations that do the sort of work we do at MPAC in today's climate. Please support us financially and please support us for as little as N1000 a month. It only takes a minute to make a one-off donation or to set up a standing order with your bank. Jazakallah khayran.
Our beloved Prophet Muhammad (peace be upon him) said: "The best deeds are those done regularly, even if they are small." [Ibn Mājah]