DONATE FOR TURKIYE
Sunday 12 February 2023 | 21 Rajab, 1444 AH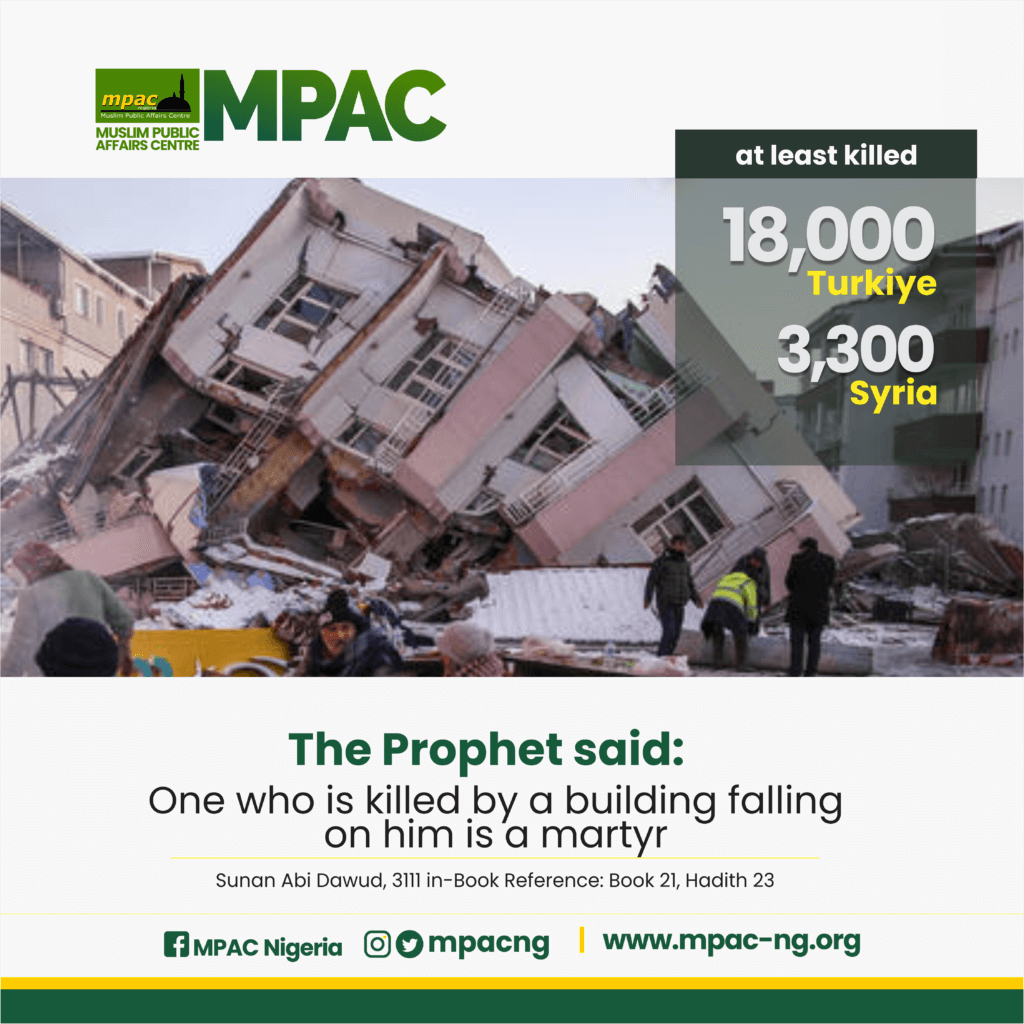 "To the kind attention of volunteers who wish to make in-kind donations to those affected by the powerful earthquakes in Turkiye.
"Donations of the following most-needed items will be highly appreciated:
Winter clothing for adult and children
Winter jacket
Overcoat
Raincoat
Boots
Sweater
Trousers
Gloves
Neckpiece
Neck scarf
Beret
Cop Socks
Underwear
"Other items are Tent, bed mattress (for the tents), blanket, sleeping bag, mummy Bag, Cotolytic stove with tube, heater cylinder, tube vacuum flask, thermos, torch, power bank, and generator.
"Food: (durable food items – canned food) baby food, formula, diapers, nappies, cleaning and hygiene materials, sanitary pads.
"Please place your items in clear bags and provide on itemised list of the contents in the bag.
"The in-kind donations will be sent to Turkiye via Turkish Airlines in a speedy and prioritised manner.
Donation Collection Points:
Abuja
No. 46 Aminu Kano Crescent, Wuse 2 Abuja, FCT.
Lagos
ARMADA International Limited, 8 Solomon Agbonton Road (Aerodrome Rood)".
—————–
As you're here…
MPAC has one humble request from you…
Thousands of Nigerian Muslims rely on the services we provide at MPAC and thousands more from around the world visit our website for news every day. Due to the significant challenges we face in dealing with Muslim-related issues in a heightened Islamophobic environment, MPAC is constantly under financial strain to meet our financial needs.
To maintain editorial and financial independence, with no sectarian or political allegiance to any particular group or movement, MPAC relies only on donations from individuals like you.
It is easy to understand the importance of organisations that do the sort of work we do at MPAC in today's climate. Please support us financially and please support us for as little as N1000 a month. It only takes a minute to make a one-off donation or to set up a standing order with your bank. Jazakallah khayran.
Our beloved Prophet Muhammad (peace be upon him) said: "The best deeds are those done regularly, even if they are small." [Ibn Mājah]