In the name of Allah, the Beneficent, the Merciful
Press Release: FOR IMMEDIATE RELEASE
Jaiz, MPAC Host Webinar on Options for This Year's Hajj
Monday, 11 May 2020 | Ramadan 18, 1441 AH
Lagos, Nigeria
Jaiz Bank Plc and Muslim Public Affairs Centre, MPAC, will host a national webinar to discuss the implications of the global pandemic on this year's hajj and the options for Nigerian Muslims.
A statement by the program coordinator, Almak Media, says the interactive lecture will be delivered by Alhaji Zikrullah Kunle Hassan, Executive Chairman of the National Hajj Commission of Nigeria, NAHCON.
The two-hour Zoom lecture, which is slated for 11am on Sunday, May 17, will address critical issues on the options for hajj and umrah at a period of a global pandemic.
Zoom Lecture Details:

Venue: Click Here!

Lecture Topic: Hajj & Umrah at a Period of Pandemic: Options for Nigerian Muslims.

Lecturer: Alhaji Zikrullah 'Kunle Hassan
Executive Chairman: National Hajj Commission of Nigeria (NAHCON)

Date: Ramadhan 24, 1441 AH (May 17, 2020): Time 11:00AM West Central Africa

Meeting ID: 893 1741 3382
Password: Almak1441
According to Almak Media, the Managing Director of Jaiz Bank, Mallam Hassan Usman will give a remark on how the bank could support creative initiatives on hajj and other areas of the economy.
Participants will have the opportunity to ask questions on the implications of the global pandemic on the performance of Muslim holy pilgrimage which is the fifth pillar of Islam.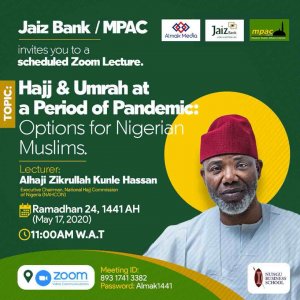 Jaiz Bank says it is supporting the webinar in furtherance of its mandate as Nigeria's first and leading Non-Interest Bank, NIB.
Among key participants expected on the webinar are chairmen of states pilgrim boards, private travel operators, hajj flights carriers, and Muslims from across the country.
CONTACT:
Muslim Public Affairs Centre (MPAC), Nigeria.
www.mpac-ng.org | info@mpac-ng.org
—————–
As you're here…
MPAC has one humble request from you…
Thousands of Nigerian Muslims rely on the services we provide at MPAC and thousands more from around the world visit our website for news every day. Due to the significant challenges we face in dealing with Muslim-related issues in a heightened Islamophobic environment, MPAC is constantly under financial strain to meet our financial needs.
To maintain editorial and financial independence, with no sectarian or political allegiance to any particular group or movement, MPAC relies only on donations from individuals like you.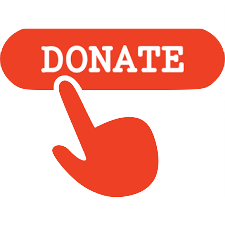 It is easy to understand the importance of organisations that do the sort of work we do at MPAC in today's climate. Please support us financially and please support us for as little as N1000 a month. It only takes a minute to make a one-off donation or to set up a standing order with your bank. Jazakallah khayran.
Our beloved Prophet Muhammad (peace be upon him) said: "The best deeds are those done regularly, even if they are small." [Ibn Mājah]