MPAC Commiserates With the Muslim Ummah on the
Death of Sheikh Ahmed Lemu, OFR
Thursday, 24 December 2020 | Jumada Awwal 9, 1442 AH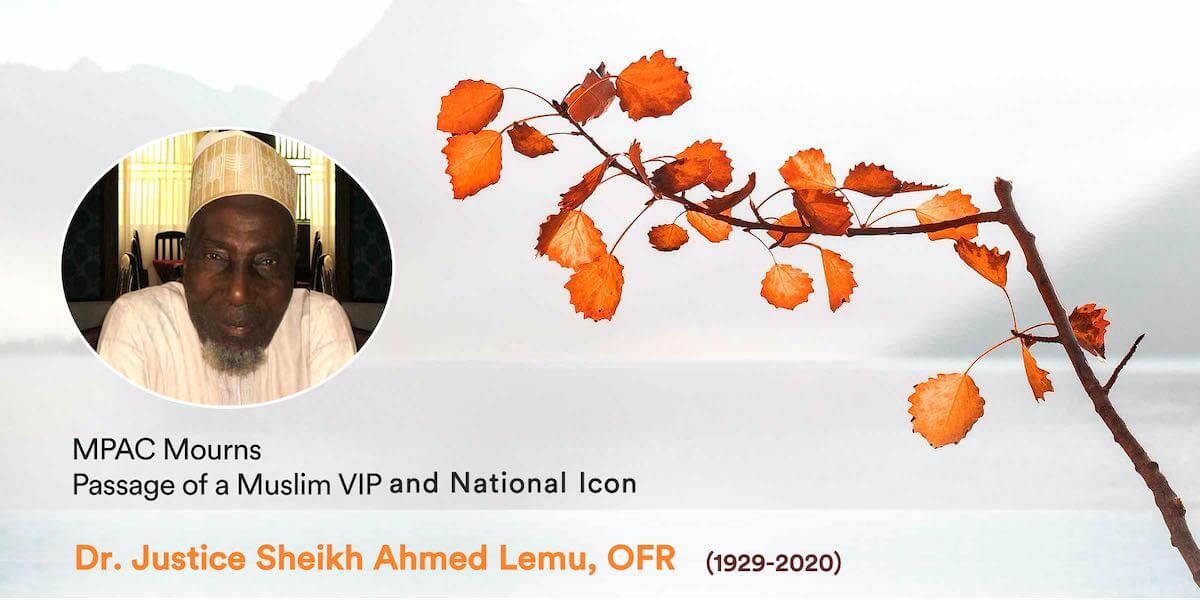 Inna lillahi wa inna liayhi raji'un.
"Verily we belong to Allah, and verily to Him do we return."
(Al-Baqarah, 2:156)
With deep sadness, we learned of the death of Dr Justice Sheikh Ahmed Lemu, OFR this morning, on the 24th of December, 2020 just 2 years after the passing away of his beloved wife Hajia Aisha Lemu. Without doubt, the painful death of the iconic leader came as a shock to all Nigerians especially those of Islamic faith who have relied on him and the numerous works of his family for decades.
His death certainly has a devastating impact on the Ummah and will be hard to deal with but together we take solace and lessons in the wise words of Allah (SWT) in the Qur'an.
We commiserate with our brother Nurudeen Lemu and sister Maryam Lemu, the entire Lemu family and the nation on the loss of the iconic Muslim leader. May Allah grant them patience and rewards of patience to deal adequately with the loss. We are thankful to Allah for blessing Shaykh Ahmed Lemu with a life spent in the service of Allah and humanity.
In sha Allah, the Janaazah Prayer of Dr. Justice Sheikh Ahmad Lemu will hold by 12noon today, 24th December 2020 at Islamic Educational Trust (IET) Headquarters, Minna.
We encourage Muslim faithful close to the location to attend the Jannazah and ensure they go along with a face mask and observe all necessary COVID-19 precautions.
Our prayers and thoughts are with the entire Muslim Ummah. We pray that Allah (SWT) will grant forgiveness to Sheikh Ahmed Lemu, Hajia Aisha Lemu and all Muslims that preceded them in faith, and reunite them in the highest level of Paradise, amin.
Disu Kamor,
Executive Chairman,
MPAC, Nigeria
—————–
As you're here…
MPAC has one humble request from you…
Thousands of Nigerian Muslims rely on the services we provide at MPAC and thousands more from around the world visit our website for news every day. Due to the significant challenges we face in dealing with Muslim-related issues in a heightened Islamophobic environment, MPAC is constantly under financial strain to meet our financial needs.
To maintain editorial and financial independence, with no sectarian or political allegiance to any particular group or movement, MPAC relies only on donations from individuals like you.
It is easy to understand the importance of organisations that do the sort of work we do at MPAC in today's climate. Please support us financially and please support us for as little as N1000 a month. It only takes a minute to make a one-off donation or to set up a standing order with your bank. Jazakallah khayran.
Our beloved Prophet Muhammad (peace be upon him) said: "The best deeds are those done regularly, even if they are small." [Ibn Mājah]