MPAC "ENGAGE!" IS HAPPENING ON TWITTER
Meet Our Guest Speaker: Dr Abdulhakeem Abullateef
Tuesday, 27 September 2022 | 1 Rabiʻ Awwal, 1444 AH
Approaches to Political engagements, in the long run, determine the outcomes. Would it be a success or an exercise in futility?
Participation in politics involves different stakeholders with various motives. Participation could be for material incentives, information dissemination, consultation, or herd mentality, in the form of passive participation, active participation or self-mobilization.
And one of the great dangers of political engagement is misplaced hope, with severe consequences.
How can individuals be proactive in engaging in politics?
Keep a date with the erudite Dr Abdul Hakeem Abdullateef as he shares some nuggets with us on the topic "Approaches to Political Engagement" on Twitter @mpacng.
It's happening on Twitter Spaces on Sunday, October 9th, 2022!

Meeting Link: https://twitter.com/i/spaces/1lDGLnZpEeZxm

Join our amazing speakers from 10:00 a.m. to 4:00 p.m. as they share some gems.

Engage them and Participate!
Please share with others in your network as well!!
Websites: www.mpac.org, www.mpac-events.org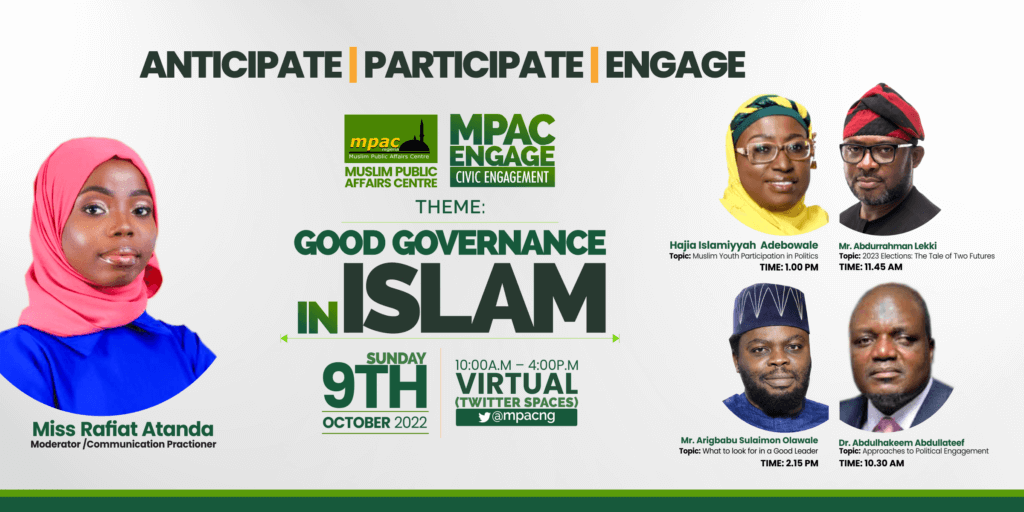 ———————
MPAC Nigeria
MPAC is a non-partisan Muslim organisation with the political empowerment of Nigerian Muslims as one of its core focus areas.
#voters #nigeria #election #2023ELECTION #VoteWisely
—————–
As you're here…
MPAC has one humble request from you…
Thousands of Nigerian Muslims rely on the services we provide at MPAC and thousands more from around the world visit our website for news every day. Due to the significant challenges we face in dealing with Muslim-related issues in a heightened Islamophobic environment, MPAC is constantly under financial strain to meet our financial needs.
To maintain editorial and financial independence, with no sectarian or political allegiance to any particular group or movement, MPAC relies only on donations from individuals like you.
It is easy to understand the importance of organisations that do the sort of work we do at MPAC in today's climate. Please support us financially and please support us for as little as N1000 a month. It only takes a minute to make a one-off donation or to set up a standing order with your bank. Jazakallah khayran.
Our beloved Prophet Muhammad (peace be upon him) said: "The best deeds are those done regularly, even if they are small." [Ibn Mājah]