MPAC "Engage!" Campaign
(Quick Poll on Muslim Voters)
Monday, 8 August 2022 | 10 Muharram 1444 AH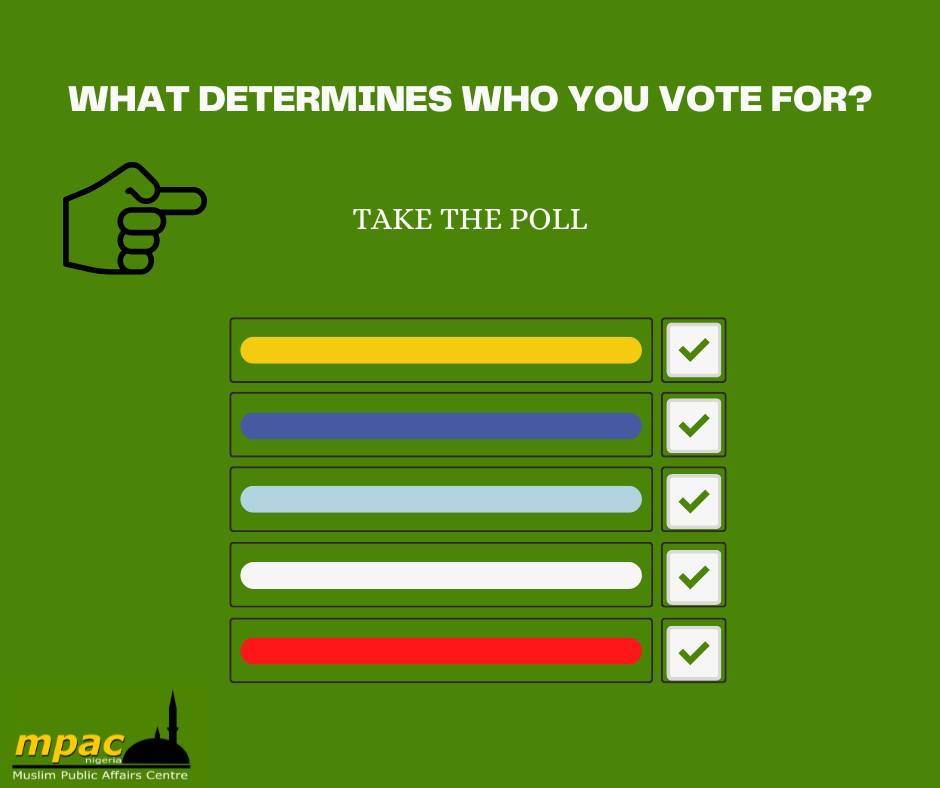 In the upcoming 2023 elections, Muslim voters will play critical roles in identifying and electing national office holders, including the office of the President of the country. The choice is yours, and this poll is simply to assess the issues that are most important to individual Muslim voters.
Regardless of party affiliation or slogans, by considering the main issues which affect Nigerians and reflect our national interests, we are hopeful that Nigeria shall set itself on a path of our national interests, including security, peace and prosperity.
From the list below, select from the most important to the least that you, as a Muslim voter, rely on in evaluating candidate choices, and especially picking a presidential candidate.
CLICK THIS LINK AND TAKE THE POLL ANONYMOUSLY
ONLY ONE ANSWER IS POSSIBLE PER COLUMN
Please share with others in your network as well!!
———————
MPAC Nigeria
MPAC is a non-partisan Muslim organisation with the political empowerment of Nigerian Muslims as one of its core focus areas.
#voters #nigeria #election #2023ELECTION #VoteWisely
—————–
As you're here…
MPAC has one humble request from you…
Thousands of Nigerian Muslims rely on the services we provide at MPAC and thousands more from around the world visit our website for news every day. Due to the significant challenges we face in dealing with Muslim-related issues in a heightened Islamophobic environment, MPAC is constantly under financial strain to meet our financial needs.
To maintain editorial and financial independence, with no sectarian or political allegiance to any particular group or movement, MPAC relies only on donations from individuals like you.
It is easy to understand the importance of organisations that do the sort of work we do at MPAC in today's climate. Please support us financially and please support us for as little as N1000 a month. It only takes a minute to make a one-off donation or to set up a standing order with your bank. Jazakallah khayran.
Our beloved Prophet Muhammad (peace be upon him) said: "The best deeds are those done regularly, even if they are small." [Ibn Mājah]