MPAC Mourns: The Passage of a Muslim National Leader, Dr Sakariyau Olayiwola Babalola
Thursday, 3 October 2019.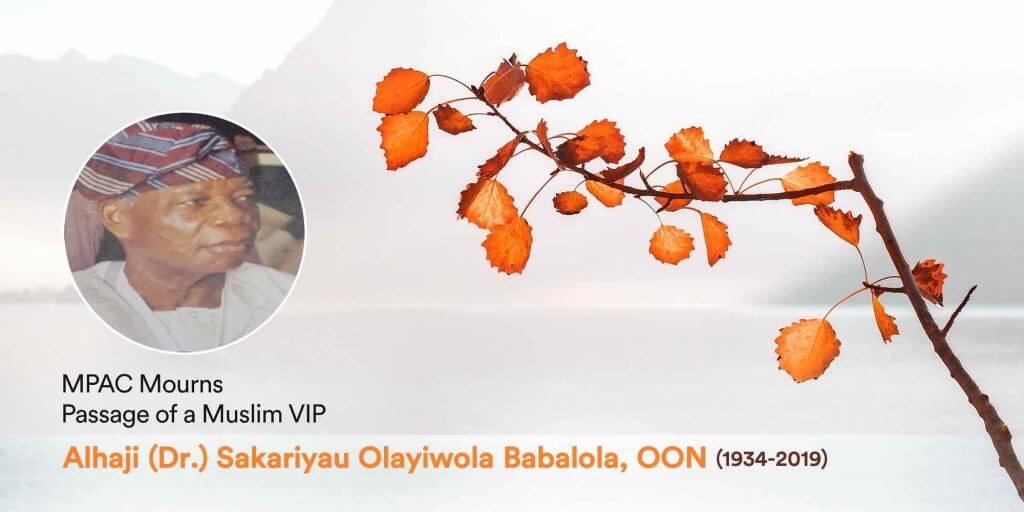 "Inna Li-lahi Wa Inna Ilehi Rajihun (Verily to Allah we belong and unto Him is our return)" [Q 2: 156]
With the death, yesterday of Dr Sakariyau BABALOLA, the President of Muslims of South Western Nigeria MUSWEN and Deputy President General of Nigeria Supreme Council For Islamic Affairs, the Muslim world has lost another illustrious son who dedicated his entire life to the service of Allah, beyond the shores of Nigeria.
Dr Babalola lived an extremely spartan life despite the immense blessings of Allah on him. His humility was legendary, and his unparalleled leadership qualities manifest in his pioneering efforts at the formation of MUSWEN, the coordinating body for Muslims in South West of Nigeria.
That Muslim organisations in South West of Nigeria are cohesive, speak with one voice and present a common front on issues of national concerns is due largely to the maturity and magnanimity of late Dr Babalola and other leaders like him that the association is blessed with.
Though at the Muslim Public Affairs Centre, MPAC Nigeria, we are sorely pained at the death of this iconic and father figure of Nigerian Muslims, we are consoled he lived a life of worthy legacy.
Death is a certainty because every soul shall taste death (Qur'an 3: 185). The beauty of death particularly for the Muslim whose covenant of devotion and service to Allah remained sacrosanct till his last breath is that Allah has promised such Al Jannat.
So, we console ourselves as we pray to Allah to continue to raise for our ummah men and women of strong faith and inspiring/exemplary character to provide leadership for the Muslim Ummah and the nation at large.
Once again, MPAC sends a hearty message of consolation to the family and friends of Dr SO Babalola, the entire Muslims in Nigeria and the nation at large. We pray that Almighty Allah accepts his worship and works and enter him into Al-Jannah Firdous, amin.
Abdulwarees Solanke,
Director, Media and Strategic Communications,
Muslim Public Affairs Centre MPAC Nigeria.
—————–
As you're here…
MPAC has one humble request from you…
Thousands of Nigerian Muslims rely on the services we provide at MPAC and thousands more from around the world visit our website for news every day. Due to the significant challenges we face in dealing with Muslim-related issues in a heightened Islamophobic environment, MPAC is constantly under financial strain to meet our financial needs.
To maintain editorial and financial independence, with no sectarian or political allegiance to any particular group or movement, MPAC relies only on donations from individuals like you.
It is easy to understand the importance of organisations that do the sort of work we do at MPAC in today's climate. Please support us financially and please support us for as little as N1000 a month. It only takes a minute to make a one-off donation or to set up a standing order with your bank. Jazakallah khayran.
Our beloved Prophet Muhammad (peace be upon him) said: "The best deeds are those done regularly, even if they are small." [Ibn Mājah]