In the Name of God, the Compassionate, the Merciful

Press Release: FOR IMMEDIATE RELEASE
Tuesday 24 August, 2010
MPAC Objects to Use of Body Scanners at Nigerian Airports
(Lagos, 24/08/10) The Muslim Public Affairs Centre is writing to express deep concern over the planned use of the highly controversial full-body scanners at Nigerian airports. At the 11 August 2010 press conference sponsored by the U.S. embassy in Nigeria to mark the start of training for personnel that will be using the body scanners, Dr Harold Demuren, director general of the Nigerian Civil Aviation Authority, said that the government is starting training of officers to man the screening devices already in place at Lagos' Murtala Muhammed International Airport (MMA) and at the international airport in Abuja in order to 'make our airports extremely unfriendly to terrorists'. The machines have yet to be installed at the international airports in Kano and Port Harcourt.
The U.S. had earlier given Nigeria 4 full-body scanners for its international airports in 2008 to detect explosives and drugs and these machines remain in use by federal anti-drug agents at the Murtala Muhammed International Airport and elsewhere.  The country's airline security came under heightened scrutiny last December following a failed Christmas Day bombing attempt on a U.S. airliner blamed on a Nigerian passenger with explosives concealed in his underwear. As a result of this attempted attack, the Nigerian government has purchased 10 body scanners for use at our international airports and US air marshals now protect flights from Nigeria to the US.
The use of the body scanners produce detailed 3-D images of passengers' figures on a computer screen as if they were unclothed and the MPAC objects their use for the following reasons:
– The use of the body scanners violates human rights- everyone has the right to respect for his private life. Numerous commentators have described the procedure as an electronic strip search; in fact it is nothing short of this. During the scan, images with intricate details of naked bodies, including the outlines of women's breasts and the genitalia of both genders, will be seen on a monitor by another person who could be male or female, sitting in a different room. The German security advisor Hans-Detlef Dau, a representative for one of the companies that sell such scanners, admits that the machines "show intimate piercings, catheters and the form of breasts and penises". The MPAC believes that the right to privacy includes the right to decide who views your body, whether in person or via images. The fact that the screener is unable to identify the passenger does not change the fact that he or she is viewing a near naked image of the passenger. By forcing the passenger to go through the body scanner he/she is being stripped of his/her privacy; his/her right to decide who takes and views his/her near nude images.
– Full-body scanners clearly violate the religious rights of Muslim passengers.  Islam highly emphasizes haya (modesty) and considers it part of faith. The Quran also commands the believers, both men and women, to cover their private parts; as such the enforcement of nudity under the guise of maintaining air passenger safety and security is simply unacceptable. This implies that a general and public use of such scanners is against the teachings of Islam, natural law and all religions and cultures that stand for decency and modesty. MPAC believes that the religious rights of passengers can still be respected while maintaining adequate air safety and security.
– The fact that this procedure is unnecessary makes the breach of privacy more unacceptable. It is unnecessary for the following reasons: 
·         A pat down search will be just as effective in finding explosives strapped to the body. This method is already in use at the nation's airports and it is considered as perfectly acceptable in other countries including America and European countries. In March this year, America's Transportation Security Administration (TSA) agreed to make traveler compliance with the scanners optional for those whose modesty and dignity prevents them from being subjected to a naked body scan. In America as in most countries, alternative screening (in the form of a pat down) which will be gender sensitive and take place in a private setting is allowed.
·         It is entirely implausible to believe that airport security officials will subject every passenger to screening, considering the tremendous cost of procuring sufficient scanners and time involved. Consequently, scanning is likely to be conducted on a selective process which unfortunately, due to the climate of Islamophobia we live in, will mean the profiling of Muslim passengers. Profiling itself is very problematic as it is unlikely to catch or deter potential terrorists, who will adopt a different appearance and dress in order to escape profiling;
·         The body scanners will not be able to identify most types of explosives. Experts say that full-body scanners can be unreliable in  detecting "low-density" materials like plastics, chemicals, and liquids, which is what Abdulmutallab is alleged to have stuffed in his underwear;
·         As stated above, most countries do not use the scanners. This means that there are large numbers of passengers who are entering Nigeria who could pose a threat to Nigeria. Yet we are going to be scanned as we leave the country? It means there is no safety and security benefit to Nigeria as a terrorist may still attack Nigeria by boarding a plane in a country where security scanners are not used. The draconian measure will not 'make our airports extremely unfriendly to terrorists' but only serve the needs of other countries.  
MPAC agrees totally that we must make our airports unfriendly to terrorists and we fully support reasonable additional measures to assure this but due to the explicit nature of the pictures that the body scanners create, the MPAC believes that government choice of this measure, and without due public consultation, is ill-informed, extreme and wrong. An alternative screening must be provided for people who object to the invasion of their privacy and modesty due to the nature of image taken by the screeners, one of such is the pat down search which is already in use. Under the US new rules, all citizens of 14 countries named by President Obama after the Christmas Day bombing attempt flying to the United States are only required to receive a pat down and an extra check of their carry-on bags before boarding a plane bound for the United States. This is already the case. The fact that the current methods meet the US requirements and are satisfactory is further illustrated by the U.S. Federal Aviation Administration grant to Nigeria of its top air-safety rating on Monday, 23rd August, 2010.
 -End-
Contact:
---
Sample of Scanner Images
---
A security official (R) prepares to scan his colleague posing inside a RapiScan full-body scanner being trialed by Manchester Airport, during a photocall at the airport, in Manchester, northern England January 7, 2010. The radiation risk from full-body scanners used to improve airport security is low and unlikely to raise an individual's risk of cancer, U.S. experts said. REUTERS/Phil Noble
 A security officer examines a computer screen showing a scan from a RapiScan full-body scanner, being trialed by Manchester Airport, during a photocall at the airport, in Manchester, northern England January 7, 2010. REUTERS/Phil Noble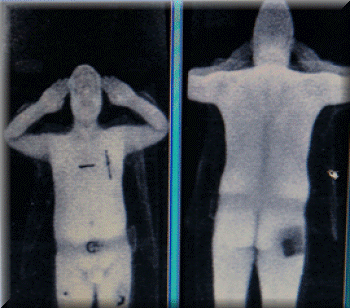 A computer screen shows a scan of a security official in a RapiScan full-body scanner being trialed at Manchester Airport in Manchester, northern England January 7, 2010. REUTERS/Phil Noble