MPAC On Nigeria@59
Tuesday, 1 October 2019.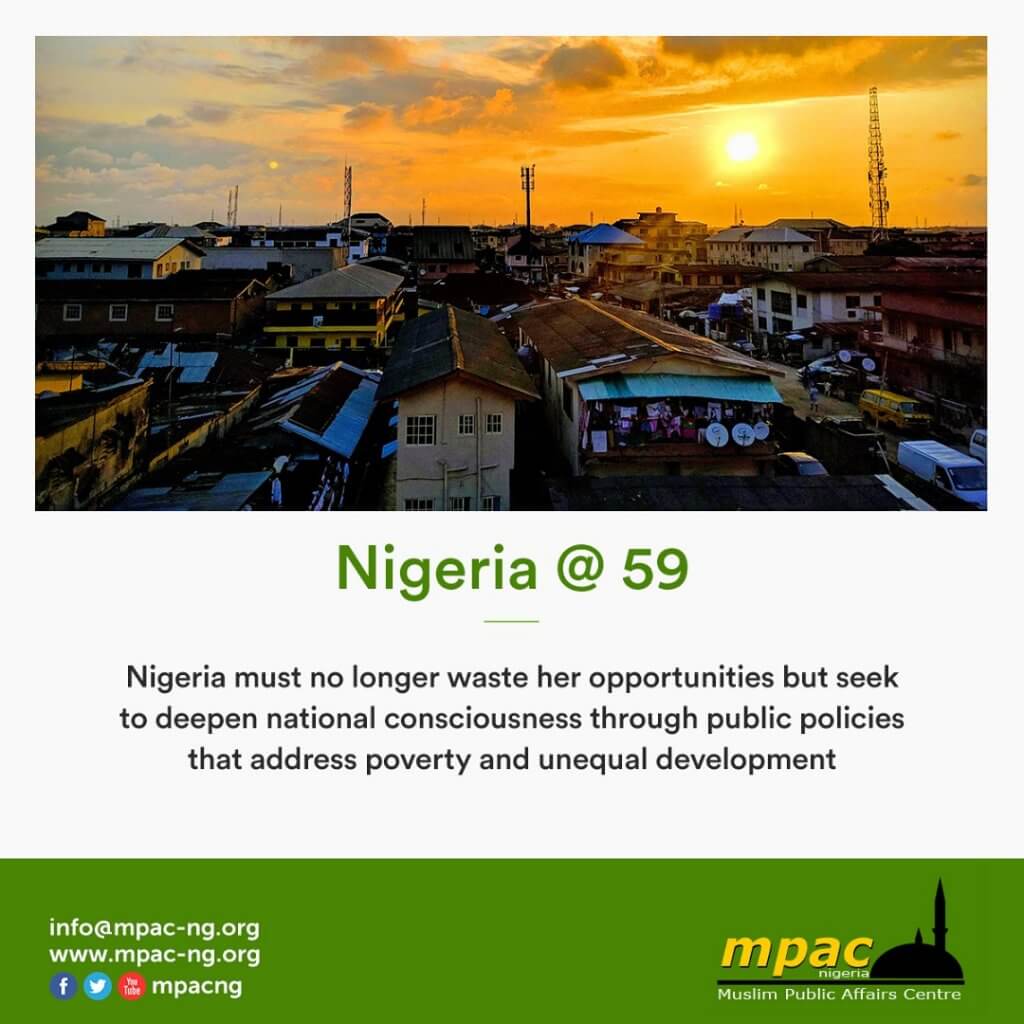 Nigeria must no longer waste her opportunities but seek to deepen national consciousness through public policies that address poverty and unequal development.
At the Muslim Public Affairs Centre, we believe that Nigeria could have overcome her development challenges, at least in the past three decades, if successive governments were faithful to the promises of poverty alleviation through pragmatic policies that promote even development.
As Nigeria clocks 59 today as an independent nation, the challenge before the incumbent government is to match its promises with enduring initiatives that will fast track development nationwide.
More significant is the need for peace and consensus-building among the most constituents of the country.
No group must feel denied, disregarded or alienated, but all must be afforded voice and allowed equal opportunities to reach their full potentials. As Nigeria attains 59 as an independent nation today, we call on our leaders- political, religious, community, thought and opinion leaders- to reaffirm the foundational principles of our great nation and join hands to create a better future for Nigerians.
May God bless Nigeria. Ameen.
—————–
As you're here…
MPAC has one humble request from you…
Thousands of Nigerian Muslims rely on the services we provide at MPAC and thousands more from around the world visit our website for news every day. Due to the significant challenges we face in dealing with Muslim-related issues in a heightened Islamophobic environment, MPAC is constantly under financial strain to meet our financial needs.
To maintain editorial and financial independence, with no sectarian or political allegiance to any particular group or movement, MPAC relies only on donations from individuals like you.
It is easy to understand the importance of organisations that do the sort of work we do at MPAC in today's climate. Please support us financially and please support us for as little as N1000 a month. It only takes a minute to make a one-off donation or to set up a standing order with your bank. Jazakallah khayran.
Our beloved Prophet Muhammad (peace be upon him) said: "The best deeds are those done regularly, even if they are small." [Ibn Mājah]