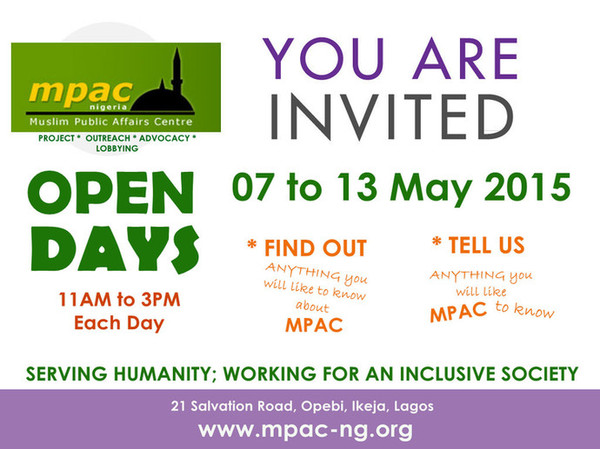 MPAC OPEN DAYS
From the 07 to 13 May 2015, it will be open days at the MPAC office: 21 Salvation Road, Opebi, Ikeja, Lagos where we will play host to members of the public and stakeholders- neighbours, volunteers, donors, sponsors, media, etc.
The open house is designed to get MPAC acquainted with a broad spectrum of the Muslim Ummah and other members of the public.
On these days (from 11.00am to 3.00pm each day), MPAC volunteers, trustees, directors and team leads will be on hand to welcome you and take any of your questions/suggestions and comments.
– If there is ANYTHING you ever wanted to know about MPAC; here is the opportunity to have answers from the officials;
– If you have AN IDEA that when translated into reality will be for the COMMON GOOD of the Ummah and the nation at large, here is a chance to discuss with us;
– If you are passionate about AFFIRMATIVE ACTION(S) and to stand against injustice and discrimination, this is a forum for you to join forces with us in our work of over 14 years … representing the Ummah;
– If you have visualized a HUMAN DEVELOPMENT PROJECT for the Ummah that requires clinical execution; please be our guest;
– If you have a contribution to make or a critique on THE MPAC WAY, please sit down with us and offer approaches and solutions;
– If you intend to be led into the strategic thrust of MPAC and know about its next BIG IDEA, please stop by at our office;
– If you need a critical INSIGHT into how MPAC works, here is the opportunity.
In addition, we have written to MPAC office neighbours (businesses, churches, etc) on Salvation Road and the adjoining streets, inviting them to attend the Open Days to know about MPAC, Islam, Muslim engagement and works in the society, as well as tell us about their concerns, issues and ideas. The media, other Islamic organisations, Muslim dignitaries, public officials, and general members of the public are also invited.
BE OUR GUEST!