Prioritising the Needs of the Muslim Community:
Islamic Organizations on Call
Thursday, 30 September 2021 | 23 Safar, 1443 AH
Nigeria has a rich history of producing revolutionary Islamic organizations. These organizations are of different shades, solving different problems, and adding value to society in different capacities.
The ultimate aim of every organization is to advance the cause of Islam and help Muslims achieve their earthly mission in the best possible way. The early Muslim organizations identified problems bothering around lack of institutions, and they provided solutions based on the resources available to them.
That's why a lot of these organizations started off with building mosques, educational institutions, and hospitals which were fundamental problems of the Muslim community at that time.
These institutions, especially the masjid, produced righteous, dutiful, and well-trained individuals that carried on the Islamic message and led men towards the path of salvation.
But today's problems go beyond the lack of institutions. It's about the rot within these institutions. Take a look at our Masaajid. A lot of them are led by people who have not fully grasped the concept of mosque management and so a lot of our masaajid (mosques) aren't used productively.
In many places, the masaajid are plagued with issues like financial mismanagement, partisan politics, and factionalism based on creedal differences. Our mosques are supposed to be the rallying points for interactivity. They should serve as development centres and not just prayer grounds.
In the early generations, the mosques served as civilization centres because they had everything you needed to be able to express your religiosity and play your communal roles. They had schools, libraries, hospitals, courts of arbitration, counselling centres, and so they could function as centres for social integration and intellectual upliftment.
The same cannot be said about the masaajid of this contemporary age, especially in this part of the world.
Another fundamental problem within the Muslim community has to do with our dysfunctional Islamic institutions. A lot of our Madaaris or educational institutions aren't standardized enough. Some of them still make use of outdated curricula that do not reflect the educational and spiritual needs of our time.
Away from the institutional rots, our socio-economic life is no better. Look around you; the Muslims are among the poorest, yet we have the capacity to be the richest.
Hardly will a day pass without getting a request for medical help on social media or through other channels. What provisions do we have for Muslims in need of medical healthcare? Do we even hear the cries of people with mental health issues?
How do we reduce the poverty gap among indigent Muslims? What about orphans, helpless widows, and divorcees? Who would come to their aid?
At this stage of our collective existence, there's an urgent need for evaluation. 
How far, so far?
This is a wake-up call for Muslim organizations because, to a large extent, they hold the reins for solving the problems within the Muslim community. We call on them to reflect on the very reasons for which they exist and step up for the people in their care.
Abu Huraira reported Allah's Messenger (ﷺ) as saying: He who alleviates the suffering of a brother out of the sufferings of the world, Allah would alleviate his suffering from the sufferings of the Day of Resurrection, and he who finds relief for one who is hard-pressed, Allah would make things easy for him in the Hereafter, and he who conceals (the faults) of a Muslim, Allah would conceal his faults in the world and in the Hereafter. Allah is at the back of a servant so long as the servant is at the back of his brother. [Muslim]
Individuals also have roles to play. While tending to our personal needs, we must not forget about the less privileged among us. A Muslim's mentality should be about sharing. Whatever you have is for you and those around you that are indigent.
However, individuals are advised to make concerted efforts in their bid to make an impact. This is because teaming up with other people and pulling resources together will produce results that are far-reaching. In other words, collaboration is a key factor for success. We want to see these collaborations happen among Islamic organizations as well.
Allah says: And cooperate with each other in righteousness and piety, and do not cooperate with each other in sin and aggression. [Ma'idah: 2]
May Allah open our eyes to see the big picture and unify our hearts so we can uphold the principles of Islamic brotherhood.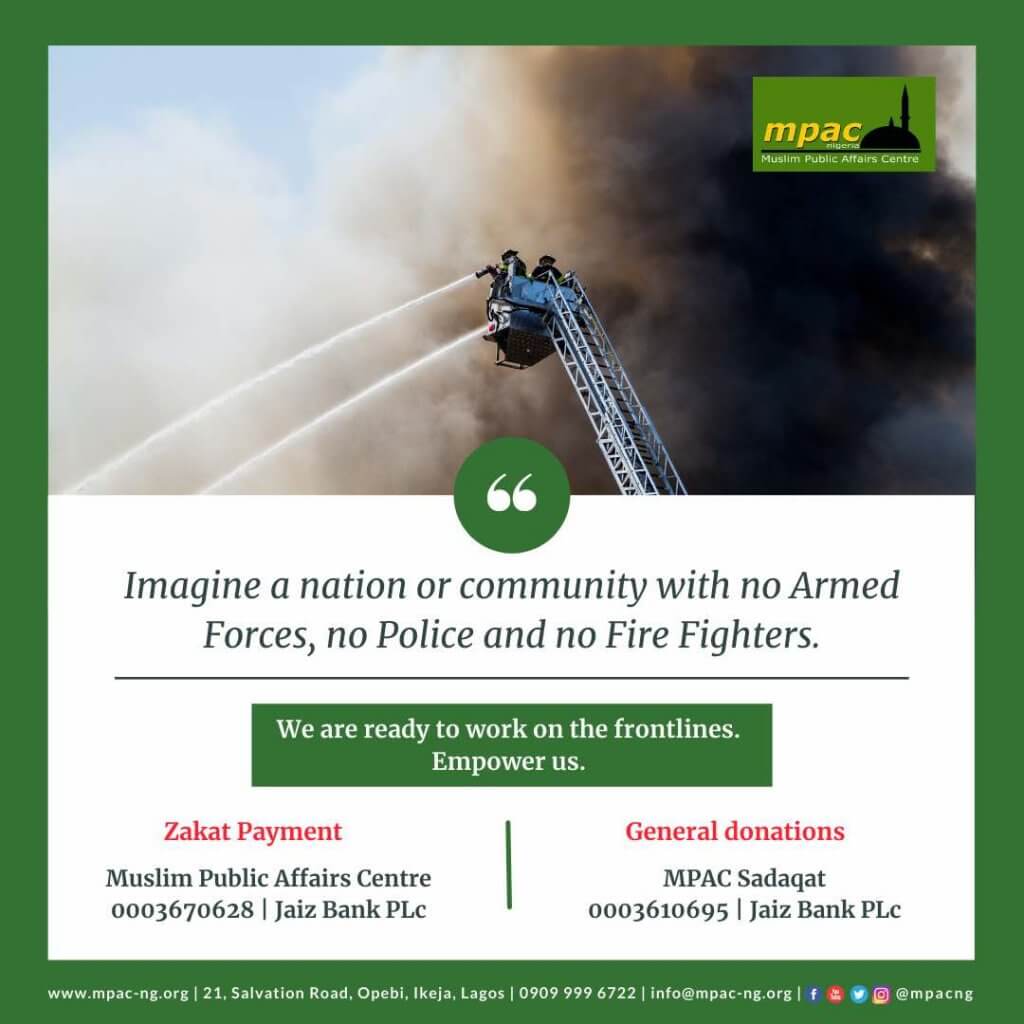 Now, imagine that an organisation like MPAC doesn't exist. Our voices would go unheard and the political manipulation of Muslims would continue to thrive.
As you know, the political landscape in Nigeria is highly volatile. A lot of times, people hide under religion to achieve their ulterior motives which are often politically motivated.
This is why Muslims need a body (like MPAC) to speak on their behalf.
We, on our part, are also happy to keep working on the frontline. But due to the significant challenges we face in dealing with Muslim-related issues in a heightened Islamophobic environment, MPAC is constantly under financial strain to meet our financial needs. Hence, we need you to empower us.
—————–
As you're here…
MPAC has one humble request from you…
Thousands of Nigerian Muslims rely on the services we provide at MPAC and thousands more from around the world visit our website for news every day. Due to the significant challenges we face in dealing with Muslim-related issues in a heightened Islamophobic environment, MPAC is constantly under financial strain to meet our financial needs.
To maintain editorial and financial independence, with no sectarian or political allegiance to any particular group or movement, MPAC relies only on donations from individuals like you.
It is easy to understand the importance of organisations that do the sort of work we do at MPAC in today's climate. Please support us financially and please support us for as little as N1000 a month. It only takes a minute to make a one-off donation or to set up a standing order with your bank. Jazakallah khayran.
Our beloved Prophet Muhammad (peace be upon him) said: "The best deeds are those done regularly, even if they are small." [Ibn Mājah]