In the name of Allah, the Beneficent, the Merciful
Press Release: FOR IMMEDIATE RELEASE
The 2019 MPAC Open Days
Tuesday, 3 December 2019
Lagos, Nigeria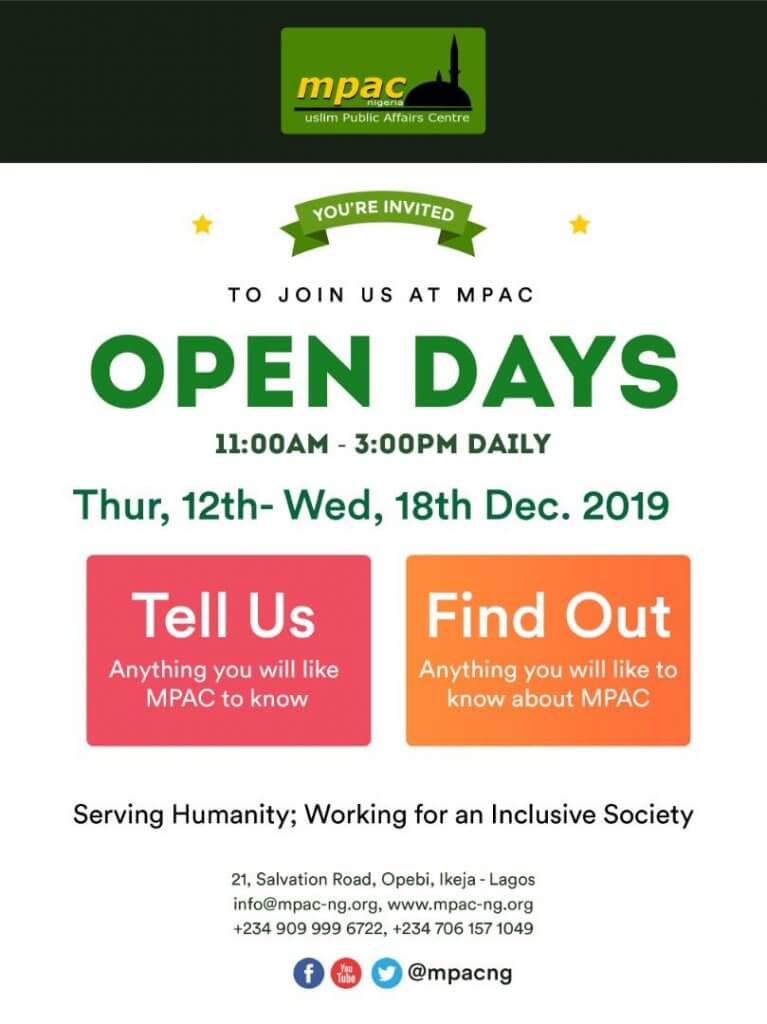 It's MPAC Open Days…
from next Thursday
You've always been concerned about the situation of Muslims and Islam globally.
You've always been asking what can be done to change the narratives.
You've always wanted to contribute in your own little way.
You've heard about MPAC but don't really know what we stand for.
Well, MPAC is a Muslim public service agency formally incorporated in Nigeria.
Do you want to know more?
From Thursday, 12th to Wednesday, 18th December 2019, the Muslim Public Affairs Centre (MPAC), Nigeria will be holding its Annual Open Days event at its office 21 Salvation Road, Opebi, Ikeja, Lagos, Nigeria.
At this event, MPAC will play host to members of the public and stakeholders – our neighbours, volunteers, donors, sponsors, media, etc.
The open days' event is designed to get the public acquainted with the activities, programmes/projects of MPAC and act as one of the platforms to help us meet our reporting obligations.
On these days (from 11.00 am to 3.00 pm each day), MPAC trustees, directors and team leads will be on hand to welcome and take questions/suggestions and comments from members of the public who attend the event.
MPAC is also using this medium to encourage our neighbours, including many businesses and churches in the neighbourhood, to attend on any day of their choice to know about us, about the Muslims and Islam.
We are looking forward to very interactive and stimulating sessions, as it will be a good opportunity for our guests to extract information from us on any issues of interest and importance.
We desire to let them know of their right in Islam that we maintain a good relationship with them, as the Prophet is reported to have stated that;
"The best friend in the sight of Allah is the one who is good to his companions, and the best neighbour in the sight of Allah is the one who is good to his neighbours." [Reported by Tirmidhi]

"He will not enter paradise, the one whose neighbour is not safe of him." [Reported by Muslim]
He, peace be upon him, was also reported to have commanded as follows:
"Whoever believes in Allah and the Day of Judgement, let him do good to his neighbour…" [Reported by Muslim]
For the Muslim Ummah, we are looking forward to specific discussions about the following:
– If there is ANYTHING you ever wanted to know about MPAC; here is the opportunity to have answers from the officials;

– If you have AN IDEA that when translated into reality will be for the COMMON GOOD of the Ummah and the nation at large, here is a chance to discuss with us;

– If you are passionate about AFFIRMATIVE ACTION(S) and to stand against injustice and discrimination, this is a forum for you to join forces with us in our work of over 17 years … representing the Ummah;

– If you have visualized a HUMAN DEVELOPMENT PROJECT for the Ummah that requires clinical execution; please be our guest;

– If you have a contribution to make or a critique on THE MPAC WAY, please sit down with us and offer approaches and solutions;

– If you intend to be led into the strategic thrust of MPAC and know about its next BIG IDEA, please stop by at our office;

– If you need a critical INSIGHT into how MPAC works, here is the opportunity.
We are looking forward to a very interactive and stimulating sessions. We hope you would honour our Invitation.
Thank you.
For further inquiries please contact:
Umar Aderibigbe
Executive Secretary/Programme Manager
info@mpac-ng.org
website: www.mpac-ng.org, www.mpac-events.org
+234 809 999 6722
—————–
As you're here…
MPAC has one humble request from you…
Thousands of Nigerian Muslims rely on the services we provide at MPAC and thousands more from around the world visit our website for news every day. Due to the significant challenges we face in dealing with Muslim-related issues in a heightened Islamophobic environment, MPAC is constantly under financial strain to meet our financial needs.
To maintain editorial and financial independence, with no sectarian or political allegiance to any particular group or movement, MPAC relies only on donations from individuals like you.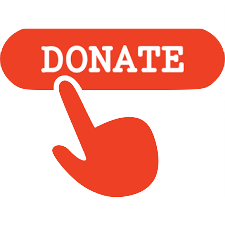 It is easy to understand the importance of organisations that do the sort of work we do at MPAC in today's climate. Please support us financially and please support us for as little as N1000 a month. It only takes a minute to make a one-off donation or to set up a standing order with your bank. Jazakallah khayran.
Our beloved Prophet Muhammad (peace be upon him) said: "The best deeds are those done regularly, even if they are small." [Ibn Mājah]