BREAKING NEWS!!!
UPDATE ON HIJAB RIGHT CAMPAIGN IN LAGOS STATE PUBLIC SCHOOLS.
November 13, 2018.
Sequel to the Stakeholders meeting held on the 25th of September 2018 with the Deputy Governor/Commissioner for Education, Lagos State, the Tutor General/Permanent Secretary of the Lagos State Government Education District VI, the representatives of MPAC, Nigeria, Hijab Rights Advocacy Initiative, Muslim Students' Society of Nigeria, Lagos State Area Unit, the Isolo Muslim Forum, Muslim Lawyers' Association of Nigeria – National(MULAN). and other stakeholders, the Lagos State Government has issued a Memo permitting the use of the Hijab in all Lagos State Public Schools.
The Memo we believe has been sent to all Public Schools in Lagos State. Please find below a copy of the Memo sent to Oshodi Comprehensive Senior High School.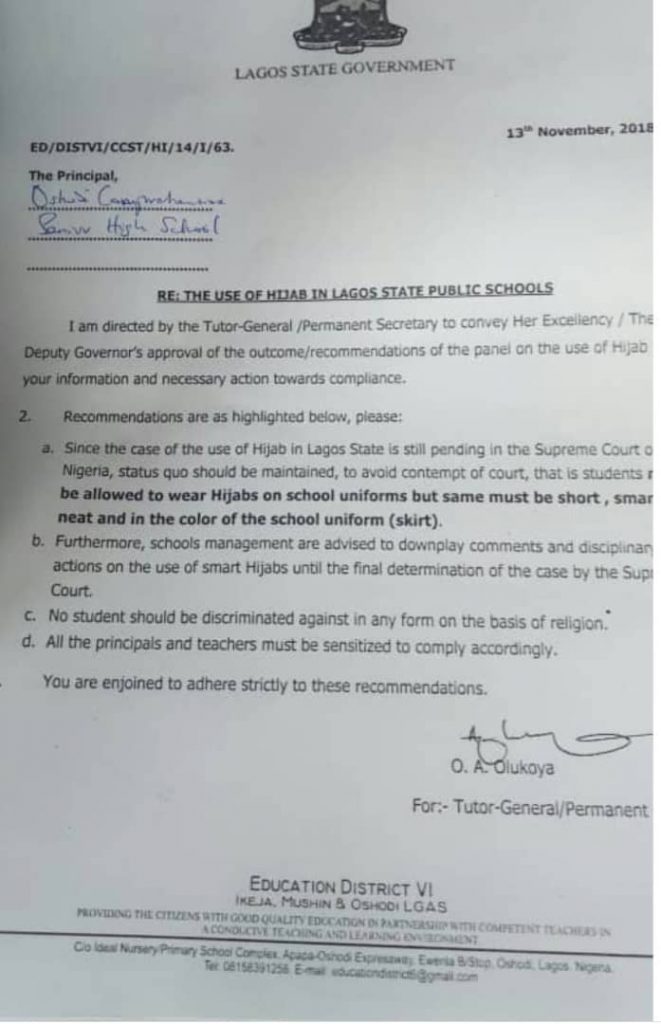 We are glad, that the Lagos State Government has finally decided to obey the rule of Law by respecting the Court of Appeal verdict on the Hijab case.
We hereby implore all Female Muslim Students to wear their Hijab to Classes in accordance with the set uniforms without fear of discrimination or victimisation. We also implore the Muslim community to remain vigilant and report any case of victimisation to the appropriate authorities as well as file a report online to MPAC via this link https://mpac-ng.org/report-discrimination.
Thank you.
Umar Aderibigbe,
Executive Secretary,
MPAC, Nigeria.