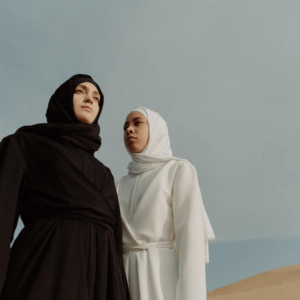 In the diverse tapestry of global cultures, the abaya stands out as a symbol of modesty, reverence, and identity for many Muslim women. Yet, in a move drawing international scrutiny and criticism, France has recently instituted a ban on this traditional garment, reigniting the debate around religious freedom, secularism, and alleged Islamophobia in French policy.
Before delving into the policy itself, it's essential to understand the abaya. A flowing, full-length robe, it is worn by numerous Muslim women as an expression of their faith, a commitment to modesty, and an affirmation of cultural identity. For many, the choice to wear the abaya is deeply personal and spiritual.
France has a long-standing commitment to laïcité, a strict form of state secularism that separates religion from public life. Rooted in the French Revolution, it's a principle that has been integral to French identity for over a century. However, the recent high school ban on the abaya seems to go beyond the neutral intent of laïcité. Critics argue that it targets a specific group – Muslim females – thereby singling them out and curbing their freedom of religious expression. Furthermore, such a policy risks stigmatising an already vulnerable group, subjecting them to further prejudice and potential bullying.
The recent ban on the abaya in France stands as a poignant emblem of a deeply discriminatory, harsh, and unjust policy. This ban, targeting Muslim women, not only infringes upon their fundamental rights to express their faith and cultural identity but also has profound repercussions. Mentally, it exacerbates feelings of alienation and otherness, diminishing self-worth and creating an environment of unease. In workplaces, schools, and broader society, such bans further side-line and stigmatise Muslim women, impeding their opportunities and fostering exclusion.
This ban doesn't exist in a vacuum. It's a part of an ongoing debate in France around national identity, integration, and the place of Islam in French society. The discourse has often been heated, with policies and incidents that have drawn both national and international ire. However, for advocates of religious freedom, the crux of the matter is simple: Every individual, regardless of their religious affiliation, should have the right to express their beliefs freely, as long as it doesn't infringe upon the rights of others.
The persistent attempts by France to regulate Muslim women's attire—ranging from the burkini to the hijab and now the abaya—reveal more than just a quest for secularism; they unmask deeply entrenched Islamophobia embedded in the nation's psyche. Laïcité, often heralded as France's unique secular stance, is increasingly wielded not as a tool for impartiality, but as a mechanism to target and suppress a specific religious community, particularly Muslim women.
This cannot be divorced from France's dark colonial history, especially in predominantly Muslim regions. The brutal French-Algerian war is a striking example. For over a century, Algeria was under French rule, facing cultural erasure, economic exploitation, and countless atrocities. The infamous Paris Massacre of 1961, where thousands of Algerians were murdered by the French police during a peaceful protest, stands testament to this volatile relationship. These historical traumas, while in the past, continue to resonate today, shaping France's interactions with its Muslim population.
Moreover, France's colonial past in countries like Tunisia, Morocco, and Mali is replete with stories of dominance, not only over territories but over indigenous cultures, languages, and beliefs. This legacy seems to have persisted in the form of a white superiority complex. By continuously targeting Muslim women's clothing, the state is indirectly perpetuating a narrative of dominance and assimilation, as opposed to integration and mutual respect.
In essence, France's garment bans are not isolated incidents. They are symptomatic of deep-rooted prejudices amplified by the shadows of colonialism. For a nation that proudly champions liberty, equality, and fraternity, it seems those benefits are only reserved for non-Muslims.
Muslims, both within France and internationally, have the power to strategically combat the rising tide of Islamophobia and discriminatory policies. Strategic voting is a powerful tool: by aligning support for candidates and parties that champion religious freedom and minority rights, the Ummah can influence policy at its core.
Harnessing the ubiquity of social media is equally crucial. By raising awareness, sharing narratives, and mobilising online campaigns, the community can shift public opinion and spotlight the injustices. Petitioning, a tried-and-true method, can pressure leaders into action, showing them that these issues have widespread backing.
Challenging Islamophobia must also take place at every level from policies, to media, to education. As Muslims we carry an inherent obligation to be politically active and engage in the betterment of society. Islam emphasises the virtues of justice, compassion, and standing up for the oppressed. The Prophet Muhammad (peace be upon him) exemplified a life of active engagement, advocating for the rights of the marginalised and striving for societal equity.
In today's interconnected world, this obligation translates into participating in civic duties, advocating for the rights of the downtrodden, and working tirelessly to establish a just and peaceful society. Being politically active is not merely a choice but a profound responsibility, a continuation of the prophetic tradition, and an embodiment of the faith's core principles. Through collective action and sincere intentions, Muslims can work towards a world that resonates with the values of justice, peace, and mutual respect.
Political participation is a practical way for Muslims to fulfil the Islamic ideals of promoting social justice, standing up for the oppressed, and maintaining peace in society.