Lailatul Qadr: The Night of Power
Wednesday, 22 May 2019.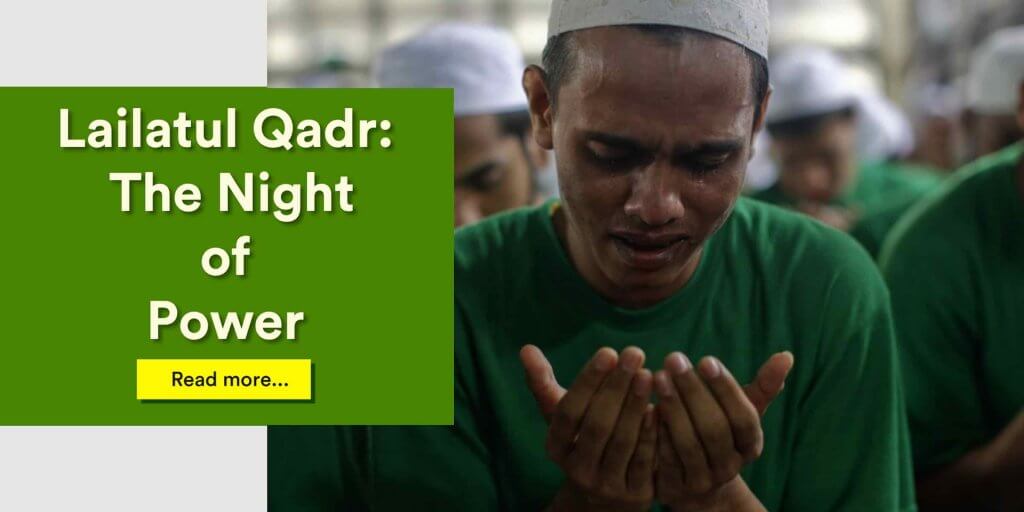 Qadr means honour and dignity. Lailatul Qadr means the night of honour and dignity. It is this night in which the first Divine Revelation came to the Prophet sallalahu alayhi wasallam, when he was in prayer in the cave of Hira. Since this night enjoys the honour of having the first revelation brought to the Prophet sallalahu alayhi wasallam, it has been named Lailatul Qadr. This is one of the holiest and most blessed nights, which is likely to occur on one of the odd nights on the last ten days of Ramadan. The reward of worship on this night is better than the worship of a thousand months of worship, equivalent to a person's lifetime. The Qur'an states in it:
" Verily! We have sent it (this Qur'an) down in the Night of Decree (Lailatul-Qadr). And what will make you know what the Night of Decree is? The Night of Decree is better than a thousand months. Therein descend the angels and the Rooh (i.e. Gabriel) by Allah's Permission with all Decrees, Peace! until the appearance of dawn." (Surah Al-Qadr, 97: 1-5)
So, on this night one should pray nafil namaz, recite the Qur'an, do Tasbih, Zikr, Duas, etc as much as possible.
This night had already opened its gates of treasures when the angel for the first time had come with the Divine Message in the cave of Hira, but its auspiciousness has continued to be with us permanently. Every year in the month of Ramadhan, this night is given to the Ummah. Muslims engage in prayers, recitation of Quran and praying to Allah, as the Prophet sallalahu alayhi wasallam said: "The person who offered prayers to Allah in the night of Dignity with faith and with hope of reward from Allah, all his past sins have been forgiven." (Bukhaari)
As the rainy season is suitable for farming, similarly for the attainment of nearness to Allah, specific times , specific days and specific nights are most suitable, e.g. the time of Tahajjud prayers, Friday prayers, month of Ramadan, the Day of Arafah, etc. So also the Night of Power is the most suitable night for attaining nearness to Allah.
In the Hadeeth, we have been asked to seek it in the last ten nights of the month of Ramadhan. Hazrat Aa'ishah radhiyallahu anhaa narrates that the Messenger of Allah sallalahu alayhi wasallam has said, 'Seek the night of Dignity in the odd nights of the last ten days of Ramadan'.(Bukhari).
By odd nights, the reference is made to the 21st, 23rd, 25th, 27th, 29th night of the month of Ramadhan. No one night has been fixed so that the yearning to find it may increase and people may spend more nights in worshipping Allah. From this aspect, the importance of `Itikaaf (seclusion) during the last ten days of Ramadan is clear.
How Should A Muslim Seek Lailatul-Qadr?
One who misses this blessed night then he has missed much good for no one misses it except one from whom it is withheld. Therefore it is recommended that the Muslim who is eager to be obedient to Allaah should stand in Prayer during this night out of Eemaan and hoping for the great reward, since if he does this, Allaah will forgive his previous sins.
He SAW said: "Whoever stands in (Prayer) in Lailatul-Qadr out of Eemaan and seeking reward then his previous sins are forgiven." (Bukhari)
It is recommended to supplicate a great deal in it, it is reported from 'Aa'ishah, RA that she said: "O Messenger of Allaah! What if I knew which night Lailatul-Qadr was, then what should I say in it?" He said: "Say: Allaahumma innaka 'affuwwun tuhibbul 'afwa fa'fu 'annee." (O Allaah you are the one who pardons greatly, and loves to pardon, so pardon me.) (at-Tirmidhi, Ibn Majah)
O brother! You know the importance of this night, so stand in Prayer in the last ten nights, in worship, detaching oneself from the women, ordering your family with this, and increasing in actions of obedience and worship in it.
From 'Aa'ishah, RA who said: "The Prophet SAW used to tighten his waist-wrapper (izaar) – (meaning detached himself from his wives in order to worship, and exerted himself in seeking Lailatul-Qadr), spend the night in worship, and wake the family in the last ten nights." (Bukhari, Muslim)
From 'Aa'ishah, RA: "Allaah's Messenger SAW used to exert himself in the last ten nights more than he would at other times." (Muslim)
Its Sign
[Many people believe in all sorts of superstitions about Lailatul-Qadr, and false beliefs from them are that the trees prostrate, and buildings sleep! And these things are clearly futile and baseless.] Allaah's Messenger SAW described the morning after Lailatul-Qadr, so that the Muslim may know which day it is. From Ubayy, RA who said: that he SAW said: "On the morning following Lailatul-Qadr the sun rises not having any rays, as if it were a brass dish, until it rises up." (Muslim, Abu Dawood, at-Tarmidhi, Ibn Majah)
From Abu Hurairah, RA who said: "We were discussing Lailatul-Qadr in the presence of Allaah's Messenger SAW, so he said: 'Which of you remembers (the night) when the moon arose and was like half a plate?'" (Muslim) [Qaadi 'Iyaad said: "It contains an indication that it was towards the end of the month – since the moon does not appear like that when it arises except towards the end of the month."]
From Ibn 'Abbaas, RA who said: Allaah's Messenger SAW said: "Lailatul-Qadr is calm and pleasant, neither hot nor cold, the sun arises on its morning being feeble and red." (at-Tayaalisee, Ibn Khuzaimah, al-Bazzaar with hasan isnaad)
Let us seek abundance rewards from our Creator by performing extra actions in these last few days of the noble month of Ramadhan as it could be our last…
Some Special Prayers and Zikr For Laitul Qadr
Seeking Forgiveness. Hazrat Aa'ishah radhiyallahu anhaa asked the Prophet sallalahu alayhi wasallam that if she happened to get the night sublime what prayer should she say. The Prophet sallalahu alayhi wasallam replied that she should say the following prayer :

"Allahumma innaka afuwwun kareemun tuhib-bul af-wa fa-afo anni"(O Allah, You are the One who grants pardon for sins, loves forgiving, so forgive me.)

Reciting Astaghfar. The following should be recited as much as possible:

"Astaghfirullah hallazi la-ila-ha illa huwal Hayyul Qayyumo wa atu-bu ilaihe"(I seek forgiveness from Allah, the Almighty, there is no God but He. He is self-Existent, the Eternal and I return to Him)

Reciting Surah `Inna anzalnahu…'

"Inna anzalnahu fee lailatul Qadr, Wa maa adraka maa lailatul Qadr.Lailatul Qadri khairum min alfi shahr. Tanazzalul malai-katu var-roohufee ha bi izni Rabbihim min kulle amr. Salaamun heya hatta matla-il fajr."

Do Salatul Tasbih.

Do Afzul Zikr i.e. La ilaha illallah
Adapted from various sources.
---
 Tarawih    |     Suhoor    |    Breaking Fast    |     Lailatuhl Qadr   |      'Eid

---
Read:
—————–

As you're here…

MPAC has one humble request from you…

Thousands of Nigerian Muslims rely on the services we provide at MPAC and thousands more from around the world visit our website for news every day. Due to the significant challenges we face in dealing with Muslim-related issues in a heightened Islamophobic environment, MPAC is constantly under financial strain to meet our financial needs.

To maintain editorial and financial independence, with no sectarian or political allegiance to any particular group or movement MPAC relies only on donations from individuals like you.
It is easy to understand the importance of organisations that do the sort of work we do at MPAC in today's climate. Please support us financially and please support us for as little as N1000 a month. It only takes a minute to make a one-off donation or to set up a standing order with your bank. Jazakallah khayran.

Our beloved Prophet Muhammad (peace be upon him) said: "The best deeds are those done regularly, even if they are small." [Ibn Mājah]